PTTEP Taps Honeywell for CCS Project Offshore Thailand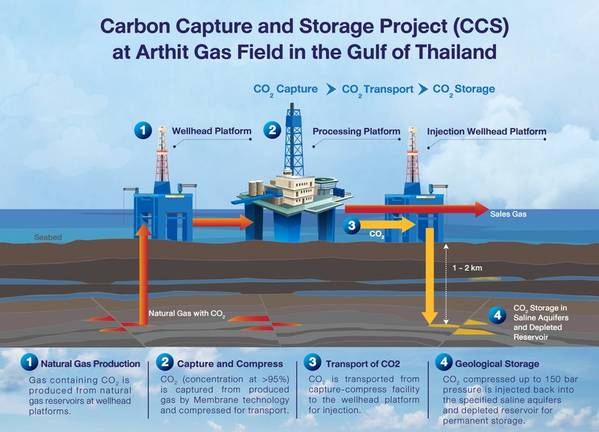 Thai oil and gas company PTTEP has hired Honeywell as the carbon capture technology provider for the Arthit Carbon Capture and Storage Project in the Arthit Gas Field in the Gulf of Thailand.
Honeywell said its Separex Membrane Technology will help achieve the project objectives of concentrating the CO2 rich stream, which will be geologically stored in depleted reservoirs.
"Honeywell technology provides an optimized solution to revamp the existing system to concentrate the CO2 rich stream using a 2-stage process so that it may be injected into a nearby depleted gas reservoir while considering the constraints of the offshore platform," Honeywell said.
According to Honeywell, its technology also enhances hydrocarbon recovery which would otherwise be flared, thus providing additional hydrocarbon production, and adding additional value to the project beyond the carbon capture.
Matt Spalding, Vice-President and General Manager, Honeywell UOP Asia Pacific said: "Today, 15 million tons per year of CO2 is being captured and used in storage/utilization applications through Honeywell's CO2 solutions process expertise." Honeywell currently has the capacity to capture 40 million tons per year through its installed projects worldwide, and we are excited to bring this expertise and experience to this landmark CCS project in Thailand with PTTEP."
Honeywell will also provide engineering and consultancy services for Front End Engineering Design (FEED) and subsequent phases of the project, subject to a successful FID.