While Floating Offshore Wind is still in its infancy, it has the potential to dominate the offshore wind sector in the coming decade. Philip Lewis, Director of Research, World Energy Reports, discusses the possibilities.
---
Lewis says the potential for the floating wind industry is huge, given that there are no constraints when it comes to water depth where the turbines can be installed. For example, conventional fixed offshore wind turbines are installed in water depths of up to 60 meters.
"Deeper water generally sees higher capacity factors allowing for increased productivity. IEA identified the global average capacity factors for onshore windfarms at 25% and offshore bottom-fixed as 33%, although we expect to see this increase to around 40% to 50% with the larger turbines that are being planned now. For floating offshore, we expect to see 50% to 60% capacity factors, the highest for power generation from wind," Lewis says.
Lewis' World Energy Reports, where he is Director of Research, is tracking a pipeline of over 66GW of floating wind projects. Take note, today's installed capacity is at around 100MW, but this is soon to change.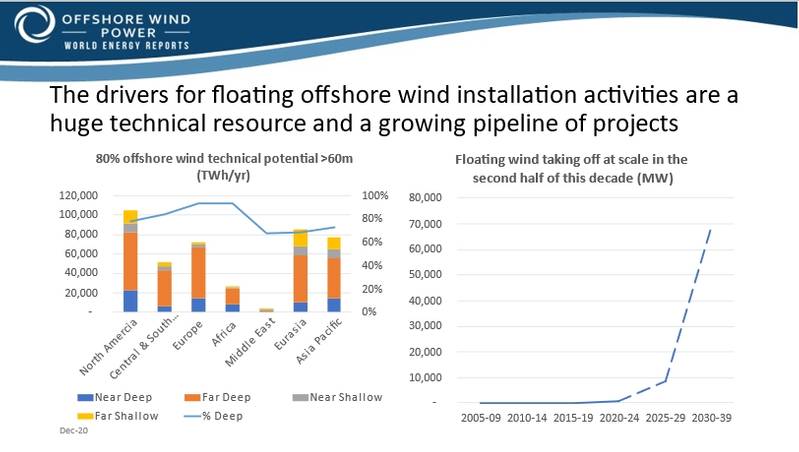 Credit: World Energy Reports
Within the new but rapidly growing industry, WER's Director of Research sees significant supply chain opportunities, from ship and offshore yards, to concrete pre-cast and in-situ contractors, ports, anchor manufacturers, mooring chain and rope suppliers, and OSV companies.
So where do these supply chain companies should look for opportunities, region-wise?
At World Energy reports, Lewis says, we are particularly excited about France, the UK, Norway, South Korea, Japan, and the USA, due to the promotion of demonstration and pilot projects and developing pipelines and tender plans for floating wind leases.
The visibility of the pipeline should in turn provide better visibility to the supply chain of the possibilities that exist, he says.
Watch the interview above, conducted by Offshore Engineer's Greg Trauthwein, to learn how many projects are currently being developed and where; how floating wind can decarbonize oil and gas operations; where there may be bottlenecks when it comes to vessels required for floating wind installation; and more.