It's not your typical marginal field — centered on a concrete gravity-based structure (GBS) that once boasted production records — but Draugen in the Norwegian Sea had become "immaterial" to Shell. When it first delivered oil in 1993, Norwegians looked forward to the spoils in 1.4 billion barrels (bbl) oil in-place. Today, that number's down to less than 17 million bbl, minus satellites. When Shell sold the field to new Trondheim-based indie, OKEA, in 2018, serial entrepreneur and CEO, Eric Haugane, decided to turn infield reserves and a minor nearby discovery into production hub Draugen. So far, the plan is working.
Unlike, Haugane — a geologist by training and founder of oil companies Det Norske and Aker BP — investors weren't all that thrilled by the marginal discovery, Hasselmus, or those infield reserves. They failed to make a planned $100 million listing spectacular, although they helped raise $35 million.
For less than the price of an Equinor fast-track field development of five years ago, OKEA — owned by Haugane's holding company and by Thai energy outfit Bangchak — bought Gjøa near the Sleipner platform and what was left of the Draugen area (complete with production infrastructure for major production).
Draugen's age showed. Some 190 meters of corroded carbon infield pipelines with pinhole size leakages had to be replaced with "stainless" steel lengths (done in a record seven days). Two subsea trees needed to be changed out, and applying predictive maintenance on sprawling oilfield infrastructure, the company discovered, meant an array of plant needed more monitoring and contractor integration. Safety officials added that vibrations topside, especially in high-seas, would need constant vigilance.
In fact, OKEA'S Draugen, unlike Shell's, is a massive flip job, a major renovation and grab of whatever area reserves will make the GBS as hub. "We think it'll be 25 more years with OKEA," a jovial Haugane says. For him, getting down to work means not wearing his characteristic bow tie.
"It was a billion-barrel field. We'll take the last 100,000 barrels," he says confidently. Why not go for it. Shell, after all, is understood to have the decommissioning costs on at least the GBS. So, for the next eight to "25 years", that frees OKEA to produce whatever's within reach from the platform. With the price of carbon-emissions credits skyrocketing, he might even earn money on emissions credits should the platform be electrified from shore, though that's not a given. A list of fields slated for a next round of "electrification" from shore appeared in Norwegian newspapers recently, and Draugen wasn't on it.
No loss. Start-up OKEA is still making 22,000 bbl per day (bpd) at the depleted Draugen and has earned 500 million NOK ($54.6 million) in the first half of 2019. To take the prize — the capture of migrating and trapped area oil — a number of things will have to fall in place.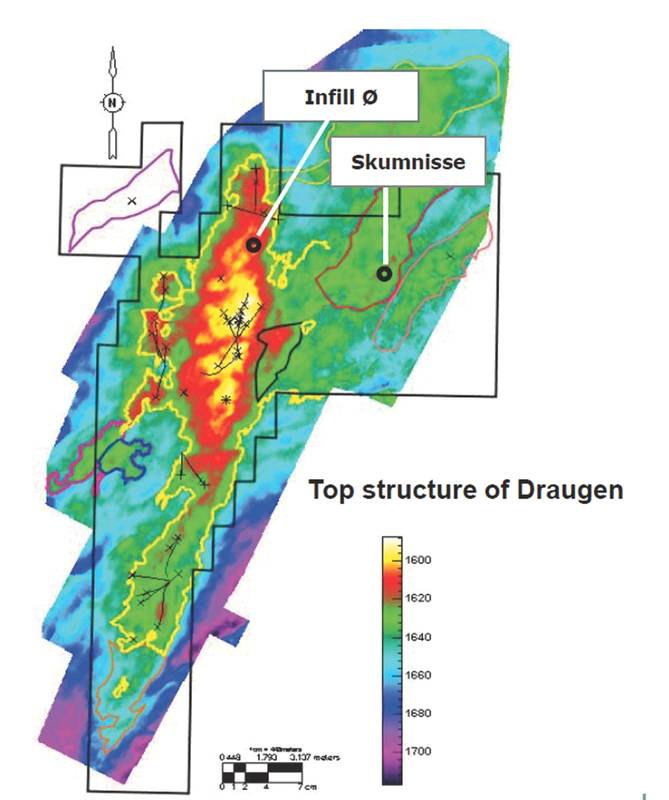 The target: a top section seismic image of the Draugen field (Image: OKEA)
Development
The trees and pipeline changeouts were part of preparing Draugen for the long-term, Haugane says. The field also got a safety and automation (SAS) upgrade that included a digitalized control system revamp.
To provide the payback sought, Draugen — which once broke a record with a well that produced 72,000 bpd — will have to be run cheaply, or like a marginal field. To get started on the path to profit, the Odfjell Drilling semisubmersible Deepsea Nordcapp in October 2019 began drilling a series of wells: two this year, with at least three more planned for 2020.
The first well, Infill O, was pilot drilled toward an expected 2.5 m attic oil layer in October, but instead made contact with the 5 m main part of the Rogn reservoir. The well was drilled with a "highly cost-effective, slim design, and the top-hole section was batch-drilled with a well at the Skumnisse discovery (underway as of this writing), or well 6407/9-12. It took just five days to learn what Infill O had done, but the jury's still out at Skumnisse.
August seismic preceded the spudding of these, OKEA's first operated wells as a company. It is understood that 4D seismic had also been ordered for Infill O and Skumnisse. "We're sure there's oil there, but is it one meter thick or five meters thick," says OKEA VP of investor relations and communications, Staale Myhre. Cramped into a Trondheim office meeting room, he sounds as confident as his boss. "What we're targeting is 24.3 million bbl (including 4.3 million bbl from infill drilling). Skumnisse revealing 20 million bbl would be terrific start to a Draugen drilling campaign that'll run to year-end 2020.
That second appraisal well is of the discovery, Skumnisse, which "looks a lot like Draugen," according to Haugane. A new pipeline from Skumnisse to a revamped Draugen production system is understood to be planned. As part of its digitalization drive, and in an effort to boost the morale of workers and investors alike, OKEA is "broadcasting" the Skumnisse well's logs from aboard the Deepsea Nordkapp. "What damage can it do," Haugane asks with a smile.
The raw data from the drill crew won't move markets, but partners and interested parties — like ConocoPhillips, with its own area interests — will benefit from knowing whether oil's migration at Skumnisse has drifted past the infill drill area.
Bold reporting: OKEA's live stream wellbore progress at Draugen (Image: OKEA)
FID
Meanwhile, the Draugen-area's other Shell discovery, Hasselmus, looks like it's heading for development.
Haugane speaks only obliquely about that part of Draugen. He talks up technology and calls his asset-playing OKEA a tech company. Once fleshed out, a concept for the field will be shown Norwegian authorities by year-end ahead of a final investment decision (FID) scheduled for mid-2020. Developing this "immaterial" Shell discovery seems a sure thing, however, as — by mid-2021 — first gas at Hasselmus has already been penciled in.
After that, the only planned Draugen area activity ought to have been an appraisal of Infill 0, now understood to have been cancelled. While a concept is worked up for the 15-year-old Hasselmus discovery, "debottlenecking and cost-cutting" is planned for the Draugen GBS and area infrastructure, which is considerable after a 2001 Shell buildout.
The OKEA way
On his way to Skumnisse and Hasselmus barrels, Haugane says he'll support any innovation the supply chain proffers that'll help earn more. He says he'll even support competition among innovators, especially in his beloved Trondheim, home of Norway's engineering schools.
"We don't ask for the solutions up front," he says, adding, "That's the big difference between us and some of the others." Instead, he lets suppliers "deliver as they prefer — not just at the early capex stage" — but throughout operations. OKEA has been developing the Draugen hub idea "since April 2018", and the planning is already said to be accommodating new supply-chain solutions. There's a sense OKEA will hang around for the life-extended field's lifetime, so there's time to approach via supplier portals or at Trondheim or Kristiansund.
"We've picked up licenses around Draugen. We see them as tie-ins to Draugen. [Others] never saw it that way," Haugane says, a nod to more stately rivals.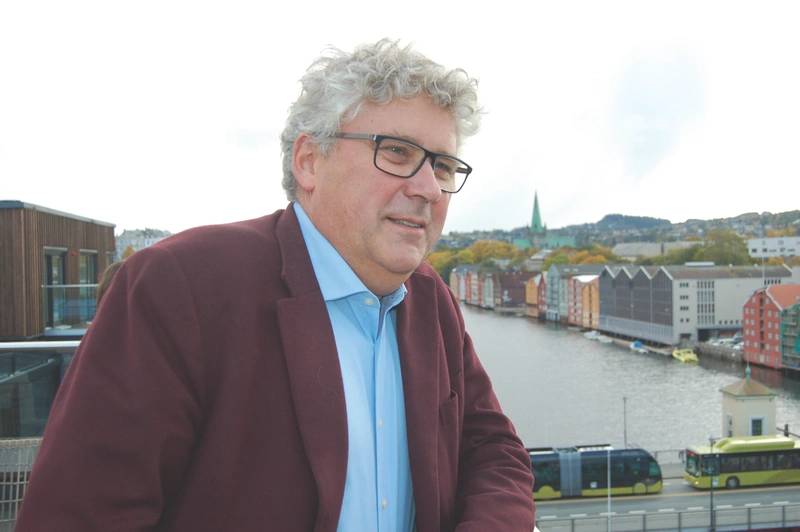 Eric Haugane, Serial Entrepreneur and CEO, OKEA (Photo: William Stoichevski)

Supply side
He knows, however, that Draugen area wells need about 6,000 bpd to 7,000 bpd min. to stay in production.
At Gjøa, OKEA and partner Neptune Energy are planning a Phase 1 of redevelopment with a new subsea template. At Grevling, the OKEA pattern becomes clear, as this Shell field was declared "marginal" when oil was $70 a barrel. Now, Okea appears to be planning to use a jack-up or floating producer tied back to the Sleipner platform. "Decision gate" for Grevling is March 2020. Already, new trees are being preordered. Vendors being nominated include Gusto MSC; Kanfa (topsides), Siemens (telecoms); Cameron (risers); Axess (yard lift). For now, fabrication yards have only been invited to tender: "no discussions" are ongoing yet with those yards, although they'll have to use said vendors.
But first, the Skumnisse will have to reveal its secrets, live via real-time well log on OKEA's website. Processed results are expected by year-end 2019. For now, Draugen and Gjoa together combine to produce 9,648 barrels of oil equivalent per day (boepd) and 8,135 boped. With Brent oil holding above $60, 44.56% owner and operator OKEA seems well-equipped for price dips at Draugen, which is still providing the company with over 50% of its total production.
"$60 is quite OK, I think," Haugane assures us. He would know. He founded independent Det Norske (now Aker BP), in the 1990s, when North Sea oil dipped below $20 and Norway was producing a million barrels via just six large fields. A '90s production decline forced the government to incentivize the supply chain and small oil companies by 2006. That paved the way for Norway's first indies.
Haugane's indie intends to transform Draugen from shrunken giant to a hub of 100,000 bbl. The results of OKEA'S first operated wells, 6407/9-11 and 6407/9-12 in the Norwegian Sea, could speak volumes about whether they'll accomplish that vision. So, too, will the Hasselmus FID.