BP's Mad Dog field in the deepwater Gulf of Mexico is a good news story that keeps delivering, and the reservoir management team aims to keep it that way.
When discovered in 1998, the field in Green Canyon blocks 825, 826 and 782 was thought to hold 1 billion barrels of oil in place. Production began in 2005 from the original Mad Dog truss spar. Known as the A-Spar, it was equipped for simultaneous production and drilling operations. Later appraisal and delineation programs combined with improved seismic data shot the resources estimate up to 5 billion barrels of oil in place. BP and partners BHP and Chevron planned a second floating platform, initially dubbed Big Dog, to serve the field. In 2013, they scrapped the $22 billion project as uneconomic and in 2016 sanctioned a $9 billion plan known as Mad Dog 2.
When Mad Dog 2 goes online in late 2021, it will rely on a host of reservoir management strategies to squeeze out as much oil as possible from the reservoir. BP has used techniques like LoSal EOR Technology, immobile proppant, downhole flow control and ocean bottom node monitoring at other fields, but this is the first time all the strategies have been planned into a project from the outset.
"There's a huge amount of oil here. We have to do more to optimize it," says Colin Bruce, manager of the global modeling team in BP's upstream technology division. "We're standing on all the embedded knowledge that BP has and applying it all to Mad Dog 2."
Emeka Emembolu, vice president reservoir development for the Gulf of Mexico, says Mad Dog is one of the largest undeveloped Miocene fields in the Gulf of Mexico. Of the 5 billion barrels of oil in place, so far 250 million barrels have been produced. Most of that, Emembolu says, has come from the northwest and northeast portions of the reservoir. The 10th producing well began production in 2019 and pushed the spar past its previous capacity of 80,000 b/d. A recent debottlenecking effort provided additional capacity closer to 100,000 b/d, and BP is taking advantage of that, he says.
"We may get 350 million barrels out of the existing spar," which was designed to produce a field holding 1 billion barrels of oil in place, Emembolu says. "That's not a material proportion of the currently understood resources. That is part of the driver for the Mad Dog 2 facility."
He says that in some ways the A-Spar has functioned like a prolonged, scaled-up well test ahead of Mad Dog 2.
With the combination of reservoir management techniques like waterflooding and infill drilling, the potential exists to produce between 500 million barrels and 1 billion barrels with the Argos semi-submersible at Mad Dog 2, Emembolu says. The Argos semi is designed to handle 140,000 b/d and 75 million cubic feet per day of gas from 14 production wells. It will help extend the life of the super-giant Mad Dog oil field beyond 2050.
The reserves lie in three Miocene sands, and BP has located a Paleogene structure under that. While that is not part of the current development plans, Emembolu says, producing that structure could be a future project.
Seeing clearly
Improved seismic technology, such as full wave inversion and ocean bottom node surveying, have helped BP understand just how vast the Mad Dog reservoir is.
According to Emembolu, it's been difficult to see the Mad Dog reservoir because of the large salt dome over it.
Emembolu says comparing 3D seismic data of the area from the late 1990s with current images "makes you wonder how anyone actually found oil there. We can see a lot more about the structure now."
Using full wave inversion, BP discovered additional resources at two other deepwater Gulf of Mexico fields – Thunder Horse and Atlantis.
"We're in the process of doing that at Mad Dog," Emembolu adds.
In 2017, BP carried out an ocean bottom node survey on the Mad Dog field. BP placed 2,600 recorders 400 meters apart on the seabed in 4,500 feet of water.
That survey "has shown pretty spectacular images beneath that salt," says Glyn Edwards, Mad Dog reservoir manager team leader. "We're starting to be able to see fluid contact."
And 4D seismic provides even more of a window into the reservoir.
"So much of the oil industry has been poking holes in the ground and seeing what's happening," Bruce says.
Paul Johnston, Mad Dog reservoir development area manager, says that while 4D seismic has been used before, the effective application of it under a complex salt body is new.
4D data will allow BP to monitor the waterflood visually, Bruce says.
Edwards says his team is considering a 4D mixed acquisition reprocessing technology trial to see if they can see water movement or reservoir pressure changes between a 2005 towed streamer survey and the most recent 2018 ocean bottom node survey.
"If we can see fluid movement under salt, it would be the next big seismic breakthrough for reservoir management," Edwards says.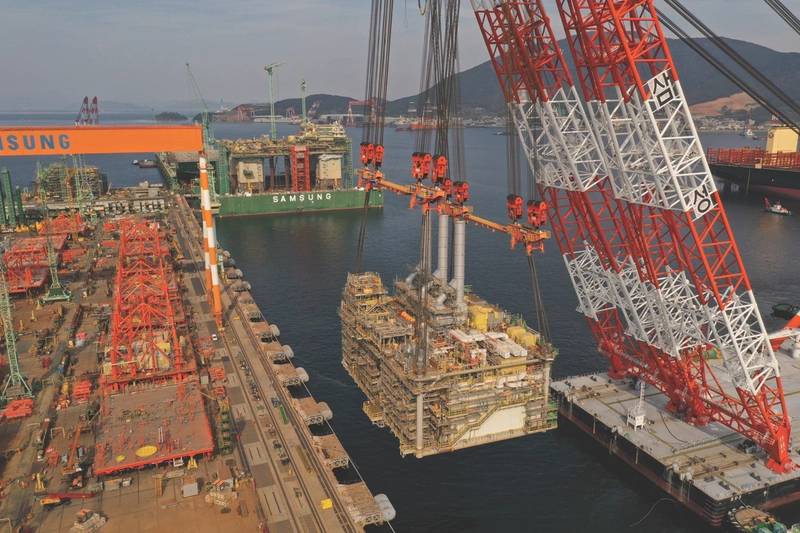 The 3,600-metric-ton Generation Module lift was safely completed from SHI's Quay 7 to the Argos FPU hull located in the offshore floating drydock. (Image: BP)
Multiple models
BP uses an ensemble process for modeling. The suite of models, Edwards says, presents a range of potential futures, making it possible to capitalize on upsides and mitigate downsides.
The Mad Dog reservoir management team has around 3,000 history models that match data with different subsurface descriptions.
"If you only have one model, you convince yourself you know what's going on. It can lead to a difficult conversation with higher management if it doesn't play out that way," Edwards says.
Emembolu likens the approach to the probabilistic hurricane path projections meteorologists distribute.
"We use a lot of different models, weighted in different ways," Edwards says. "This way we don't bind ourselves to any particular outcome."
EOR solution
The Mad Dog spar doesn't have capacity for water injection, but in 2021, BP will undertake a project to take water from Argos to inject in the northern section of the Mad Dog field, Johnston says. The North West Injection project will include future water injectors down dip of the Western Flank producing A-spar wells. The project takes water from the Argos facility, yet the production benefit is seen at the A-spar, according to BP. The pressure support benefit is expected to increase production well past the current cessation of production of the A-spar in 2039, enabling even more future development options.
The Mad Dog 2 semi is designed to inject 140,000 b/d of LoSal EOR.
LoSal EOR "is a key enabler for getting the recovery factors out of the field that we anticipate getting," Emembolu says.
BP developed the LoSal EOR technology after research showed injecting water with low levels of salinity meaningfully increased production rates. BP first deployed the LoSal technology at Clair Ridge last year, and has said the use of the technology was expected to yield an additional 40 million barrels at that field.
At Mad Dog 2, BP will reduce the salinity of seawater and inject it through one of eight water injection wells to tease out more oil from the reservoir.
According to Emembolu, LoSal will do more than just boost production rates at Mad Dog 2. It also mitigates souring and scaling as the field matures.
Tracing a path
BP will use a combination of reservoir simulation, 4D seismic, downhole flow control and tracers to understand and manage the waterflood and the interactions between the spar and production semi, which will be about 6 miles away from each other.
"The spar does communicate somewhat into the southern area where Mad Dog 2 will be, but it's not a strong communication," says Edwards.
The key interaction, Edwards adds, is around pressure depletion.
"The waterflood will maintain reservoir pressure, so that will help to moderate the effect," Edwards says.
Tracers will allow BP to see what water injection wells connect to which producing wells and immobile proppant will maximize the lifetime of those injectors.
"What makes Mad Dog 2 unique is the utilization of immobile proppant, individually traced LoSal water injection with downhole flow control from the onset," Johnston says. "It's the aggregation and incorporation of all these techniques from the get-go to maximize the success."
Mad Dog Truss Spar
First oil: 2005
Production facility: truss spar
Facility name: A-Spar
Production capacity: 100,000 barrels per day of oil and 60 million cubic feet per day of gas
Wells: 10 production
Location: Green Canyon block 782

Mad Dog 2 Semi
First oil: 2021
Sanction: 2016
Production facility: semi-submersible
Facility name: Argos
First oil: 2021
Production capacity: 140,000 barrels per day of oil and 75 million cubic feet per day of gas
Wells: 14 production and eight water injection
Location: Green Canyon block 780