The use of drones to inspect offshore assets can drive up safety levels, increase operational time and reduce costs.
In just a few short years, drone technology has "come a very, very long way," says Tyler Collins, VP of enterprise services at PrecisionHawk.
They can fly longer missions – in some cases up to an hour, and one is being built that can operate for multiple hours, he says. The sensors and data capturing methods continue to evolve. Artificial intelligence and machine learning use are becoming more widespread.
"It's data-driven, so accuracy goes up substantially," he says.
Newer drones are fitted with cameras that deliver 100 megapixels, which can be used when searching for damage.
"We do a lot of analysis in the cloud," Collins says. "Machine learning allows us to identify damage in a consistent, fast workflow, such as quantifying how much corrosion is on a component."
Offshore, conducting a rope inspection may involve flying a special crew to the site or shutting down certain pieces of equipment. By contrast, sending a drone to inspect the same area requires only a drone and a drone operator and allows equipment to remain online, he says.
"The level of safety is going up dramatically, and it increases uptime. They don't have to fly people out and have that expense," Collins says.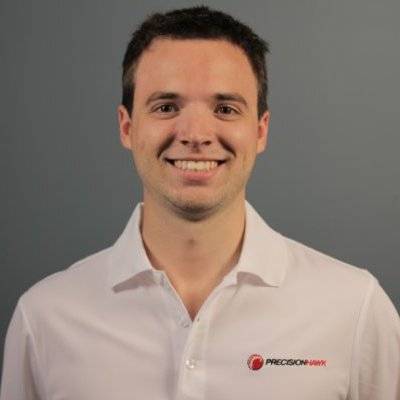 Tyler Collins, VP of Enterprise Services at PrecisionHawk (Photo: PrecisionHawk)
Even though drone use can result in a number of positives for offshore companies, implementing a drone program may not seem straightforward. One reason is drones, machine learning and artificial intelligence are new technologies and there are a lot of legacy systems still in place, Collins says. Another, he says, is that it can be difficult to understand the true return on investment.
"We help them put together a blueprint to understand the impact drone operations make," he says. The blueprint is intended to allow a company to "plug their numbers in here, to understand how drones can operate at scale, and what some of those costs look like, and allow them to come to a conclusion for whether a drone program makes sense for their business."
PrecisionHawk is focused on making drone technology even more efficient.
"The next step is, how can we send a drone out to multiple rigs in a single flight, have it conduct different types of inspections," he says.
There is the expectation that as drone technology improves and the business case for drone use makes sense, the majority of offshore assets will have ready access to a drone, he says.
"The more drones that are out there, the happier we are, the more data is flowing, and the better it is for those enterprise companies because they can make better informed decisions about their operations and assets in as close to real time as possible," Collins says.