Tech conglomerate Siemens said it will provide three 34-megawatt (MW) SGT-A35 gas turbine power generation packages to power a floating production, storage, and offloading unit (FPSO) that will operate for Eni off the coast of Mexico.
The Eni Mexico Area 1 FPSO will be deployed in the Offshore Area 1 approximately 10 kilometers off the coast at approximately 32 meters water depth. The field is owned by a consortium of two companies including Eni Mexico as operator and Qatar Petroleum. Once operational in 2021, the FPSO is expected to process 90,000 barrels per day (bpd) of crude oil and have a storage capacity of 900,000 barrels of crude oil.
Japanese operator MODEC is responsible for the engineering, procurement, construction, mobilization, installation, and operation of the FPSO.
The SGT-A35 aeroderivative gas turbine packages (formerly the Industrial RB211), include the 3,600 rpm power turbine from the Rolls Royce marine MT30 gas turbine and directly coupled to a synchronous 2-pole generator, and feature lightweight, torque-tube-style baseplates, and modularized design with easy maintainability, the manufacturer said. Siemens noted that the gas turbine packages are dry low emissions (DLE)-ready, allowing for conversion to DLE-type engines if required for future upgrades. SIL 3 compliance was incorporated into the package design, as requested by MODEC for this specific project.
Patrice Laporte, Vice President of Oil and Gas for Siemens America, said the gas turbine generation packages will be delivered within a very short lead time due to the fast-paced delivery schedule fro the FPSO.
Last year, MODEC purchased four SGT-A35 gas turbine power generation packages for its FPSO Carioca MV30 for the Sépia field operated by Petrobras, located in the pre-salt region of the Santos Basin offshore Brazil.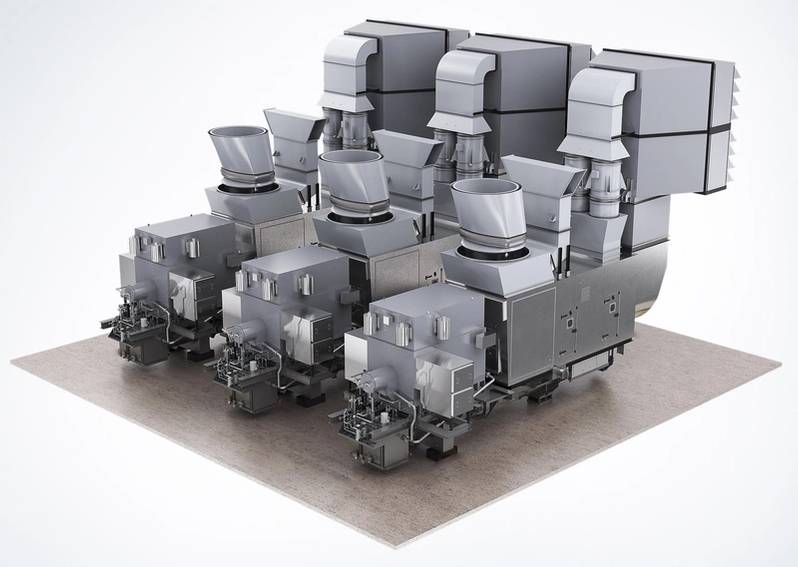 Three SGT-A35 gas turbine power generation packages, like those that will power Eni Mexico's FPSO vessel. (Image: Siemens)