Norwegian authorities have approved development plans for the Duva (PL636) and Gjøa P1 (PL153) projects in the North Sea, operator Neptune Energy announced on Wednesday.
The fields will be developed through subsea tiebacks connecting two templates to the nearby Gjøa platform, operated by Neptune Energy Norge.
According to Neptune, first production from the projects is expected in late 2020 with total recoverable resources estimated to be 120 million barrels of oil equivalent (boe) (maximum production is expected to be respectively 30,000 boe from Duva and 24,000 boe from Gjøa P1).
Neptune Energy Norge's Managing Director Odin Estensen, said the authorities' green light marks "a significant milestone for our business and for the licence partners in Duva and Gjøa.
"With these plans approved, we remain on track for the successful execution of these important projects," Estensen said. "Not only do these developments strengthen Gjøa's position as a major hub in the northern North Sea, they demonstrate our ambitions to continue growing our business on the Norwegian Continental Shelf."
Neptune, on behalf of the licence owners, submitted development plans for both projects to Norwegian authorities in February.
The Gjøa P1 segment is located in the northern part of the Gjøa field, which was discovered in 1989. A plan for development and operation (PDO) for Gjøa was delivered and approved by the Norwegian authorities in 2007. The field is developed with five subsea templates tied to the Gjøa Semi-Submersible for processing and export. Production started in 2010. Oil is exported by pipeline to Mongstad and gas by pipeline to St. Fergus in the UK.
As the P1 segment was already covered by the development plan for the Gjøa field, an application for exemption from PDO was submitted on behalf of Gjøa licence partners Petoro (30%), Wintershall (20%), OKEA (12%), DEA (8%) and Neptune Energy (30% and operator). P1's recoverable resources are estimated to be 32 million boe and it is expected to yield around 24,000 boe per day at maximum production.
The Duva field is located 6 kilometers northeast of the Gjøa field (12 kilometers from the Gjøa platform). The discovery was made in production licence 636 in August 2016 by drilling well 36 / 7-4. Recoverable resources are estimated to be 88 million boe, and it's expected to yield around 30,000 boe per day at maximum production.
The Duva PDO was submitted on behalf of license partners Idemitsu Petroleum Norge (30%), Pandion Energy (20%), Wellesley Petroleum (20%) and Neptune Energy (30% and operator). Developed with a four-slot subsea template, the Duva field will be tied back to the Gjøa platform for processing and export. The field will have three production wells, two oil producers and one gas producer, with the potential for an additional oil well.
The subsea tie-backs will be delivered by TechnipFMC utilizing the Neptune Subsea Alliance Agreement, the drilling operations will be undertaken by Odfjell and topside modifications completed by Rosenberg Worley.
Erik Oppedal, Projects & Engineering Manager for Neptune Energy Norge, said, "The approval of the plans allows us to start this summer with the first step in our parallel project execution– the subsea installation of the Duva template.
"Together with the ongoing installation activities for the Fenja development in the Norwegian Sea, this demonstrates the company's ability to execute developments with pace and efficiency optimizing resources and accelerating time to production."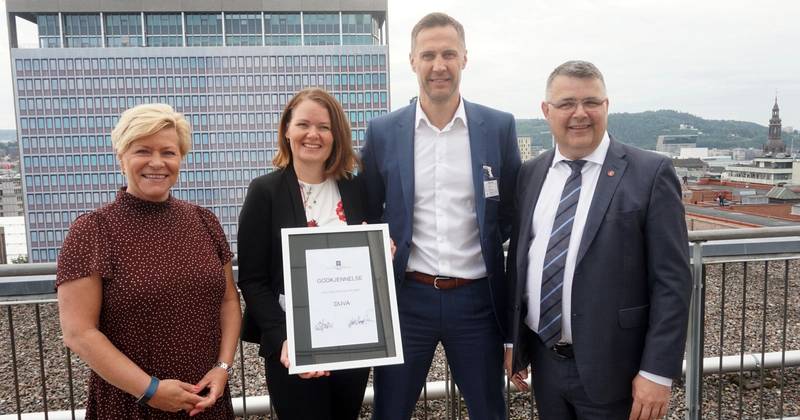 Norwegian authorities hand over the approved PDOs to Neptune Energy. From left: Minister of Finance, Siv Jensen, General Counsel Anne Botne and Projects & Engineering Manager Erik Oppedal from Neptune Energy in Norway together with the Minister of Petroleum and Energy, Kjell-Børge Freiberg. (Photo: Neptune Energy)