It's been long thought the "subsea factory" could reduce capex costs, but many topsides pieces of equipment must first be marinized to make that vision a reality. Oceaneering's Subsea Pumping Technology (SPT), which recently won OTC's Spotlight on New Technology Award, allows operators to move chemical storage and injection systems subsea.
Christopher Leon, Oceaneering's product development director, said the SPT could help reduce a project's capex cost for projects by allowing the replacement of a complex hydroelectric umbilical, which can cost tens of millions of dollars to purchase and more to install, with a power and communications umbilical, which are less costly to purchase and install. At the heart of the technology is moving chemical injection storage and pumping equipment from the topsides to the seabed by the well.
SPT comprises three main technologies: electric pump modules (EPM), fluid storage modules (FSM) and accompanying controls. The EPM is capable of delivering flowrates from 0-40 gallons per minute at operational pressures of 15,000 psi.
The FSM features a soft elastomer bladder housed inside a tank, which provides a dual barrier for chemical storage. This is all housed in an ISO container-dimensioned frame. The bladder collapses subsea at depth repeatedly and measurably. Through Oceaneering's patent-pending process, the company is able to collapse the bladder in a manner that allows them to directly measure the volume in the bladder without using additional equipment.
Leon said there were two big challenges in designing the SPT: ultra-reliable long-term subsea pumps and the ability to track the available volume of chemicals remaining in the subsea bladders.
Oceaneering puts tanks subsea for activities like intervention, Leon said, and "We knew of certain ways to improve on a design we already have."
"The technology makes sense capex-wise, but if the pumps aren't reliable, the money you spend to retrieve the broken equipment will be the savings you realized on capex," Leon said.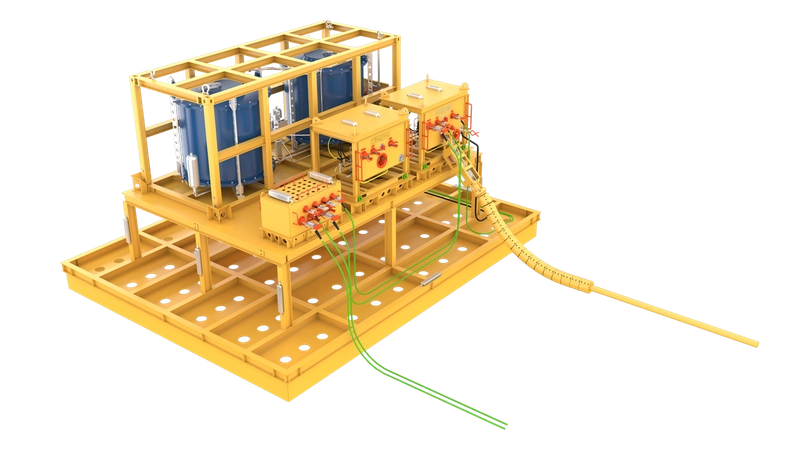 Fluid storage modules can be set up with a pair of 1,500-gallon bladders in an ISO container-dimensioned frame. (Source: Oceaneering)
Oceaneering put its pumps through an extended qualification process to meet API 17Q standards. In addition, a reliability-based design was undertaken to ensure all equipment could meet a three-year maintenance-free operating period. This included accelerated life testing, chemical compatibility testing to determine the mean time between failures for the system.
The SPT is scalable to meet field requirements, and the FSM can be set up with a pair of 1,500-gallon bladders in the ISO container-dimensioned frame, which makes it road transportable, and two frames can be connected to provide 6,000 gallons of fluids for the well. The bladders can either be refilled in place or empty modules can be retrieved and replaced. Oceaneering tested refilling in a hyperbaric chamber with a scaled-down tank, including refilling at depth.
"We're doing a lot of intervention work with these components already," Leon said.
Oceaneering deployed its FSM in a four-month deployment in the North Sea for an intervention project that wrapped up in early 2018. In the scaled-down version, the company used three different bladders, each containing 150 gallons of a different chemical, in a container-sized skid placed at the mudline in 1400 meters of water. The skid was refilled every 21 days for the operation and pulled to the surface for refill operations. The unit supplied a local and increased supply of required chemicals for a remotely operated underwater vehicle (ROV) to perform the intervention work without needing to stop for constant refills. This increased efficiency and shorted time on the job to complete the required work, according to Oceaneering.
Beyond its potential for chemical injection, Leon said there are applications for subsea hydraulic power units, which would typically receive hydraulic fluid from the umbilical.
"It's essentially the same technology, but with a slightly different pump and components," Leon said.
The SPT makes sense not just for greenfields and ultra-long step-outs but for existing fields where operators are looking at life extension, meeting changing field conditions, resolving an issue with a current umbilical, he says.
"With this technology, you can go out beyond what a current umbilical can do," he said.
While Oceaneering has cast its attention on marinizing subsea chemical injection and storage technology, Leon said that the vision of the "whole subsea factory" is still another five to eight years away.