Billing it as Industry 4.0, Weatherford launched its automated managed pressure drilling (MPD) riser system in Houston this week. The automated riser system combines with artificial intelligence, condition-based maintenance and additional sensors to speed operations, and is expected to see its first deployment in the Caspian in the second half of 2019.
MPD provides an active approach to well control that can be used to optimize the performance of drilling operations in any well, Anthony Spinler, Weatherford's vice president for managed pressure drilling, said.
By using a closed-loop system to determine the downhole pressure limits and manage the annular pressure profile accordingly. With previous MPD systems, Weatherford has brought deepwater results like saving $18 million in a clastic formation off Indonesia, drilled three sections with zero stability issues offshore Angola, eliminated 13 days of nonproductive time (NPT) despite total loss zone offshore Brazil, reached 20,000 feet total depth (TD) with zero losses in the pre-salt offshore Brazil, reached 21,000 feet TD with zero NPT in an abandoned well offshore Brazil, and achieved 20,000 b/d by reviving an abandoned well offshore Brazil.
"98% of the time when Weatherford does MPD, it's 0% NPT," Spinler said.
The newest generation of the service company's offering speeds up operations. Its automated MPD riser system features a robotic arm that can connect a single subsea control umbilical and flowlines in a matter of 20 minutes or less. According to Weatherford, it's the industry's first hands-free flow spool for all weather conditions and harsh environments, so no personnel must work over the moonpool to make the connection, and the need for remotely uperated underwater vehicles (ROV) is also reduced or eliminated.
Weatherford launched its automated managed pressure drilling (MPD) riser system in Houston this week. Pictured is the flow spool. (Photo: Jennifer Pallanich)"It's field-proven technology today," said Ryan Haggins, global service delivery manager for managed pressure drilling at Weatherford.
Julmar Shaun Toralde, Weatherford's global business director for drilling and evaluation, called the rig up and rig down of the flowlines and umbilical with a robotic arm "equivalent to running a piece of riser. The MPD system seems like it's not there."
Harshad Patil, global technology manager for MPD at Weatherford, said customers "don't have to stop drilling if something goes wrong" while using the scalable, customizable and modular manifold. The MPD manifold features redundancy, a high-pressure flowmeter and remote valve operation.
"Can it really handle rise gas? Yes, it can. We've studied it. We understand it. We incorporated certain aspects into the design to handle riser gas," Patil said.
In Weatherford's MPD manifold design, the Coriolis is in front of the choke rather than behind.
"Over the years, we learned that if you have a little gas in the mud, you cannot read the Coriolis flow correctly. It doesn't detect influx and loss because it doesn't read anything if you have a lot of gas," Patil said. "It the Coriolis is in front of the choke, it prevents cavitation. Even if there is a lot of gas, I can still read my flowout."
Sayamik Ameen, global technology manager for intelligent control system/platform at Weatherford, said the control system draws on smart control algorithms based on 3.5 million hours of data from MPD operations and uses an advanced hydraulics model to stay within the pressure window in the case of an influx.
"68 times, we have successfully gotten influx, handled it and continued drilling without having to use the blowout preventor (BOP)," Spinler said.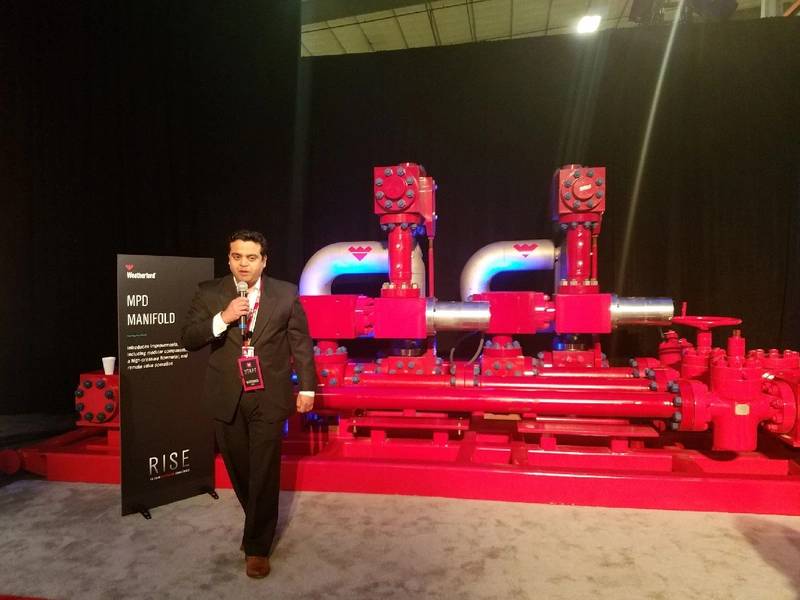 Harshad Patil, global technology manager for MPD at Weatherford, said the MPD manifold is scalable, customizable and modular. It features redundancy, a high-pressure flowmeter and remote valve operation. (Photo: Jennifer Pallanich)