Late cycle contractors may have changed the subsea sector for good and as lead times shorten, schedule optimization is an increasingly vital consideration for offshore project developments.
In prior generations, a subsea original equipment manufacturer's (OEM) duty of care would often end at the quayside. A typical scope of work might see the equipment provider engineer, procure, fabricate and deliver the hardware ready for an installation contractor to install it. Little thought was given to how the host of manifolds, templates, trees and so on would eventually find their way to the seabed, much less how that process could be optimized.
Time passed, and more demanding reservoirs in deeper and harsher environments gave rise to equipment built to ever stricter standards. Increasingly stringent health and safety requirements saw added redundancy and functionality built in, which in turn saw infrastructure grow in size and complexity.
Installing the hardware became even more challenging. Owners of single-lift vessels were able to charge hefty premiums for the ability to handle the hardware safely and install it. A host of field development vessels were delivered to service a market that showed little signs of cooling off. With premium charter rates for high-end tonnage an accepted market dynamic, and subsea manufacturers striving for double-digit operating margins, the subsea industry played host to rampant cost escalation.
Then the downturn happened. Offshore reserves were immediately placed in competition with alternative investments including shorter payback onshore developments and the market collapsed. Subsea was uncompetitive.
Now the industry has reacted and a new generation of hardware has been launched. As well as having fewer parts and modules, the most recent systems have been designed with install-ability in mind. This structural shift has altered vessel requirements too. High end tonnage looks marginalized and uncompetitive in a market that is set to be served by smaller, fit-for-purpose vessels with lower overheads and less redundant technology on board. No longer are vessels required to lift well in excess of 3,000 metric tons in the subsea space. The industry is able to do more with less.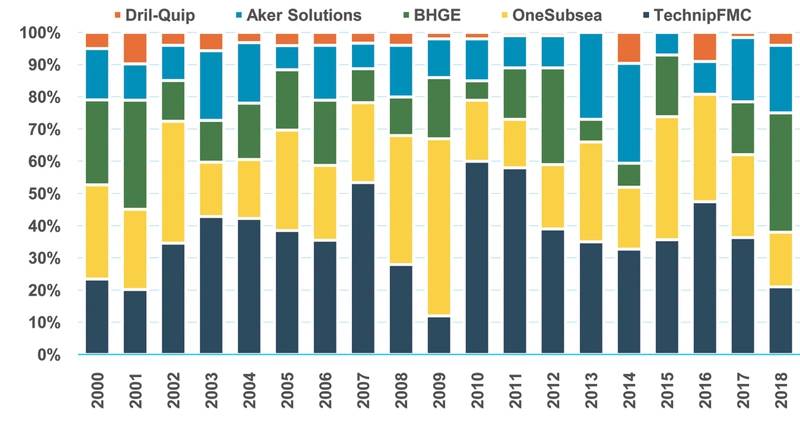 (Subsea OEM market share (Source: MSI)
The shift toward install-ability is not just a function of economics. It reflects the impact of consolidation and collaboration within the supply chain. Going forward we see such collaborative efforts driving a greater prominence of bundled products and services with industrial players looking to deliver across multiple value chains.
It is perhaps no surprise that the leading proponent of this new generation – TechnipFMC – is the only player with a fully integrated supply chain, and a vessel fleet that does not include any assets capable of lifting more than 1,200 metric tons.
The legacy Technip lacked the capacity to install the largest infrastructure – from ultra-deepwater risers through to the largest manifolds. It had to serve the market via a partnership with Heerema that now looks to be increasingly redundant. Technip's influence as a later-cycle player helped the legacy FMC business to consider 'install-ability' when the Subsea 2.0 product suite was being developed.
Subsea 2.0, which includes a new generation of subsea trees, manifolds, control systems and pipelines, has been designed with fewer components and smaller footprint to enable it to be installed using smaller construction vessels.
The products have been optimized to best match what the business can provide under one contract, without the requirement to use external resources. The contractor has attempted to capture as much of the value chain as possible using its asset base – from engineering through to fabrication and eventually installation.
We see a similar shift from the competition: Baker Hughes GE's Subsea Connect portfolio has been designed to be installed using smaller construction ships, and Aker Solutions' latest generation subsea compression unit is half the size of the most recent installation at Asgard off Norway. That latest subsea compression design could be used imminently at Jansz-Io off Australia, and Ormen Lange off Norway.
The shift toward install-ability is a structural change for the industry in our view. With a recovery in subsea activity in sight, albeit unlikely to gather momentum until around 2020, we see an opportunity for those contractors able to provide a service across the value chain. We also see a growing opportunity for vessel owners and operators to collaborate with OEMs, and for oil companies to be increasingly receptive to vendor-based solutions.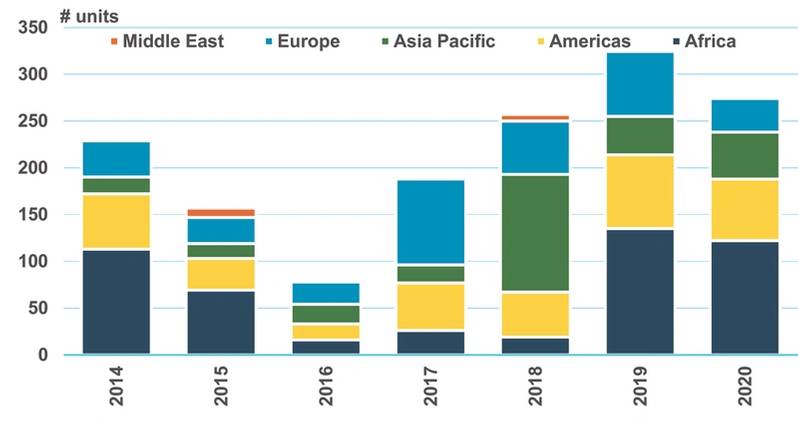 Subsea tree award forecast (source: MSI)
Install-ability is part of a broader theme of project optimization. The offshore industry is only now starting to see the benefit of these lower cost programs. The redesigned projects, competitive with alternative investments elsewhere, prop up a healthy queue of projects set to be sanctioned in 2019, particularly for the second half of the year.
That hopper of subsea work represents a material opportunity for the light construction fleet which is set to become increasingly competitive for offshore installation work over the next two-to-three years. With field infrastructure increasingly designed to fit within a smaller footprint, light construction vessels are increasingly able to deliver a full installation scope of work.
Unlike larger construction assets, which look set to be in a state of oversupply for the foreseeable future, lighter construction assets are one of the few subsectors of offshore set to tighten over the coming cycle.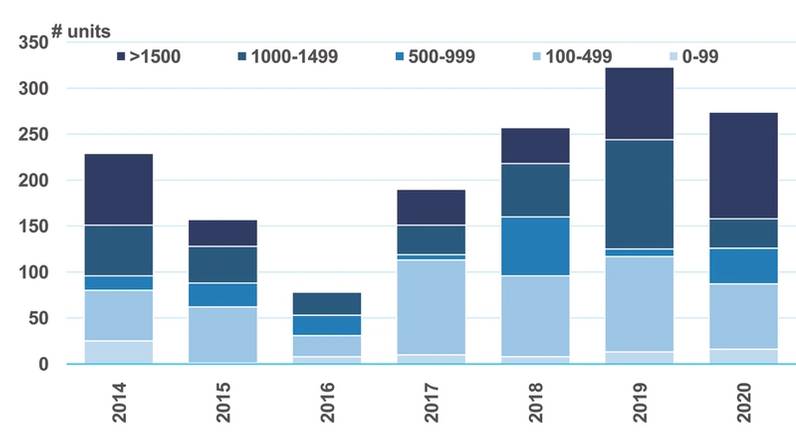 Subsea tree award forecast by water depth (Source: MSI)
The Author
Gregory Brown leads the development of MSI's Oil and Gas Project Tracker and delivers market consultancy, analysis and commercial modeling to MSI's offshore client base of contractors, operators and the financial community.