One of the world's largest semi-submersible crane and pipelaying vessels has arrived in the Netherlands for an extensive six-month upgrade.
The Saipem 7000 is in Damen Verolme Rotterdam (DVR) for a dynamic positioning system overhaul to meet the new closed ring DP3 configuration and ABS EHS-P notation. Under DP3 EHS-P notation, the vessel will achieve an exceptional level of redundancy with four independent redundancy groups systems.
The project will include the upgrade and modification of the vessel's power system for load sharing, the installation of MV, LV and control cables, renewal of the MV and LV switchboards and the motor control centers, the installation of uninterrupted power supplies (UPS) and the creation of an A60 compartment. Detailed engineering is being executed by Damen Verolme Rotterdam in close cooperation with Saipem.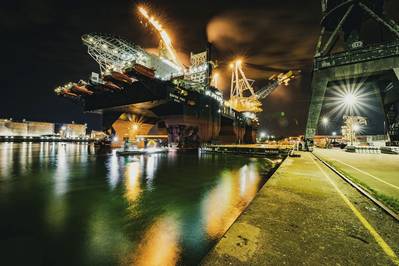 (Photo: Damen)
When completed, the vessel's DP3 system with its 12 thrusters will ensure that the vessel can maintain its position in even the most adverse weather conditions. In addition, because the Saipem 7000 can accommodate up to 725 people, the vessel will be able to assist hook-up and commissioning activities as well as initial platform life support.
The works are scheduled to be completed by the first quarter of 2019, representing a tight schedule due to the delivery and installation for the cables, the switchboards and the extensive structural modifications.
The Saipem 7000 is owned by Saipem S.p.A. and managed by Saipem Offshore Norway AS. It can handle the entire scope of offshore construction developments from pipelaying in water depths greater than 2,000 meters to heavy lift operations of up to 14,000 metric tons.
The Saipem 7000 has been a regular visitor to DVR over more than two decades, coming in for dry docking, special surveys, repairs, major modifications and mobilization work. Its most recent visit was in April 2018 when she spent nine days undergoing mobilization activities.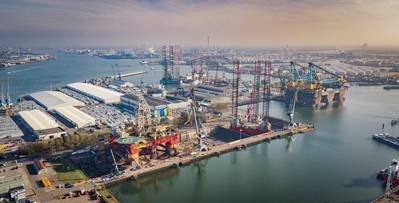 (Photo: Damen)