Energy Transfer, TotalEnergies Pen Deal for Crude Oil Offtake from Blue Marlin Offshore Port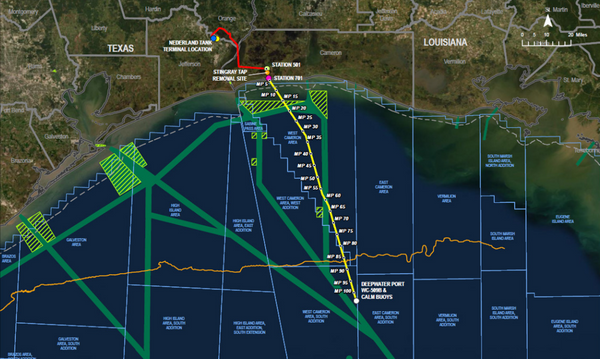 Energy Transfer LP has entered into a non-binding Heads of Agreement (HOA) with TotalEnergies related to term crude oil offtake from its proposed Blue Marlin Offshore Port for 4 million barrels per month.
The HOA is subject to the negotiation and execution of definitive agreements and the satisfaction of other conditions, including Energy Transfer taking a final investment decision on the project, expected to be developed in the Gulf of Mexico, offshore Cameron Parish, Louisiana for exporting domestically produced crude oil.
The agreement with TotalEnergies marks an important step in the commercialization of the proposed Blue Marlin Offshore Port and underscores the need for the further development of export capabilities to support the efficient delivery of U.S.-produced energy products globally.
Blue Marlin Offshore Port is being designed and permitted as a "best-in-class" wellhead-to-water offshore port with the ability to load up to one VLCC per day.
Blue Marlin is a brownfield project that leverages existing underutilized offshore infrastructure , which is expected to result in reduced environmental impact and a quicker time to market. The project is subject to applicable government approvals.
The plans call for the conversion of the Stingray pipeline from natural gas to oil service, including an interim platform in WC 148 and the conversion of the platform complex in WC 509 from natural gas to gas and oil service.
The project includes a new approximately 37.0-mile-long, 42-inch-diameter crude oil pipeline to connect the existing Nederland Terminal in Jefferson County and through Orange County, Texas, to the existing 36-inch-diameter Stingray Pipeline at Station 501 in Cameron Parish, Louisiana.