QatarEnergy Orders 17 Ultra-Modern LNG Carriers for $3.9 Billion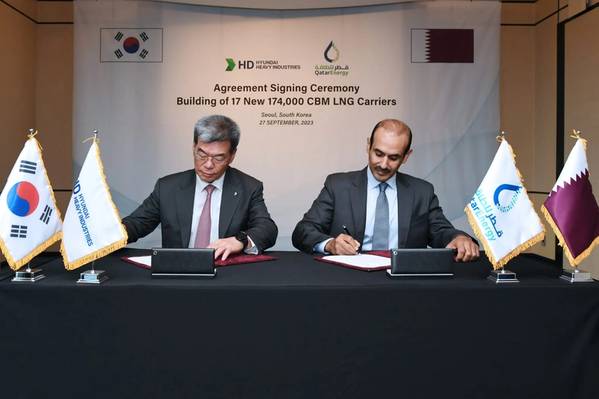 Qatari oil and gas company QatarEnergy has ordered 17 "ultra-modern" LNG carriers from South Korea's HD Hyundai Heavy Industries (HHI).
The deal, signed at a ceremony in Seoul, is valued at 14.2 billion Qatari Riyals (currently around $3,9 billion), and marks the start of the second phase of QatarEnergy's LNG ship acquisition program, which will support its expanding LNG production capacity from the North Field LNG expansion and Golden Pass LNG export projects as well as its long-term fleet replacement requirements.
Together with the 60 ships that were contracted for by QatarEnergy in the first phase of the program, which will be built at Korean and Chinese shipyards, today's agreement brings the total number of confirmed new LNG vessels to be delivered to QatarEnergy and its affiliates to 77, with more to follow, QatarEnergy said.
Saad Sherida Al-Kaabi, the Minister of State for Energy Affairs, the President & CEO of QatarEnergy said: "These 17 LNG carriers will be built by HD Hyundai Heavy Industries to the highest technical and environmental standards and specifications. Further, the vessels are designed to achieve optimal fuel efficiency and significant reduction in carbon emissions. This emphasizes our continued commitment as a leader in sustainability, innovation, and growth within the LNG industry."
QatarEnergy says that this "historic" LNG shipbuilding program is the largest of its kind in the history of the LNG industry and will play a pivotal role in meeting its future shipping requirements as it expands Qatar's LNG production capacity.