Only one of three available areas was sold during the United States' first ever offshore wind lease sale in the Gulf of Mexico on Tuesday.
The auction, held by the Interior Department's Bureau of Ocean Energy Management (BOEM) offered up three sites for offshore wind development, including one in Louisiana (Lake Charles) and two in Texas (Galveston I and II). Together, the three shallow water sites contain a theoretical potential of 3.7 gigawatts (GW).
While 16 companies had prequalified to participate in the auction, bid activity was subdued. No bids were received for the two Galveston areas, and RWE—one of two bidders to post minimum bids in the opening auction round for Lake Charles—was awarded the lease after bidding around $13,500 per square kilometer (close to $55 per acre) in round two.
The price offered for the Lake Charles lease is closer to the prices paid for original leases between 2012 and 2018, as shown in the chart below.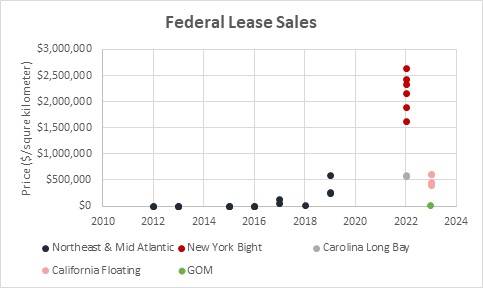 Offshore wind auction prices in the U.S. (Source: Intelatus Global Partners)
In fact, RWE has paid 160 times less per square kilometer for its Lake Charles lease as it paid for its Community Offshore Wind New York Bight lease over a year ago.
The Gulf of Mexico presents unique challenges that make it harder for offshore wind developers to justify investment. In contrast to states in the U.S. Northeast, Texas and Louisiana have no legal mandates for clean energy and significantly lower retail power prices. Gulf wind projects would also be subject to slower average wind speeds and higher risks from seasonal hurricanes.
However, the Gulf region—which has a rich history supporting offshore oil and gas—already has solid infrastructure and supply chain foundations to support offshore wind projects. And despite today's auction results, moves are being made to advance offshore wind development in the Gulf of Mexico.
RWE reported last year a tie up with Greater New Orleans Inc. (a regional economic development nonprofit organization) to support the development of Louisiana's offshore wind supply chain. RWE has also recently established a partnership to evaluate the delivery of offshore wind energy to industrial customers in Texas and Louisiana.
In a signal of the growing role that Louisiana will play in Gulf of Mexico offshore wind development, Shell set up partnership with Gulf Wind Technology earlier this year to establish a research and demonstration program at GWT's Avondale Global Gateway facility in Jefferson Parish. Further, in early February, Crowley Wind Services announced a first refusal agreement to lease a 160,000 square meter site at Louisiana's Port Fourchon, which can serve to support offshore wind projects in the Gulf of Mexico.
Louisiana has yet to establish a Renewable Portfolio Standard to mandate a target for renewable energy generation. However, Louisiana's Climate Action Plan proposed an offshore wind target of 5 GW by 2035. Offshore wind may not be used as an on-grid solution in Louisiana. Rather, it could supply green energy projects.
The U.S. Economic Development Administration awarded the Greater New Orleans Development Foundation, a 25-partner organization, with $50 million in 2022 to "transition the regional hydrogen energy sector by closing the cost gap between green hydrogen, produced from renewable energy sources, and other forms of hydrogen used today, which rely on fossil fuels." The team plans to develop solutions to source offshore wind power, either from state or federal waters, to produce green hydrogen that supplies industrial users, including coastal and river vessels. The project also aims to develop a methanol refueling barge at the Port of South Louisiana through a public-private partnership which will supply methanol to towboats operating on the lower Mississippi River.
---
For more information about the Intelatus Global Partners, visit www.intelatus.com or contact Philip Lewis at +44 203-966-2492.