VIDEO: Offshore Wind Turbine Catches Fire in UK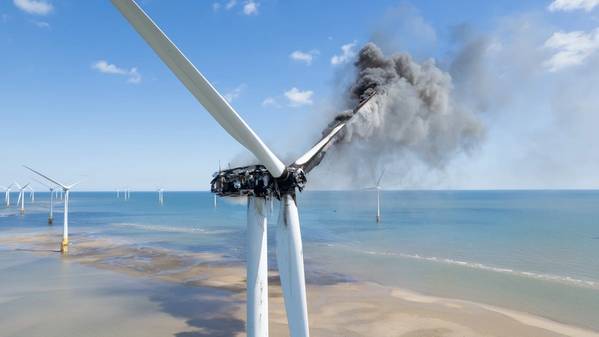 A wind turbine at RWE's Scroby Sands offshore wind farm in the UK reportedly caught fire Tuesday.
Drone footage, shared by Oliv3r Drone Photography, showed the turbine's nacelle and blade engulfed in flames, releasing thick smoke into the air.
Offshore Engineer has contacted RWE, the wind farm operator, for more info on the incident.
Commissioned in March 2004, Scroby Sands is one of the UK's first commercial offshore wind farms.
Located on the Scroby Sands sandbank in the North Sea, 2.5 kilometers off the coast of Great Yarmouth, Norfolk, the wind farm consists of 30 Vestas turbines and has an installed capacity of 60 megawatts. It can power over 48,000 households.
Video & Image Credit: Oliv3r Drone Photography Facebook Page.