Sri Lankan Shipyard Delivers Cable Layer to European Owner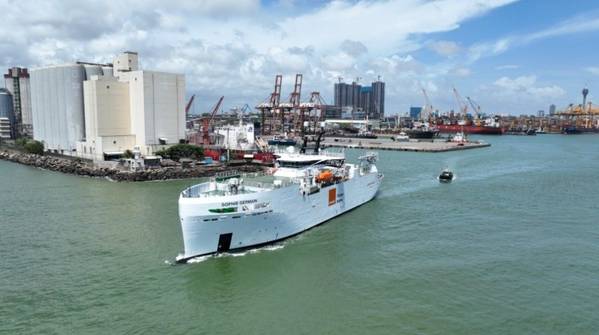 Colombo Dockyard PLC recently delivered the first-ever Cable Laying and Repair Vessel (CLRV) to the European market from Sri Lanka.

The vessel was built for Orange Marine, a France-based specialist in submarine telecommunications, whose fleet represents a 15% of the global fleet in this sector.

"Colombo Dockyard delivered the first Cable Layer (CLV) to Japan in 2019. Now, with the delivery of "C/S Sophie Germain," this becomes the second vessel of its category delivered by the shipyard," Colombo Dockyard said in a statement.
Norway's Vard Design designed the vessel.
The vessel is 100 meters long, with a beam of 18.8 meters, a depth of 7.15 meters, and a deadweight capacity of 1800 DWT.
The vessel can achieve a speed of 14.5 knots and has accommodation facilities for 76 people. It has three cable tanks to carry fiber optic and power cables. One of the three tanks is fitted with a Carousel