EastMed Pipeline Project Still Viable, Edison CEO Says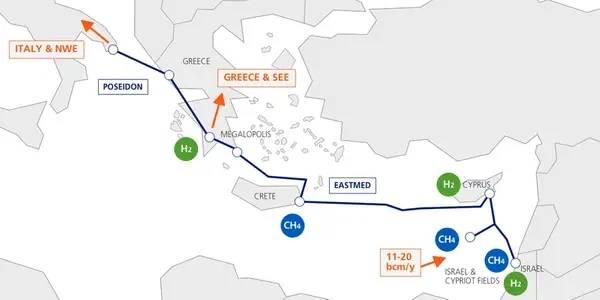 A project to build a 2,000 km pipeline to bring natural gas from East Mediterranean fields to Europe is still alive, the CEO of Italian energy group Edison said on Friday.
Edison CEO Nicola Monti said that the group, which is one of the promoters of the pipeline, was actively talking with Cyprus and Israel about the project.
Last month, the energy minister of Cyprus told Reuters the country was proposing a shorter pipeline to bring gas from Israel's East Mediterranean fields to the island where the gas could be partially liquefied to be transported to the European markets.
The shorter connection could be seen as an alternative to the more ambitious EastMed pipeline.
"A link between Israel and Cyprus can be a first portion of the (EastMed) pipeline we are promoting. Because from Cyprus we could then connect with Crete and Greece," Monti said, speaking with journalists on the sidelines of a meeting of energy industrial lobby Confindustria Energia.
He said he believed that the total costs of building the EastMed pipeline would be lower than the investment needed to build a shorter Israel-Cyprus connection, a liquefaction plant and the expenses of shipping the gas to European markets.
(Reuters - Reporting by Francesca Landini/Editing by Keith Weir)