LD Tide Orders Hybrid-ready CTV from Strategic Marine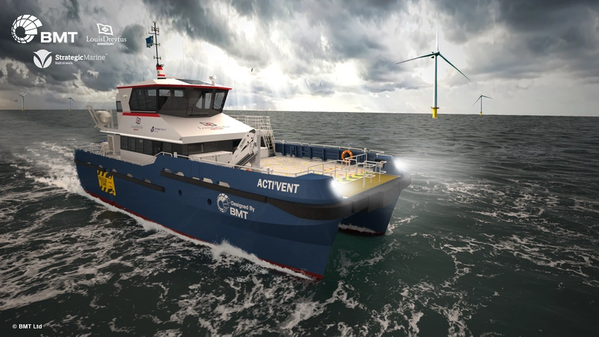 France-based LD Tide has ordered a new crew transfer vessel (CTV) from Singaporean aluminum boat builder Strategic Marine.
The newbuild will by a hybrid-ready StratCat 27 (SC27) designed by BMT.
LD Tide, joint venture between top French shipping company Louis Dreyfus Armateurs (LDA) and UK-based partner Tidal Transit, currently owns and manages a fleet of three CTVs to transfer technicians to the Saint-Nazaire offshore wind farm, about 20nm off the coast of France.
The SC27 order is the first the company has placed for a vessel to be built at a non-French yard.
According to the builder, the 27-meter vessel was designed for optimal operational efficiency across a wide range of loading conditions, with a hull form that maximizes waterline length and reduces emissions and fuel consumption. The vessel will be able to achieve a maximum speed of 26 knots.
The vessel will feature ample storage space, comfortable sleeping areas and business class seating for 24 offshore service/industrial personnel and three crew members. The vessel's bridge deck layout has been enhanced to give improved visibility from the helm and an ergonomic layout to increase comfort for the bridge crew.
Through Strategic Marine's collaboration with Sea Forrest Power Solutions and Danfoss Power Solutions, a retrofittable hybrid power option is available. The parallel hybrid system enables a reduction in main engine hours and maintenance, significant reduction in vessel noise and vibration and, depending on the vessel's operational profile and charging facilities, can cut the vessel's operational carbon footprint.
The vessel also features a Green Passport for ship recycling.