NOV's APL to Deliver Submerged Swivel and Yoke System for Wison's FLNG Project in West Africa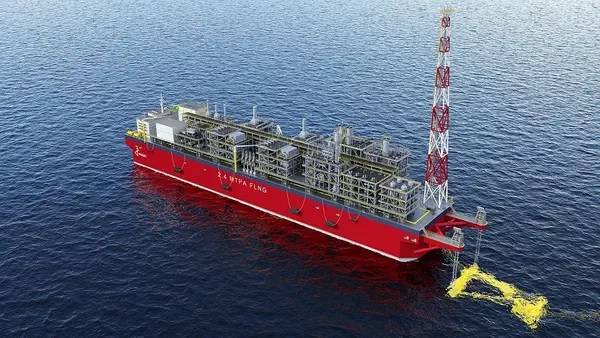 China-based Wison Offshore & Marine has awarded NOV's APL a contract to supply a Submerged Swivel and Yoke (SSY) system for deployment in shallow waters offshore West Africa.
APL said the SSY would be used as a mooring and gas export solution for an FLNG floater producing liquefied natural gas (LNG) for global export, while generating gas for domestic power generation. The FLNG floater will be moored at 33 meters water depth.
While APL did not share further info on the FLNG itself, the image it used to illustration its SSY announcement is the same image shared by Wison recently to illustrate the news on securing the contract to supply an FLNG unit to Eni offshore the Republic of Congo.
As for the Submerged Swivel and Yoke (SSY) NOV's APL will supply for Wison-supplied FLNG, APL says this is "a cost-efficient system for mooring of a floating LNG (FLNG) vessel, floating storage, and regasification unit (FSRU), or a floating storage and offloading (FSO) vessel in shallow water."
"The APL SSY provides an innovative solution, transporting gas/products directly through a subsea pipeline without the need for a jetty.
SSY is based on APL's proven technology components and is designed to last for the field or terminal lifetime," APL said.
As for the FLNG unit Wison is building for Eni the unit will have a capacity of 2.4 MTPA (million tons per annum).
The 380-meter-long and 60-meter-wide vessel will be anchored at a water-depth of around 40 meters and will be able to store over 180,000 cubic meters of LNG and 45,000 cubic meters of LPG. It will be moored in the Nene Marine Field area, ~50km offshore Pointe Noire.