Offshore Wind: RWE Becomes Sole Owner of 1.6 GW Nordseecluster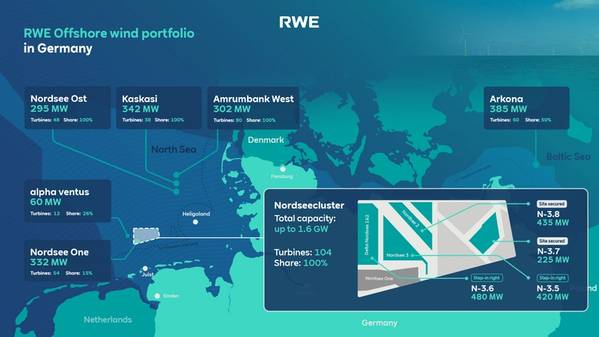 Northland Power on Thursday announced the sale of its full 49 percent stake in the Nordseecluster offshore wind portfolio to its partner on the portfolio, RWE Offshore Wind GmbH (RWE).
With this, RWE will assume full ownership of the projects for a cash consideration of around 35 million euros, which represents a premium to Northland's costs incurred to date.
This transaction will transfer the assets and liabilities and all committed contractual obligations of Northland in relation to Nordseecluster offshore wind portfolio, to RWE.
Nordseecluster's total gross capacity comprises 1,560 megawatts (MW) of offshore wind projects including: Nordsee Two, Nordsee Three, Delta Nordsee and Godewind.
"Northland is constantly evaluating its 19-gigawatt (GW) portfolio and prioritizes projects that are strategically and financially consistent with its investment approach. Evaluation of the NSC in the current environment is leading to higher expected costs for the project, that are only partially being offset by higher expected revenue offtake. As a result, the project no longer meets Northland's investment criteria," said Mike Crawley, President and CEO, of Northland.
"Offshore wind is a focal point of our strategy and with growth in offshore wind set to outpace all other renewables, Northland's leading position in offshore wind positions the Company to be a significant player in this segment through the decade. I want to acknowledge and thank the employees involved in the development of these projects for their contributions and efforts to Northland's success," added Crawley.