President Tayyip Erdogan last Thursday flicked the switch on Turkey's first delivery of natural gas to an onshore plant from a reserve discovered in the Black Sea, and promised to provide free natural gas for households before May 14 elections.
The ceremony was the government's latest attempt to showcase large energy and infrastructure projects in the run up to the election, which opinion polls show Erdogan could lose after two decades in power.
"We will provide free natural gas for household consumption up to 25 cubic meters monthly for one year," Erdogan said at the inauguration of an onshore natural gas port in the northern province of Zonguldak.
Limitless natural gas for all household consumption will be free for the next month, Erdogan said.
Natural gas was first discovered in the Sakarya field off the coast of Zonguldak in 2020, and in Caycuma-1 field next to it last year, with total volume having since been estimated at 710 billion cubic metres (bcm).
Turkey, which has little oil and gas, is highly dependent on imports from Russia, Azerbaijan and Iran, as well as LNG imports from Qatar, the United States, Nigeria and Algeria for its gas.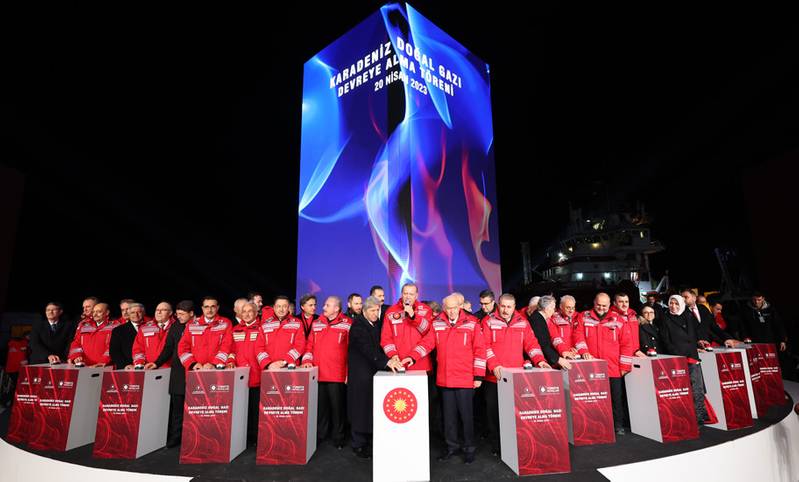 ©Presidency of the Republic of Turkey
Domestic natural gas production mainly in the Thrace region accounted for less than 1% of Turkey's 60 bcm national consumption in 2021, according to EPDK energy regulator data.
Ten million cubic meters of gas per day in Turkey's Black Sea gas fields will be produced initially, Erdogan said. Production will be increased to 40 million cubic metres of gas per day in the coming period, he said.
"When we reach full capacity, we will be able to meet approximately 30% domestic consumption yearly from here," he said.
The presidential and parliamentary elections represent the biggest electoral challenge for modern Turkey's longest-serving leader, after a cost-of-living crisis eroded Erdogan's support. Opposition candidate Kemal Kilicdaroglu leads in opinion polls.
The government has rolled out a series of large infrastructure and defense projects ahead of the vote. Next week, Erdogan is set to inaugurate Turkey's first nuclear power reactor built by Russia's state nuclear energy company Rosatom.
(Reuters - Reporting by Huseyin Hayatsever/Editing by Chris Reese and Grant McCool)
---