The Norwegian low-carbon tech firm Horisont Energi, working to develop CCS project offshore Norway, and the oil and gas company Neptune Energy have signed a memorandum of understanding (MoU) with the energy major E.ON with the aim of developing a European CCS value chain.
According to a statement released on Monday, the MoU will strengthen the cooperation between Horisont Energi and E.ON. Horisont Energi will also expand the cooperation by bringing in Errai [North Sea CCS project] partner Neptune Energy. Together, they will work to develop a European carbon capture and storage (CCS) value chain.
"The three energy companies will take a strong position in the CCS market, accelerating the transition to carbon neutrality," the statement further reads.
The MoU covers several areas, such as the development, financing, and funding of a complete value chain for CO2 handling. If Horisont Energi´s and Neptune Energy´s application for CO2 storage for the Errai project is awarded, the intention is that this will be the first joint project.
---
Related:
Horisont Energi: The North Star Of Offshore Carbon Capture And Storage
---
Bjørgulf Haukelidsæter Eidesen, CEO at Horisont Energi said: "Our cooperation with E.ON and Neptune Energy is already strong. Through this MoU we are expanding the cooperation to include three experienced energy companies. Together, we will strengthen our position to establish a European CCS value-chain business. In case of the license award of Errai, a possible direct participation by E.ON would further strengthen the commercial basis for this project."
The Errai is planned as the first commercial CO2 project in Norway and, the partners say, will represent an important step in industrializing carbon capture and storage (CCS) as a competitive service.
"Bringing in E.ON will strongly contribute to linking CO2 projects on the Norwegian Continental Shelf (NCS) with development of the CO2 removal market in Europe. Pending legislative changes, the cooperation could furthermore lead the way for commercial carbon removal market based on sequestration of biogenic CO2," the companies said.
"Several industries cannot be fully electrified and will therefore depend on CCS to meet net zero emissions requirements and the fulfillment of the 1.5-degree target by 2050. Such industries are situated across Europe and include the production of steel, cement, various chemicals, pulp, and paper. A full CCS value-chain will bring the solution to the customers offering a one-stop-shop for off-take of CO2 and permanent storage in safe sub-sea reservoirs," Neptune Energy sad in a statement.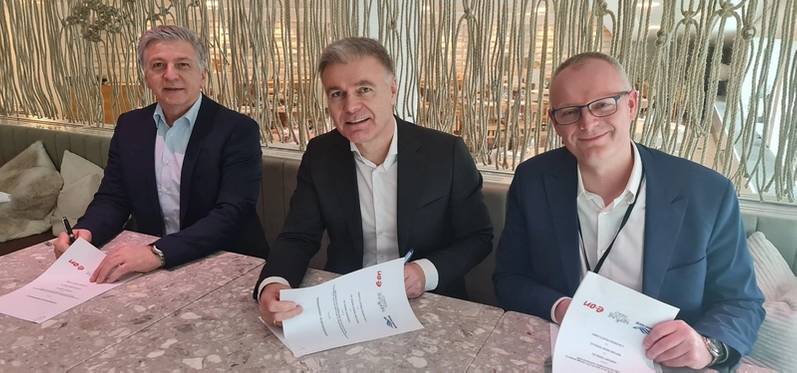 ©Horisont Energi
The Errai project was initiated by Horisont Energi in 2021. In December 2022, Horisont Energi and Neptune Energy submitted a joint application for the acreage identified in the Errai project. In the application, Neptune Energy has been proposed as operator.
The Errai project is planned with an injection capacity of 4-8 million tonnes of CO2 annually in the first development phase, with potential for more in later phases. The project includes an onshore terminal for intermediate CO2 storage and processing, prior to transport for permanent storage in an offshore reservoir.
As a part of the work to further develop the project, Horisont Energi has obtained a long-term lease option for a site suitable for a CO2 terminal at Gismarvik in Rogaland.
The landowner, Haugaland Næringspark, possesses one of Norway's largest industrial areas, with critical infrastructure including access to fibre, electricity, water, sewage, and a deep-sea quay already in place.
In November 2022, Horisont Energi signed a letter of intent with E.ON concerning sequestration services of more than one million tonnes of CO2 planned to originate from E.ON's European customers by 2030, starting from 2027 with a gradual increase.
The three companies said they would consider opportunities to cooperate as partners in different projects, but in the case of a license award to Horisont Energi and Neptune Energy, Errai could be the first possibility for E.ON to become a partner (subject to government approval).
An announcement regarding the license application for Errai is expected in the first half of 2023.