Lankhorst Deepwater Mooring Lines for Liza Unity FPSO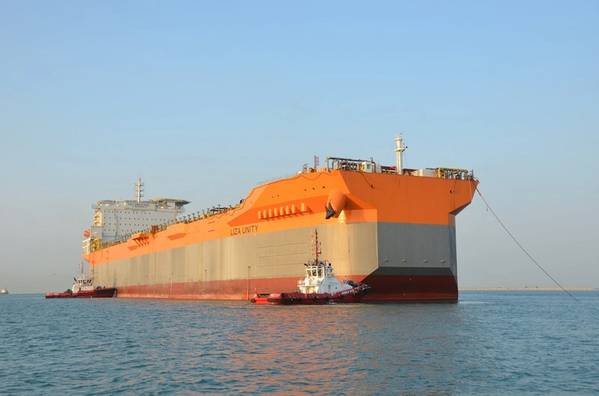 Lankhorst Offshore reports it has been awarded a contract by SBM Offshore to supply the deepwater mooring lines for the Liza Unity Floating Production Storage and Offloading (FPSO) for ExxonMobil's Liza oil field offshore Guyana, South America.
This follows the deployment of Lankhorst mooring lines for the Liza Destiny FPSO mooring system also in the Liza field.
The Liza Unity FPSO, based on SBM Offshore's Fast4Ward FPSO design, will be spread moored at a water depth of 1,600m with 20 Cabral 512 deepwater mooring lines with a minimum breaking strength of 12,300 kN. Each mooring line measures 2,320m in length, totaling 46,400m. When deployed the mooring line will comprise a chain top segment, polyester rope middle segment and chain bottom segment, connected to a suction pile anchor.
The ABS class approved Cabral 512 rope construction features a specially designed filter, preventing ingress of sand while the mooring lines are pre-laid on the seabed ahead of the Liza Unity FPSO arriving on station.
For these two Liza FPSOs, Lankhorst Offshore has developed a 'standardized' deepwater mooring model to reduce lead times. In addition to reducing the number of shipping reels by loading longer mooring line lengths or multiple segments on each reel, Lankhorst has also introduced reusable shipping rope reels/cradles which can be returned to its manufacturing facilities. These enable a more sustainable supply of deepwater mooring lines. The Liza Unity mooring lines will reuse the 16 shipping reels returned from the Liza Destiny mooring.
Cabral 512 polyester ropes utilize a rope construction that is optimized for deepwater mooring applications. Manufactured from high efficiency sub-rope cores laid parallel within an outer braided jacket, each sub-rope is monitored during rope manufacture to ensure all sub-ropes have equal tension and length. The Cabral 512 ropes will be manufactured at Lankhorst Offshore's factory, dedicated to the production of offshore mooring systems, in Viana do Castelo, Portugal.