Equinor and partners OMV and Petoro have made an oil discovery in the Sputnik exploration well in the Barents Sea. Preliminary estimates peg recoverable resources at between 20 million and 65 million barrels of oil.
The Sputnik well (7324/6-1) was drilled to a vertical depth of 1,569 meters below the seabed by the Seadrill semi-submersible drilling rig West Hercules, in licence PL855, approximately 30 kilometers North East of the Wisting discovery. The well encountered a 15-meter oil column in a Triassic sandstone reservoir. Fluid samples contain light oil and water.
"We are encouraged by this result as it confirms the presence of oil north of the Wisting discovery, where Equinor has acquired a strong acreage position," said Nick Ashton, Equinor's senior vice president for exploration in Norway and the UK.
"The geology in the Barents Sea is complex, and more work lies ahead to determine commerciality. But this discovery shows that persistence and our ability to learn from previous well results does pay off," Ashton said.
In 2017, Equinor's Gemini Nord well resulted in a very small, uncommercial oil discovery in a reservoir channel system within the PL855 licence. In 2018, a larger channel complex was targeted in the neighboring PL615 licence, with the Intrepid Eagle well. This well proved a 200-meter gas column, but no oil. The Sputnik well, which is the second well in PL855, has proven oil in a large channel system.
"Detailed fluid analysis combined with geological and geophysical mapping will be carried out to fully understand the commercial potential of the Sputnik discovery. If confirmed that the structure comprises volumes that can be recovered in a commercially viable way, the partnership will assess possible development solutions," Ashton said.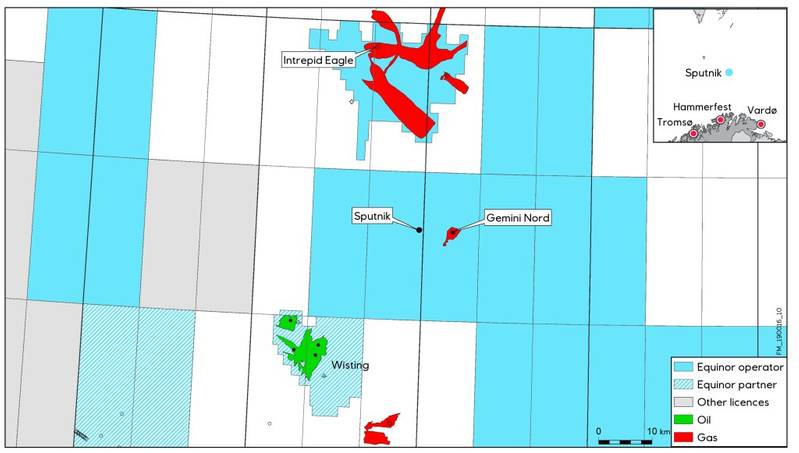 (Image: Equinor)
Jamie Thompson, an analyst with Wood Mackenzie's North Sea upstream team, said, "Despite being small and remote – it lies more than 300 kilometers from shore in the northern Hoop area of the Barents Sea – Sputnik has a high chance of commerciality.
"The aptly-named field could be a satellite of the pre-FID 440 million-barrel Wisting development, which is just 30 kilometers from Sputnik.
"We expect Wisting to reach FID in 2022, with first oil in 2026. If it progresses to plan, Sputnik could start up towards the end of the decade when Wisting comes off plateau."
Thompson said, "The potential commerciality of Sputnik provides a much-needed boost to Barents exploration and highlights the importance of developing new infrastructure in this emerging basin.
"Equinor (55%, operator) and partners OMV (25%) and Petoro (20%) will be encouraged by proving further oil in an area where they hold strong acreage positions."
Equinor's Mist, near Johan Castberg, is the only other exploration well expected to spud in the Barents in 2019. But high-potential wells are planned in the Hoop and southeast in 2020.
West Hercules has now moved on to drill the Equinor operated Lanterna well in PL796 in the Norwegian Sea.