The U.S. Bureau of Ocean Energy Management (BOEM) as approved Equinor and Shell's transaction announced in May 2019, whereby Equinor exercised its preferential right to acquire 22.45% interest in the Caesar Tonga oil field from Shell Offshore Inc for a total consideration of $965 million in cash.
The acquisition increases Equinor's interest in the field to 46% percent, giving it an additional 15,000 barrels of oil equivalents per day (boepd).
Anadarko Petroleum Corporation is the operator with a 33.75% interest, and Chevron holds 20.25% interest.
The Caesar Tonga field is located in 1,500 meters water depth, about 290 kilometers south-southwest of New Orleans in the Green Canyon area and is one of the 10 largest resources in the US Gulf of Mexico. The field contains eight wells connected by an undersea pipeline network to the Constitution spar owned by operator Anadarko, which transports the oil and gas through an existing pipeline to the coasts of Louisiana and Texas.
Production from the field commenced in 2012 and the current production rate stands at 71,000 barrels per day of oil equivalent (total gross), with 90% of the output being oil. The expected life of the field is 30 more years.
Shell had previously agreed to sell the Caesar Tonga assets to Delek Group, also for $965 million, but the deal was conditional upon other interest-holders agreeing not to buy the stake.
According to Equinor, the transaction demonstrates its ambition to grow and strengthen its portfolio in the US Gulf of Mexico, now producing a total of more than 130,000 boe/day.
Equinor has been present in the Gulf or Mexico since 2005 and has a broad portfolio there, with active exploration activity, equity- and operated production. The company also has US onshore operations with a total equity production of nearly 300,000 boe/d, and recently won a bid to deliver offshore wind energy to New York. 
Shell maintains a deepwater portfolio with a development funnel and exploration acreage in the US Gulf of Mexico, and is currently the largest leaseholder and one of the leading offshore producers in the US Gulf of Mexico.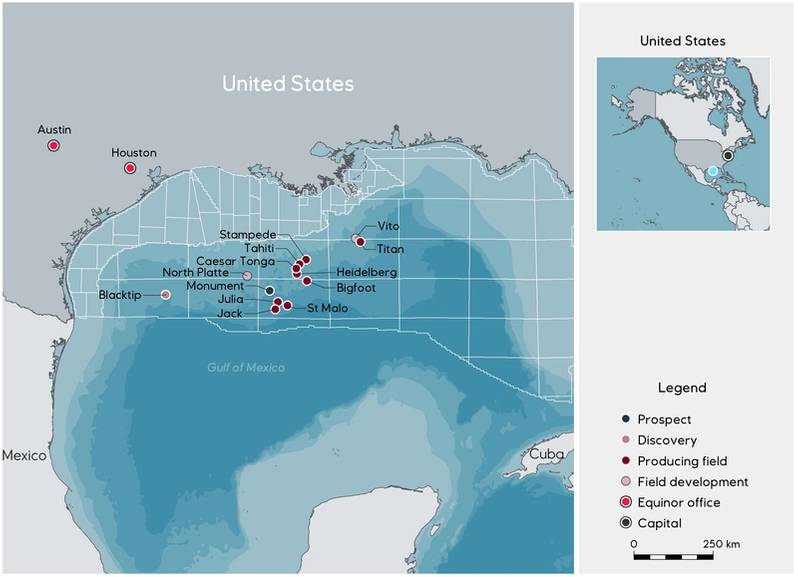 (Image: Equinor)