Norwegian oil company Equinor announced Monday it has acquired an additional 22.45% stake in the deepwater Caesar Tonga oilfield in the U.S. Gulf of Mexico from Shell for $965 million in cash.
The Andarko-operated Caesar Tonga field is located in 1,500 meters water depth, about 290 kilometers south-southwest of New Orleans in the Green Canyon area and is one of the 10 largest resources in the US Gulf of Mexico. The field contains eight wells connected by an undersea pipeline network to the Constitution spar owned by operator Anadarko, which transports the oil and gas through an existing pipeline to the coasts of Louisiana and Texas.
Production from the field commenced in 2012 and the current production rate stands at 71,000 barrels per day of oil equivalent (total gross), with 90% of the output being oil. The expected life of the field is 30 more years.
Shell had previously agreed to sell the Caesar Tonga assets to Delek Group, also for $965 million, but the deal was conditional upon other interest-holders agreeing not to buy the stake.
The acquisition will increase Equinor's interest in the field to 46% percent, giving it an additional 15,000 barrels of oil equivalents per day (boepd). Its current net production from the field is 18,600 boepd.
Commenting on the deal, Michael Murphy, research analyst with Wood Mackenzie's Gulf of Mexico team, said, "This provides Equinor with a great opportunity to increase working interest in an asset it already knows well. The move increases Equinor's US Gulf of Mexico 2019 net forecasted production by almost 15%, to over 100,000 barrels of oil equivalent per day."
"The project will add near term cash flow to Equinor's regional portfolio, and with operator Anadarko set to be acquired by Occidental, it could also position the company to seek operatorship of the subsea tie-back field in the future."
He added, "Our initial analysis indicated that Delek achieved an attractive deal valuation – this is further proof that the US Gulf of Mexico is still a buyer's market."
Andarko has a 33.7 percent interest in Caesar Tonga, while Chevron holds the remaining 20.25 percent.
"We are pleased to increase our presence in the US, one of our core areas. This is an asset we understand well, and our larger interest will deliver significant additional free cash flow from day one," said Christopher Golden, Equinor's senior vice president for Development and Production International, North America Offshore.
"Deepwater Gulf of Mexico forms an important part of Equinor's portfolio. This deal will strengthen our position in this prolific basin and build on the recent discovery in the Blacktip well.
"Later this year we will be drilling the Equinor-operated Monument prospect, which has the potential to further develop our position in the Gulf of Mexico," Golden added.
Equinor has been present in the US Gulf of Mexico since 2005 with exploration prospects and interests in eight producing fields and two in development. Equinor is the owner and operator of the Titan facility.
| Equinor assets in the US Gulf of Mexico | | |
| --- | --- | --- |
| Asset | Interest | Status |
| Titan | 100% | In production |
| Caesar Tonga (post-transaction) | 46% | In production |
| Heidelberg | 12% | In production |
| Jack | 25% | In production |
| Julia | 50% | In production |
| St. Malo | 21.5% | In production |
| Tahiti | 25% | In production |
| Stampede | 25% | In production |
| Big Foot | 27.5% | In production |
| Vito | 36.9% | In development |
| North Platte | 40% | Discovery in definition phase |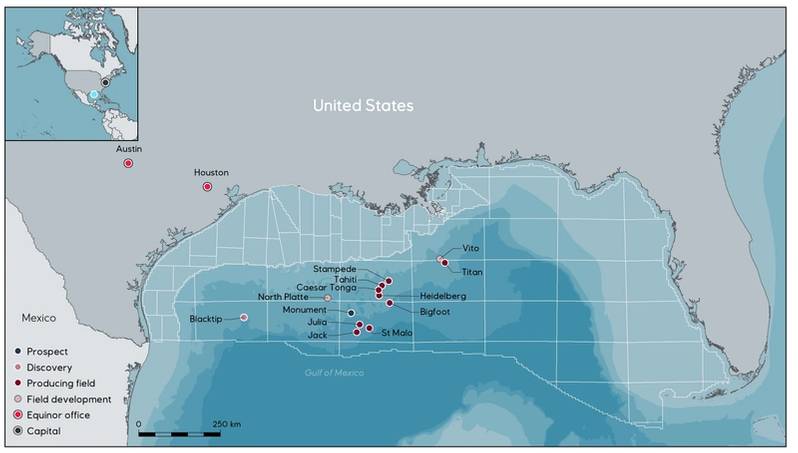 (Image: Equinor)