Jumbo Ships TPs for Tawian Wind Farm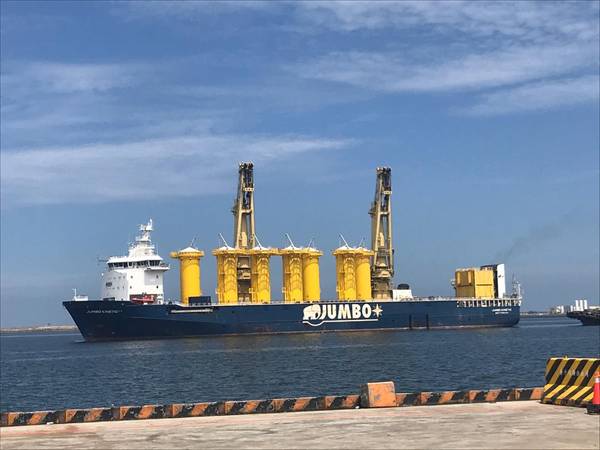 Dutch heavy lift shipping and offshore transportation and installation contractor Jumbo said it has shipped the transition pieces (TP) for Taiwan's Formosa 1 Phase 2 Offshore Wind Farm (OWF).
The TPs, the heaviest, tallest and the largest diameter shipped by Jumbo to date, were transported for Jan De Nul Group in cooperation with brokers Multi Marine Chartering B.V. from Laem Chabang to Taichung.
In advance of the shipments, Jumbo coordinated the fabrication of 12 grillages which act as individual secure holdings on deck for each TP for installation on board the Jumbo Kinetic.
The TPs were secured to the grillages on board the Jumbo Kinetic and then moved in three shipments from Laem Chabang to Taichung. In total 20 TPs with a diameter of 7.8 x 30 meters high and a weight of 462 metric tons each were shipped.
At the end of the project, Jumbo's Project Manager arranged to lend out two of the grillages to create extra shore storage locations for the TPs.
Once built and commissioned, the Formosa 1 OWF will have a total capacity of 128 megawatts. Phase 1 of Formosa 1 features two Siemens 4-megawatt demonstration turbines, the first ever wind turbines to be installed off Taiwan. The Formosa 1 Phase 2 is owned by Formosa I Wind Power Co. Ltd., a partnership of Ørsted (35%), JERA (32.5%), Macquarie Capital (25%), and Swancor Holding (7.5%).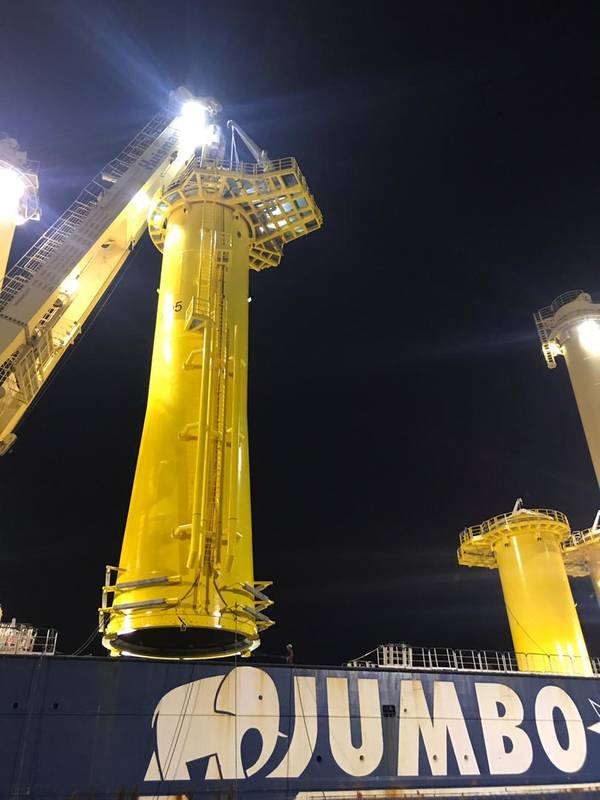 (Photo: Jumbo)