Nord Stream 2 Pipe Ends Link Underway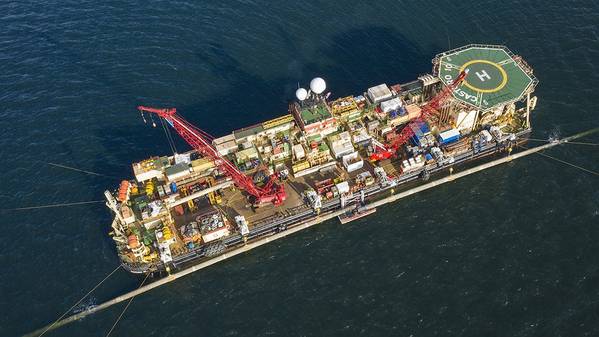 The Saipem pipelay vessel Castoro 10 (C10) is currently on location offshore Rügen, Germany to tie together the two ends of a Nord Stream 2 pipe string laid last year on the seabed.
The two sections will be connected above water with a weld seam, project operator Nord Stream 2 said on Monday.
In what is known as an Above-Water Tie-In (AWTI) both pipe ends will be lifted out of the water and then cut, aligned and welded together from a working platform attached to the C10. The weld seam is ultrasonically tested and coated with an anti-corrosion protection. Afterwards, the pipe string will be placed on the Baltic seafloor in a slight arc.
Including all preparation and follow-up work, the procedure takes two to three weeks. With optimal weather conditions and smooth operations, the works above water can be completed within just a week.
The C10 is situated northwest of the Landtief approach and positioned with eight anchors. Due to the anchor pattern as well as diving works, a safety distance of at least 1,000 meters from C10 must be observed.
Work on the Nord Stream 2 Pipeline continues to proceed as scheduled. Altogether more than 1,700 kilometers (over 70%) of both pipe strings have been laid in accordance with the existing permits in the waters of Germany, Sweden, Finland and Russia.