Canada has a well-established offshore history within the oil and gas sector, with the first offshore exploration carried out by Mobil in the Stable Island region in 1959. Today, the major areas of activity are within the Jeanne d'Arc Basin east of St John's and the Sable Island region southeast of Nova Scotia.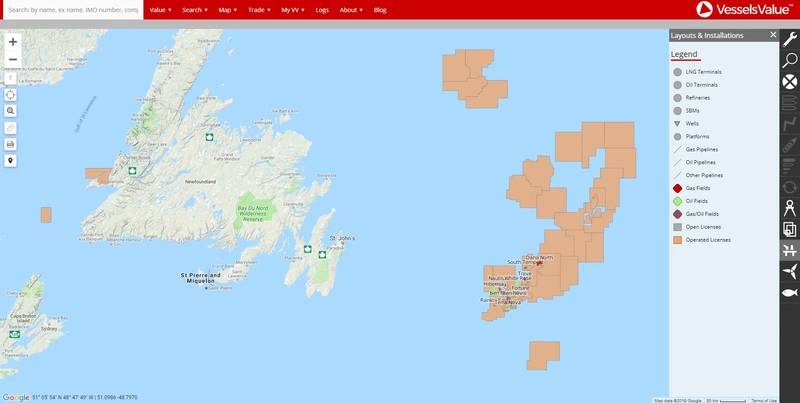 Jeanne d'Arc Basin (Image: VesselsValue)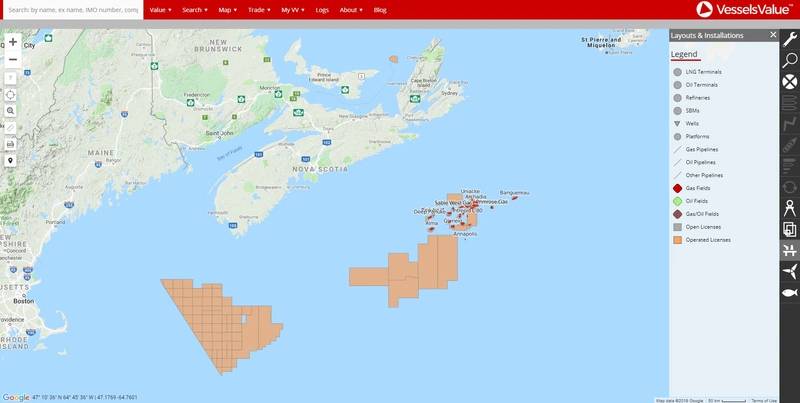 Sable Island region (Image: VesselsValue)The competitive landscape in Canadian offshore differs greatly from operating regions such as the North Sea, US Gulf or West Africa. Most Canadian offshore is dominated by a small handful of Canada-based companies owning large sophisticated ice class tonnage to cope with the notoriously harsh environment. These companies include Atlantic Towing, Horizon Maritime and Secunda Canada. Then's there one European owner, Maersk Supply Service, which has six vessels in the region.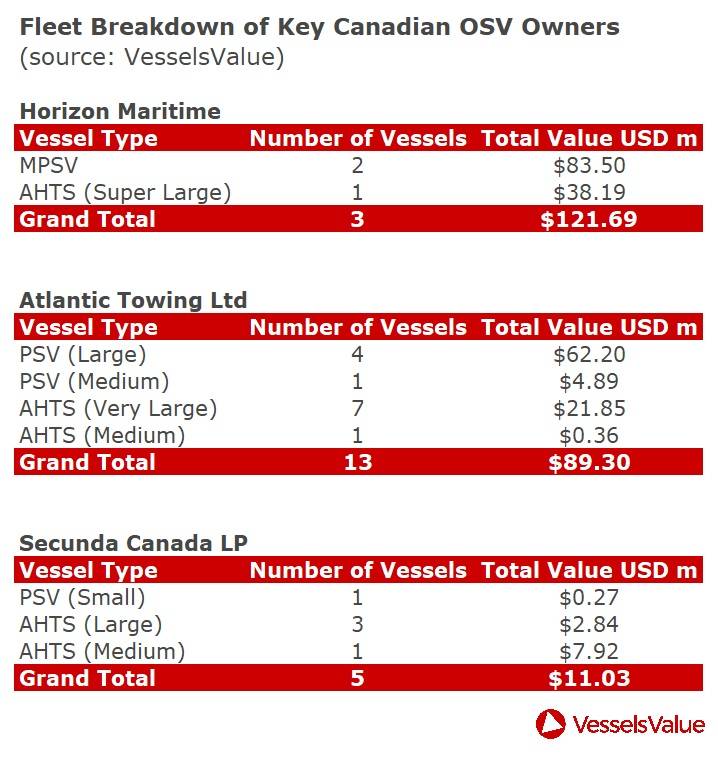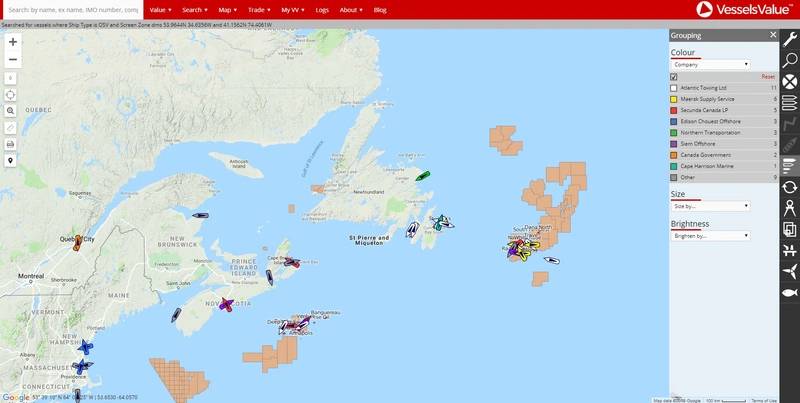 OSVs currently located around the east coast of Canada, according to AIS satellite data (Image: VesselsValue)
Well-timed purchases by Canadian owners
The offshore market downturn over the past few years has been a tough environment for both vessel owners and operators. Asset prices have plummeted to historical lows and charter rates for many years were barely above opex.
However, a number of companies across the globe have used the current market conditions to their advantage and have been able to pick up bargain vessel purchases. Canadian owners are no exception and have shown their tenacity to get a good deal.
Over the last few years, Horizon Maritime has made two extremely well-timed purchases. In August 2017, it bought the resale vessel Horizon Star, ex 379 Hull (102.8m LOA, Jul 2017, Kleven Verft) from Kleven Verft for US$45 million, VV value US$46.9 million. Then in March 2019, Horizon purchased the Bourbon Arctic (27,115 BHP, 2016, Vard Brattvaag) for US$41.5 million, VV value US$39.6 million. The Bourbon Arctic was originally ordered by Bourbon France in February 2014 for US$119 million. This is an extremely well-timed purchase for Horizon at a significant discount from Bourbon's original newbuild cost.
Fellow Canadian owner Atlantic Towing has also been flexing its muscles in the secondhand market with the purchase of the Atlantic Harrier, ex Fafnir Viking (4,300 DWT, Apr 2020, Havyard Leirvik) for a rumored US$20 million to US$21 million, VV value US$21.8 million.
The vessel was originally contracted by Fafnir Offshore in 2014. However, in January 2017, Havyard canceled the order due to Fafnir being unable to secure a long-term charter or financing deal.
Interestingly, these purchases were extremely well-timed for another reason, with all imported vessels entering Canada subject to a duty rate of approximately 25% of the fair market value. Buying now at historical lows reduces this extra additional cost.