As oil and gas wellbores age, owners need new and better ways to gather – and understand – intelligence about the condition of their assets.
Downhole cameras can be useful for finding restrictions in a wellbore during completions, and they can locate areas where casing and other tubulars are damaged or corroded and measure splits and cracks. Additional applications include well flow visualization, pre- and post-frac perforation measuring, inspecting the blowout preventer, sliding sleeve, SSSV, packer leaks and liner tops. But downhole cameras can be used for more than basic wellbore inspections. They can be used to speed up fishing.
"Previously, they were going in blind or with the lead impression blocks to identify the fish top. The fish could be here, it could be there," said Prakasen Vatakkayil, Expro product line manager.
The simple expedient of running a camera downhole makes it possible to inspect the fish, observe its orientation, capture measurements of the fish and design the right tool to catch the fish.
"This can reduce the number of trips needed to get the fish out," Vatakkayil said.
Expro itself has used downhole cameras for more than three decades, and a few years back purchased DHV International, Inc to round out its downhole camera offering.
Some runs combine calipers with the cameras. In that case, Vatakkayil said, the camera will take images on the run down the hole, and the calipers will take measurements on the trip out of the hole.
Downhole camera technology has evolved. Previously, such cameras could only look straight down, but some can image a side view, including the ViewMax camera that became part of the Expro toolbox via the DHV acquisition.
Enhancements led to a lighter and smaller version called ViewMax Lite, and additional LEDs help control lighting downhole. Other companies offer cameras that deliver color or other capabilities that customers might find useful.
"We also partner with the technology companies," Vatakkayil said. One such partnership is with Vision iO, a downhole camera manufacturer that has 3D capabilities in the works that should "be interesting and a useful advantage for the customer."
According to Vatakkayil, the partner's existing unique fish eye camera technology visually logs the whole well in a series of 185/360 degree seamless high-resolution color images to provide a full view of the wellbore without switching from front to lateral view.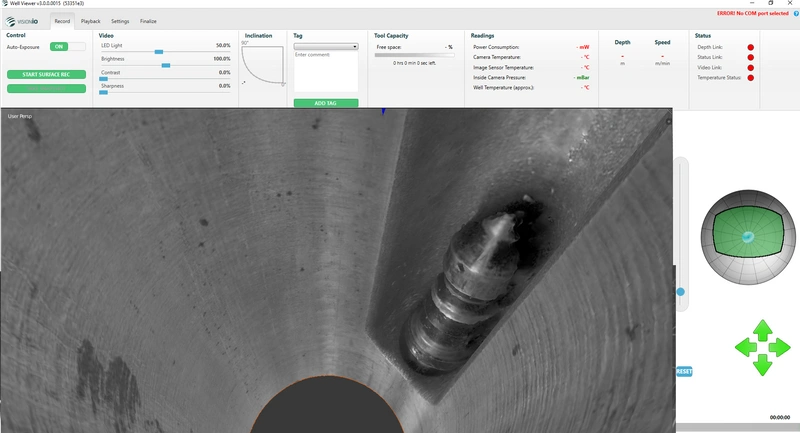 WellViewer showing WellCAM 3D image on screen. (Image: Vision iO)
David Clover, global account director at Vision iO, said, "Operators want more than just a picture, and that led to a lot of the development we've done with our current tools."
Previous generations of the WellCAM downhole camera could measure wellbore integrity issues in terms of width and height and apply filters that removed debris or particles in the fluid. The latest iteration not only brings measurements into 3D, but it also brings wellbore analytics to the operation.
"It gives that additional dimension, the depth in addition to width and height," he said.
The latest generation of the WellCAM downhole camera can be used in conjunction with 3D printing to generate a replica of damaged wellbore areas or a fish. It can also be used with a 3D virtual reality headset to look inside the well.
Vision iO's WellCAM 3D technology places multiple cameras in a helix along the length of the tool to enable a 360-degree scan of the wellbore, Clover said. The concept is proven and the vendor expects to run a prototype in a test well in 4Q 2019, he said.
"Instead of just viewing images, if there's a fish or a damaged valve or damaged gas lift mandrel," using the captured data in the system, they can "print out what's in the wellbore and give to the production engineers or to the fishing company and say, 'This is what we found in well, here's the information to allow you to solve the problem,'" Clover said. "We've done that with the dry prototype already."
The captured data can be animated for viewing in 360 degrees with a virtual reality system to allow the user to "manipulate or move around in" the wellbore image.
"In today's mature oil fields where there are things like corrosion, damage and wear, where the integrity of the wellbore is important to the client, they would easily be able to see deterioration of the wellbore by running this type of camera once a year," Clover said.
That year-on-year view would give operators some insight into how to prioritize interventions and workovers to minimize costs and improve HSE, he said.
The WellCAM 3D camera is a 2 7/8 inch diameter tool. It can run as a standalone tool at the end of a string or in midstring along with multiple telemetry tools. However, like all downhole cameras, it requires clear fluid to be able to image the wellbore.
Earlier generations of the camera have completed more than 400 operations.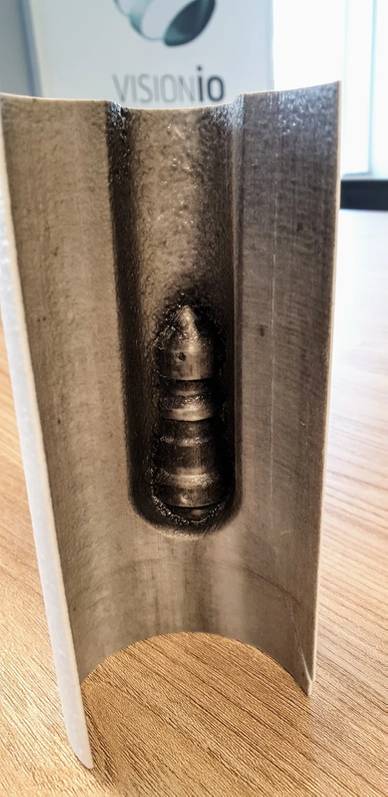 3D print generated directly from WellCAM 3D camera data. (Image: Vision iO)