Talon Grows North Sea Portfolio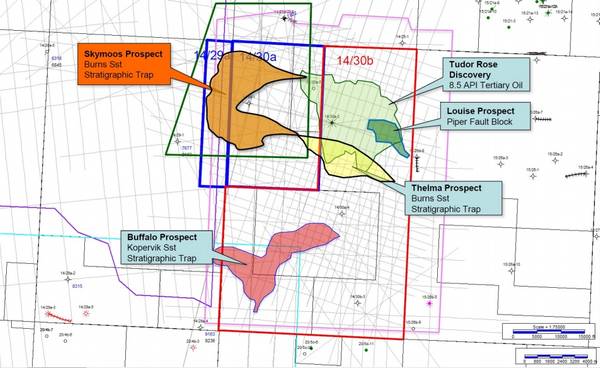 Australia-based Talon Petroleum said it has been notified by the UK Oil and Gas Authority of its successful joint bid alongside the Netherlands-based partner ONE-Dyas for a licence over Block 14/30b via the UK 31st Supplementary Offshore Licensing Round.
The licence contains the Thelma Prospect, a Burns Sandstone stratigraphic trap and contains a 29mmbo (gross best estimate) prospective resource; Louise Prospect, a Piper Fault Block target and which contains a 17mmbo (gross best estimate) prospective resource; and the Buffalo Prospect, a Kopervik Sandstone target and which contains a 160Bcf (gross best estimate) prospective resource. The new prospects sit adjacent to Talon's 107mmboe (best estimate) Skymoos Prospect.
Upon award, the licence will be the fifth UK North Sea asset acquired by Talon since the company embarked on its UK North Sea strategy in mid-2018.
The joint bid by Talon and ONE-Dyas is part of a broad joint technical assessment of opportunities in the area by the two companies.
Commenting on the new licence award, Talon Managing Director, Matt Worner said, "We are extremely pleased to be adding another highly prospective licence to the Talon portfolio in partnership with ONE-Dyas. The Thelma and Louise Prospects within the block are adjacent to the play identified at Talon's Skymoos prospect in neighboring Licence P2363, which is currently the subject of an ongoing farmout process by the company.
"The acquisition of an interest in this new licence is a strategic move by the company to expand and secure Talon's position in the area, which could be leveraged in the event of successful exploration drilling at Skymoos. Additionally, the Buffalo Prospect is a potentially significant gas prospect."