New Vessels Up Security Offshore Nigeria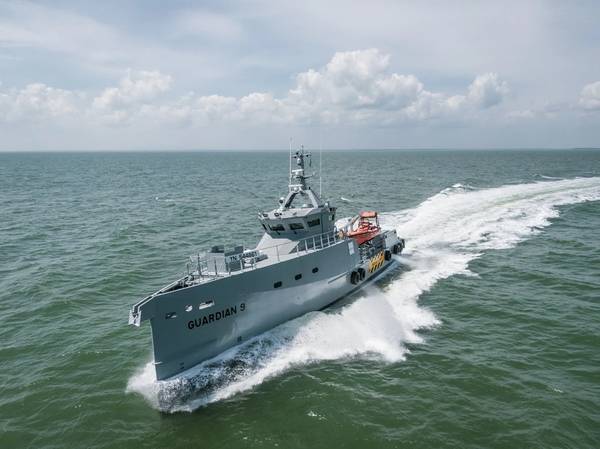 A pair of new patrol vessels have been delivered to boost the security presence for offshore operations off the coast of Nigeria.
The Netherlands based Damen Shipyards Group said on Tuesday it has handed over two Fast Crew Supplier (FCS) 3307 vessels configured as patrol boats to West African offshore services supplier Homeland Integrated Offshore Services Limited (HIOSL).
The delivery of Guardian 9 and Guardian 10, just five months after the contracts were signed, adds to the existing FCS 3307 Patrol fleet that HIOSL has been operating for the past five years.
As privately-owned vessels they have no offensive capability apart from the security personnel on board and their equipment, however they are well defended. The bridges are bullet proof and armored 'citadels' within will protect non-combatants in the event of fire being exchanged.
At 33 meters long, the FCS 3307 Patrol shares the same attributes as the other variants available. Thanks to its Axe-Bow hull form it has excellent maneuverability and first-class seakeeping combined with superb fuel economy and a top speed of 28 knots, the builder said. Guardians 9 and 10 are powered by three Caterpillar main engines delivering 3,250 bkW to three fixed pitch propellers via three Reintjes WVS series gearboxes. They have a range of 1,000nm at full speed and with full complements of six crew and 12 security personnel they will be able to remain at sea for up to four weeks, in and around Nigeria's coastal and offshore oil fields.
The two new vessels have not entirely left behind their fast crew supplier origins. Like their sisterships, each has a 75m² cargo deck aft rated at 2.5 metric tons / m². This allows them to provide an express service for the delivery of urgently needed equipment and spares. Additional equipment specified by HIOSL includes thermal imaging sets, diesel powered SOLAS fast rescue craft and Fuel Trax fuel monitoring systems as well as redundant fuel oil separators to protect the engines and generators from contaminated fuel.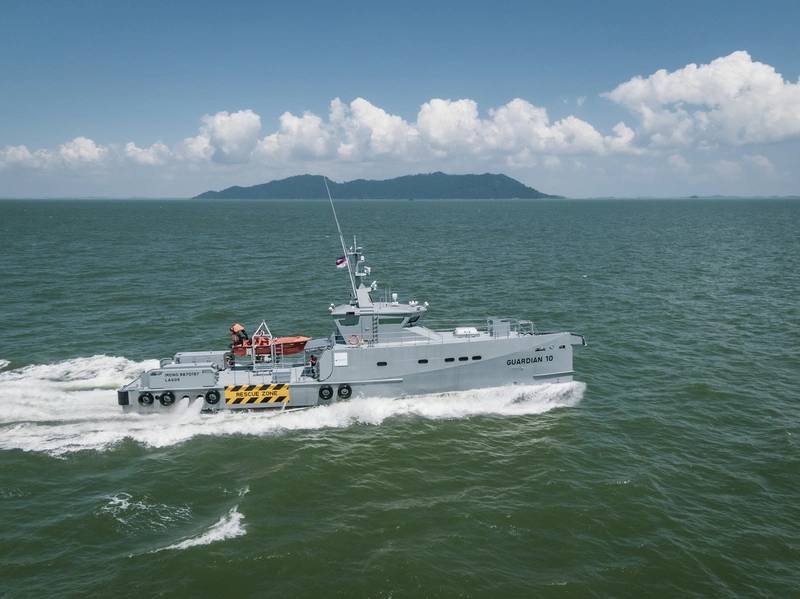 (Photo: Damen)