Hydraulic equipment and services company Brimmond Group, together with partner oilfield equipment and services firm Rigrun Europe, greeted more than 125 oil and gas professionals and suppliers to their Kintore facilities on Thursday, for an Offshore Asset Demo Day, part of the UK companies' strategy to showcase the breadth of products and services that they offer.
Alan Glennie, technical director, said, "This year's Demo Day is the result of talking to customers. We realized that customers might not appreciate the breadth of products and services we supply, we thought an open-day event would be a great way to showcase our range of products."
Brimmond Group has invested a six-figure sum to expands its rental fleet, and in the first half of 2019, it has added several new products to its offshore rental fleet including 107kW Diesel HPUs, 57kW Diesel HPUs, 45kW Zone 1 Electric HPUs and 200kW Zone 2 Diesel HPUs. The investment also included further cranes, shakers, winches and lifting accessories.
In addition, Preffered Marine Cranes has been integrated into Brimmond Group, streamlining the marine crane offering through one company, providing customers with a one-stop-shop solution for maritime cranes.
Brimmond Group said that 2019 has been an "extremely positive year" so far. In April Brimmond had a record month in rental, and with no signs of this slowing down with various key rental projects kicking off over the next few months. In addition to this the Engineering and Manufacture division saw a seven-figure revenue in the first 4 months of this year. The new contracts see Brimmond Group expanding its global reach with equipment going to projects in Mozambique, Angola, Equatorial Guinea, Middle East, Spain, Russia and Ghana.
"The successes that we have secured in the first half of the year are down to the hard work completed during 2017/18. We listened to the market demands and converted these demands and trends into developing a more comprehensive product offering," Glennie said.
Tom Murdoch, engineering director, said, "We are positive that this event will be a success in showcasing our engineering capabilities in delivering new build equipment designed to meet our clients specification, budget and timeframe within the E&P, drilling, decommissioning, subsea and offshore wind sectors."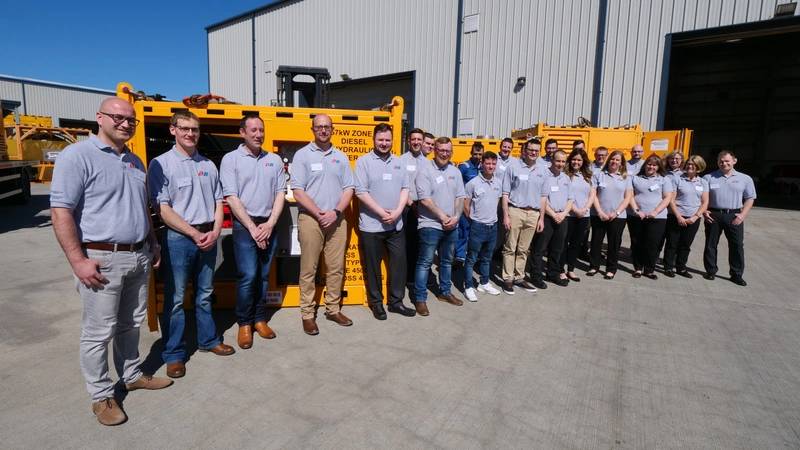 The Brimmond Group team at the first Offshore Asset Demo Day (Photo: Brimmond Group)