Mooring solutions supplier SOFEC has selected an innovative mooring monitoring system (MMS) for a major new deepwater development offshore Mozambique.
The new system, supplied under a teaming agreement between BMT and Sonardyne, will involve monitoring of the turret mooring system on a new-build floating liquefied natural gas (FLNG) facility being built in South Korea for Eni's Coral South project, in with water depths ranging from 1,500-2,300 meters.
Above the waterline, BMT will supply the station-keeping turret monitoring system and local control panel with touchscreen interface. The control panel will also house Sonardyne's topside equipment, to minimize the system's footprint. Additionally, the system will allow SOFEC's client to gain remote data access through BMT's secure cloud-based portal, BMT DEEP.
Below the waterline, Sonardyne's SMART (Subsea Monitoring, Analysis and Reporting Technology) will be used to constantly monitor mooring integrity on each of the 20 anchor legs. Daily summary reports and automatic fault detections will be wirelessly communicated to the surface from the SMARTs real-time.
SOFEC, a MODEC Group company, chose to use BMT and Sonardyne's combined engineering solution based on high data availability, ease of remote operated vehicle (ROV) installation, robustness of the subsea technology and the longevity between maintenance periods that the BMT / Sonardyne MMS offers.
Robert Barker, Offshore Commercial Manager at BMT, said, "Our system will be providing valuable integrity data and important real-time monitoring of the mooring system to enhance operational safety."
Stephen Auld, Global Business Manager, Subsea Asset Monitoring, Sonardyne, says, "Our SMARTs use fast burst and highly energy efficient acoustic telemetry, as well as ultra-low power electronics, reducing through-life costs for customers, and that was a real positive for SOFEC. For this project, we've also increased the time between battery replacement to in excess of six years, so it's a long-life, easy to use system to ensure integrity data acquisition."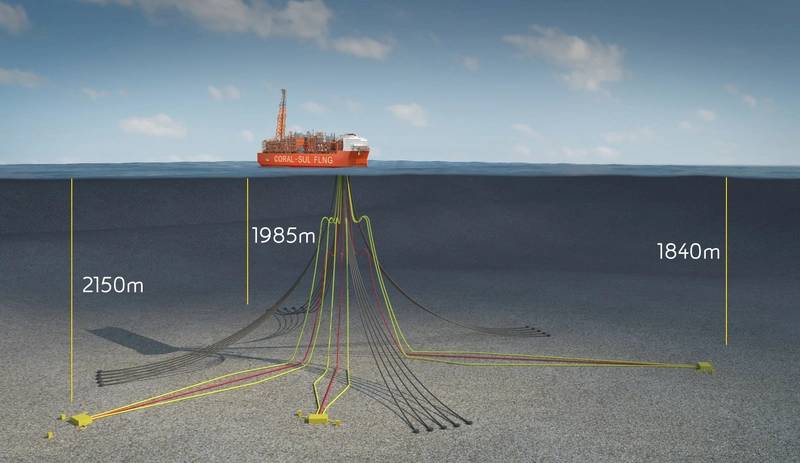 (Image: Eni)