Angola's national oil company Sonangol has recently taken possession of the first of its two drillships built by a Korean shipyard firm, signaling the start of the implementation of its regeneration program that include investment in deep and ultra deep water drilling and offshore marginal areas.
The delivery of Libongos, the drillship built by Korean shipyard Daewoo Shipbuilding Marine Engineering, is a clear indication that Sonangol and Angola are ready for the next round of campaigns to woo additional investments especially from Angolan, African and international independents that have either been missing in action or put brakes to their operations in the country's offshore market.
Sonangol, which was recently restructured, appears determined to take control of its planned offshore exploration operations by acquiring its own drilling equipment as opposed to leasing from established drilling vessel owners. To strengthen its deepwater drilling position, Sonangol has partnered with one of the top global deepwater drilling vessel owners, Seadrill Limited.
"Having now in our hands a drill rig, whose specifications allow us to overcome the challenges of the new exploration and production frontiers, Sonangol increases the range of integrated services of the primary chain, reducing dependence on external availability in the fulfillment of the exploration work programs," said Sonangol president Carlos Saturnino.
The acquisition of Libongos, and expected later delivery of a second drillship, Quenguela, both 7th generation high spec ultra deepwater drillships, coincides with a planned launch by Angola of a campaign to attract investment in the country's marginal fields that include offshore areas that the Minister for Mineral Resources and Petroleum Diamantino Azevedo believes would reverse the dwindling crude oil production in Angola, Africa's second crude oil producer after Nigeria.
Currently, Angola's daily output is estimated at a maximum of 1.6 million barrels but Azevedo says over the next four years the production volumes could fall by 36% unless the country attracts investments especially in its deep, ultra-deep water and marginal fields, a challenge Sonangol is preparing to take up with its expanded exploration and production mandate.
"If we don't conduct the exploration works and find new reserves, we will not be able to maintain the current levels of production," Azevedo said recently.
In fact, Angola has organized the first oil and gas conference in 2019 to be held in June and where the government of President João Lourenço will enumerate available oil and crude investment opportunities including the proven deep offshore basin and marginal fields that will soon be open for bidding.
According to Guillaume Doane, CEO of Africa Oil & Power, which is organizing the forum, "Through marginal fields, Angola is attracting a greater diversity of exploration and production players that can operate smaller onshore and shallow water resource plays."
"In the next decade Angola can achieve historic developments through marginal fields similar to what Nigeria accomplished in recent years," he said in a previous statement.
For Sonangol, which was recently stripped off its powers to regulate the petroleum sector and the responsibility transferred to a new entity, National Agency for Petroleum, Gas and Biofuels (ANPG), investing in its drilling capacity such as the acquisition of new drillships, bolsters the company's new role as a pure exploration and production company that can compete locally and across the African region.
It is expected Sonangol, which must have a minimum participating interest of 20% in any awarded concession, will be among the Angolan oil and gas exploration and production companies that will participate in the next round of bidding expected after the June oil and gas forum in Luanda.
Sonangol's new partnership with Seadrill announced earlier this year has formed a new 50:50 joint venture, Sonadrill, which will operate four drillships, focusing on opportunities in Angolan waters.
Seadrill's JV with Sonangol comes at a time when the deepwater drilling vessel owner says there is likely to be an over-supply of drilling units in the global market because of an anticipated entry of newbuild rigs into the market "many of which are without firm drilling contracts."
But in Angola, the biggest worry has been the huge drop in offshore exploration rigs. By the first quarter of 2018, reports indicated there was only one exploration rig in the country's waters as the government sought to convince existing and new oil and gas exploration companies to venture further into the unexploited deep- and ultra-deepwater areas that are believed to contain huge oil and gas reserves.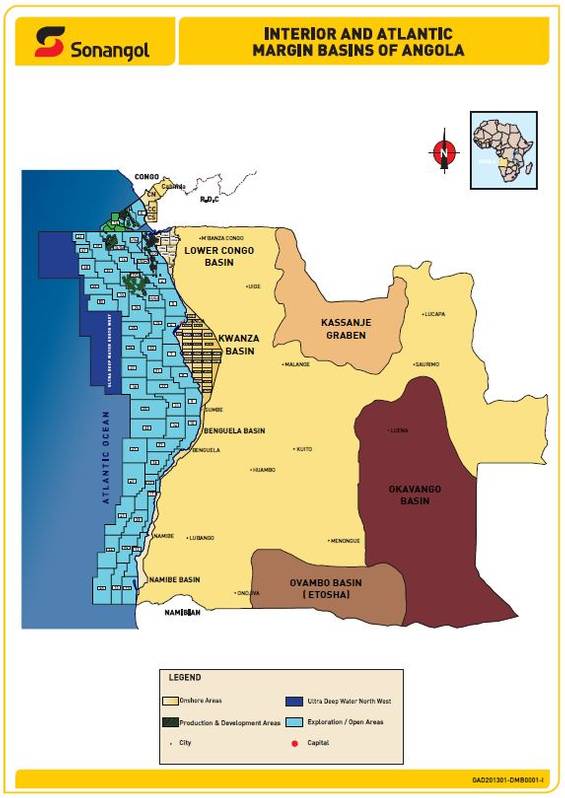 Some of Angola's offshore and onshore oil blocks (Image: Sonangol)