The world's largest heavy lift and pipelay vessel, Pioneering Spirit, will take a temporary pause from Nord Stream 2 pipelaying activities in the Swedish Exclusive Economic Zone to perform planned platform lift work in the North Sea.
The Allseas-owned vessel, which in 2018 installed the 22,000 t drilling platform topsides for Equinor's Johan Sverdrup development on the Norwegian continental shelf, will now return to the field to install the 26,000 t processing platform topsides and the 18,000 t living quarters platform topsides. This third-party engagement was already stipulated in Nord Stream 2's contract with Allseas signed in April 2017.
Nord Stream 2 said it expects Pioneering Spirit will return to the Baltic Sea to continue laying pipeline within about one month's time.
"We have a complex, non-linear schedule for laying the twin Nord Stream 2 pipelines, taking into account the environmental requirements and using a large number of vessels for the implementation of various activities," said Nord Stream 2's Chief Project Officer Henning Kothe.
Pioneering Spirit is expected to put pipelaying activities on hold again later this year.
"Pipelay works are progressing well and according to schedule," Kothe said. "The other construction works are on track to complete the twin pipelines by the end of 2019."
Nord Stream 2 is being built to transport gas from Russia into Europe. So far, more than 800 kilometers of pipes have been laid on the seabed for the project in line with the permits granted by Germany, Finland, Sweden and Russia. Currently there are more than 1,000 people working on some 20 vessels for the project.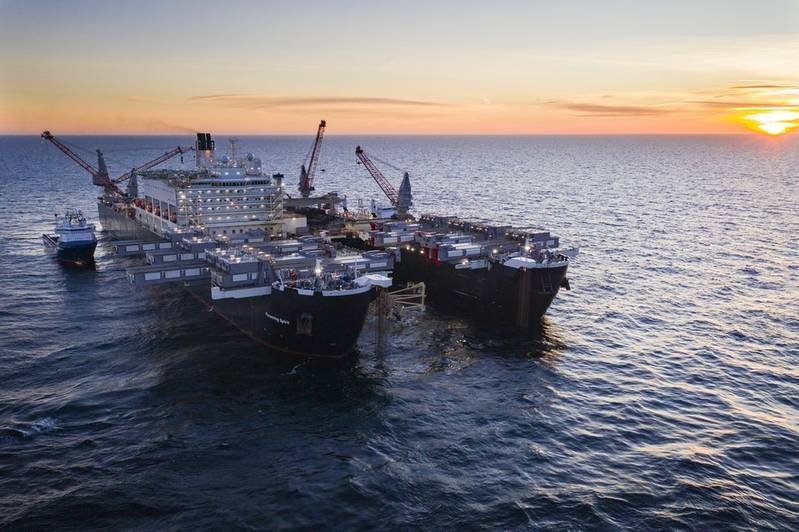 Pioneering Spirit installing pipeline in Swedish waters (Photo: Nord Stream 2)