Although much of the hype surrounding the Brazilian oil and gas market is directed toward the Santos Basin pre-salt, recent and older pre-salt discoveries in existing areas and on recently-awarded blocks within Campos Basin offer significant oil and gas potential through revitalization and new exploration opportunities.
Petrobras has been producing from the Campos Basin since August 1977 from the Enchova field, and after more than 40 years of operations the basin is still one of the most important in Brazil, currently responsible for nearly half of the country's total output. Petrobras plans to increase investments in the Campos Basin, forecasting that many of the post-salt and pre-salt plays within the basin will continue producing for another four decades.
Major infrastructure is already installed in the Campos Basin, more than at any other basin in the world. There are currently 734 wells linked to 53 rigs and FPSOs that are producing around 1.2 million barrels of oil equivalent per day in Campos. Subsea hardware includes 833 subsea trees and more than 14,800 km of pipelines. More than half of the basin's production comes from just six deepwater fields (Roncador, Marlim Leste, Marlim Sul, Albacora Leste, Barracuda and Caratinga), Petrobras reservoir engineer Luiz Henrique Neto said during the Rio Oil & Gas event. The six fields together are currently producing a combined volume of about 580,000 barrels per day of oil and 11.3 million cubic meters per day of natural gas. That production comes via 156 oil producing wells linked to six FPSOs and five semi-submersible rigs. "We still have room to increase this production. The remaining volumes in these fields represent a huge potential for increasing the recovery factor," Neto said.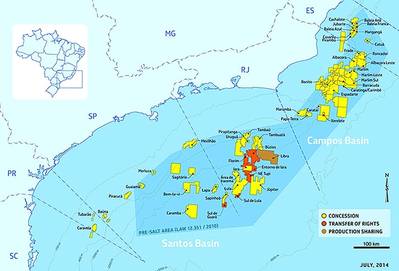 Brazil's main oil basins (Image: Petrobras)
Petrobras has already begun using a series of techniques to improve production at its Campos Basin developments, including drilling longer horizontal wells, shooting new 4D seismic to identify water-flooded regions, using autonomous inflow control devices, flowline heating and subsea boosting. "This can improve current production as well as increase reserves. Campos Basin fields are far from depletion and are ready to deliver," said Neto.
Petrobras has also made a series of pre-salt discoveries in recent years inside the areas of producing fields in Campos, including Brava in Marlim, Poraque Alto in Marlim Sul, Forno in Albacora, Tracaja in Marlim Leste and Carimbe in Caratinga. Petrobras is also working on the revitalization of the Marlim field, with plans to charter two new FPSOs to replace seven older rigs in the area. More exploration work is also expected soon, as Petrobras and partners such as Shell, Exxon-Mobil, BP and Equinor have acquired more than a dozen new areas in the Campos Basin over the past year, mostly located on the borders of the pre-salt polygon.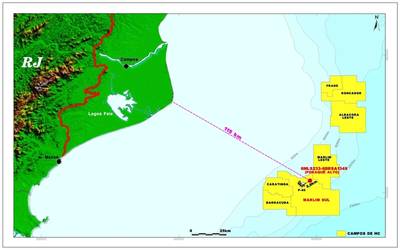 Map of the discovery of Poraque Alto pre-salt in the Campos Basin (Image: Petrobras)
Since the pre-salt was first discovered in 2006, until the record production in September of this year, the deepwater pre-salt oil reserves are considered one of the main riches of Brazil. Despite all the technological difficulties that its exploitation imposes, being up to 300 km offshore and under more than 2 km of salt layer - that acts as a barrier to contain the oil from seeping out - most of the initial expectations have been surpassed. So much so that the auctions held in 2017 and in 2018 attracted major and super-major IOCs and yielded billions of dollars in grant bonuses. The change in regulatory framework during the Michel Temer government allowed the entry of more global players in the pre-salt exploration and made projections more optimistic for the sector. By 2026, the country's production could reach 5.4 million barrels per day, according to estimates by the Brazilian Institute of Oil, Gas and Biofuels (IBP). If confirmed, this will represent a 68 percent increase compared to the result of September 2018.
According to the National Agency of Petroleum, Natural Gas and Biofuels (ANP), Brazilian production was 3,196 million boe/day. The pre-salt alone totaled 1,783 million boe/d, with a record 55.8 percent of total oil production in September. The Lula Field, located in the Santos Basin, only started production two years after the discovery. It was in September 2008 that the first oil originating from the pre-salt was produced, extracted from the Jubarte field, in the Campos Basin. More pre-salt discovery at the Campos Basin could considerably increase Brazil`s reserves and oil production in a short period of time.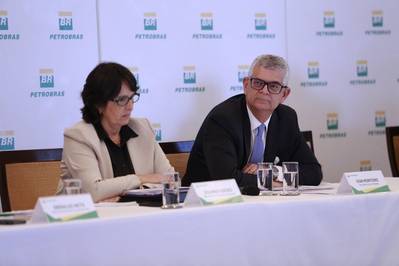 Current Petrobras president Ivan Monteiro and the director of exploration and production Solange Guedes (Photo: Petrobras)