CNOOC Leases Bigger FSRU to Boost LNG Imports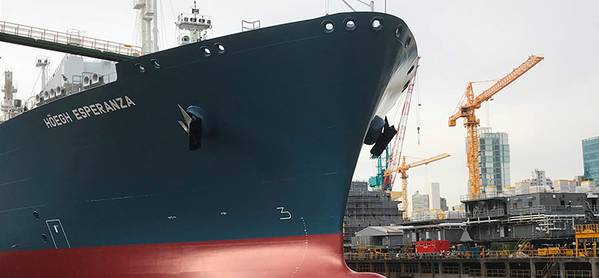 The trading arm of China National Offshore Oil Corp (CNOOC) struck a three-year lease for a bigger floating storage and regasification unit (FSRU) from Hoegh LNG as it seeks to boost imports of liquefied natural gas (LNG).
In a statement, shipowner Hoegh LNG said its Esperanza FSRU was contracted to CNOOC Gas & Power Trading and Marketing.
The floating liquefied natural gas (LNG) import terminal will be based in Tianjin as a replacement for Hoegh's GDF Suez Cape Anne FSRU, recently redeployed from China to India.
The Esperanza is larger, with a storage capacity of 170,000 cubic metres of LNG - versus 145,000 cubic meters for the Cape Anne - and a maximum regasification rate of 750 million cubic feet/day.
"Hoegh LNG is the only FSRU operator with operating experience in China, and we see the potential for Hoegh LNG to provide additional FSRUs to this large and rapidly growing LNG market," the company's CEO Sveinung Stohle said.
The Esperanza will function in FSRU mode for an agreed-upon minimum period each year, Hoegh said. The rest of the time it can be used as an LNG carrier or an FSRU, with the charter rate corresponding to the mode of use, it said.
(Reporting by Oleg Vukmanovic; editing by David Evans)