France's TotalEnergies will start drilling at the Fenix field off the southern Argentine province of Tierra del Fuego in March 2024, and expects to start production the following November, Vice President Catherine Remy said.
The $700 million project will produce some 10 million cubic meters of natural gas per day, representing 8% of the country's total production, Remy said at Argentina's Oil & Gas exhibition.
"We are finalizing the installation of the offshore pipeline and we will drill in March to April 2024, with production by November 2024," she told reporters at the exhibition late on Tuesday.

"In addition to supplying domestic demand, it will have a positive impact for (the country's) trade balance because it will mean a decrease in gas imports," Remy added.

TotalEnergies had said in September 2022 that it had taken the final investment decision to start work on the Fenix project.
Official estimates suggest a boost in Argentina's domestic energy production can help the country overturn a trade deficit of some $4.5 billion which the country accumulated in 2022.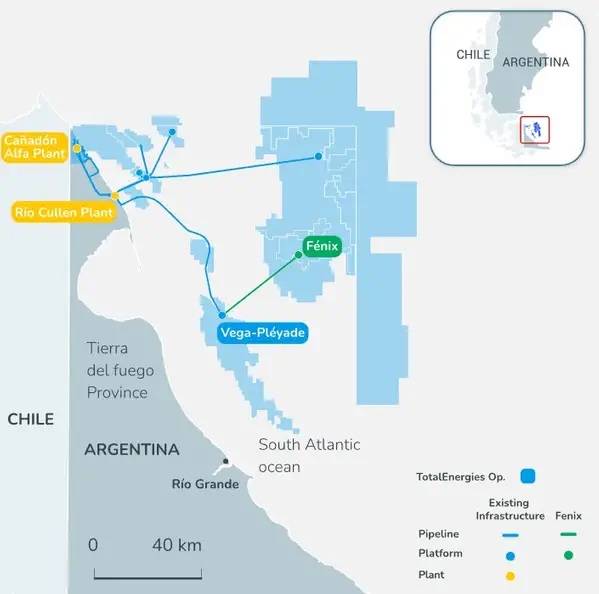 Credit: TotalEnergies (File image)Argentina is forecast to reach a positive trade balance of some $100 million this year. This boost comes at a crucial time as the country makes efforts to safeguard the central bank's limited foreign exchange reserves.
TotalEnergies has a 37.5% stake in the Fenix project, which it operates together with in partnership with Wintershall Dea, also with 37.5%, and Pan American Energy with 25%.
The production platform on the field will connect three wells which will be drilled 70 meters deep, some 60 kilometers off the coast at the southern tip of Patagonia.
The French company is Argentina's largest private gas operator, with operations in the Vaca Muerta formation, the world's second-largest unconventional gas reserve, as well as other projects in Tierra del Fuego.
(Reuters - Reporting by Eliana Raszewski; Editing by Walter Bianchi and David Holmes)