Japan's Mitsui O.S.K. Lines ("MOL") has entered into a strategic investment agreement with Delfin Midstream Inc, a company developing floating LNG solutions for LNG exports from North America to global clients.
As part of the agreement, MOL will make an investment in Delfin and a MOL representative will join Delfin's Board of Directors.
Dudley Poston, CEO of Delfin said: "We are excited to enter into this strategic agreement with MOL, representing another industry-leading partnership. Our low-cost, simplified floating liquefaction solution will be significantly enhanced by MOL's extensive marine expertise, creating a world-class partnership with significant benefits for both Delfin and MOL."
"Proceeds from MOL's investment will be used to accelerate making Final Investment Decisions on our first two FLNG vessels this year. MOL has long been a leading LNG infrastructure company while also investing in innovative solutions such as Floating Storage and Regasification Units ("FSRU")."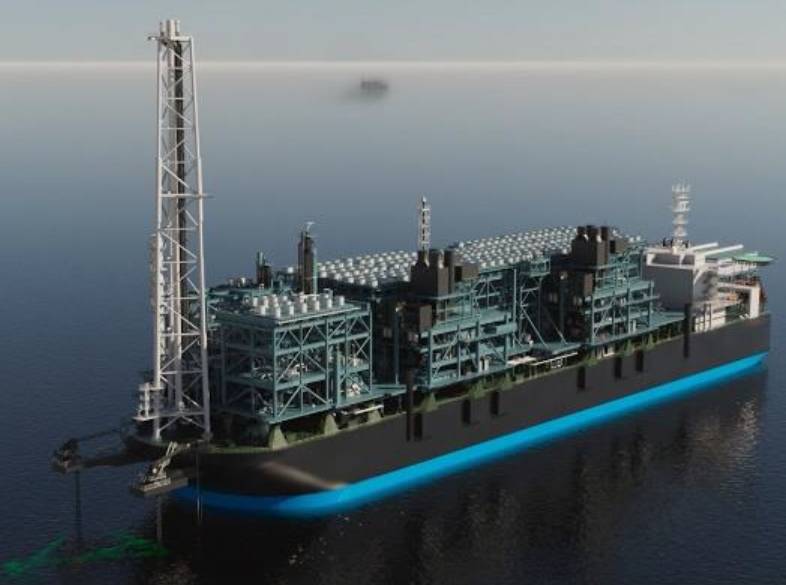 CG rendering of Delfin FLNG - Credit: MOL
The agreement also provides MOL with the opportunity to make additional investments directly in Delfin's Floating Liquefied Natural Gas ("FLNG") vessels and establishes a framework for MOL to assist in the construction and operation of these vessels.
"The Delfin team has deep experience successfully converting LNG carriers into both FSRUs and FLNG vessels," said Wouter Pastoor, COO of Delfin. "Combining that skillset with MOL's capabilities will drive future expansion and enable Delfin to safely and reliably accelerate clean low-cost LNG exports from North America to customers around the world."
Takeshi Hashimoto, President and CEO of MOL stated: "We are delighted to announce our partnership with Delfin, marking the beginning of a fruitful endeavor together. Drawing on our extensive expertise gained from previous LNG Carrier and FSRU projects and other ventures, we anticipate collaborating with Delfin to successfully drive forward this project toward our initial shared goal of quickly making Final Investment Decision on the first FLNG vessel."
As part of the agreement, Suryan Wirya-Simunovic will join Delfin's Board of Directors. Wirya-Simunovic is MOL's Executive Officer for Energy Related Business for Europe, Americas and Africa and has over 30 years of experience in energy and maritime sectors.
No details were shared on the value of MOL's investment in Delfin.