TGS, in partnership with PGS and SLB (ex-Schlumberger), has secured pre-funding for a 6,885 square kilometer multi-client 3D seismic survey offshore Malaysia in North Luconia Province of the Sarawak Basin.
This new acquisition is set to kick off in June 2023, using PGS' Ramform Sovereign vessel.
The survey is the second phase of a multi-year contract awarded initially by Petronas in August 2020 to acquire and process up to 105,000 square kilometers of multi-client 3D data over a 5-year period in the Basin.
This survey builds on the initial phase of this project in the Sarawak North Luconia Province, which started in 2021 and covered 8,400 square kilometers.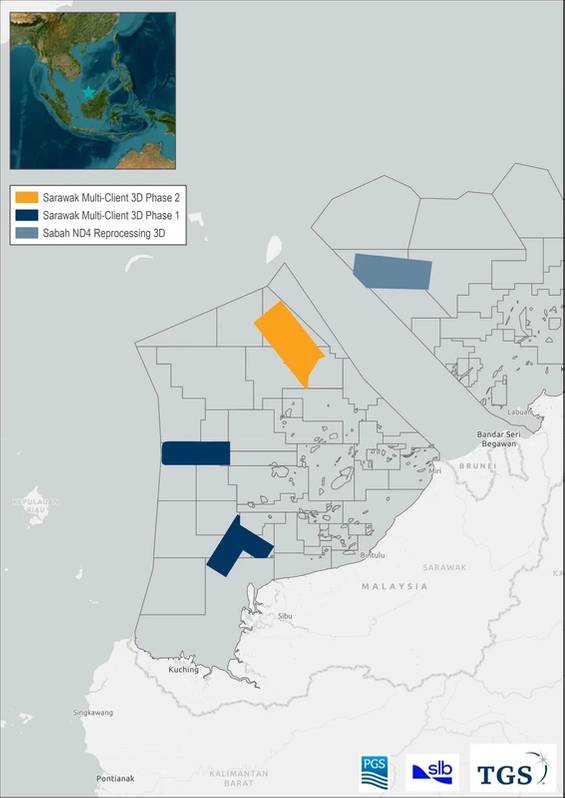 Credit: TGS
Kristian Johansen, TGS CEO, said: "TGS has built an expansive multi-client data library across the Asia-Pacific region, and we are pleased to return to the Sarawak Basin with our partners. Sarawak is an area that has recently experienced multiple oil and gas discoveries, and we expect this to be a very important basin for future exploration. We continue to work closely and collaboratively with our customers, partners and other stakeholders in Malaysia to drive exploration success."
"As the custodian of Malaysia's petroleum resources, Malaysia Petroleum Management (MPM), PETRONAS is actively enhancing seismic data sets in the country that will introduce new plays to be explored to our clients, especially in imaging the pre-MMU play in the deep-water area of Sarawak Basin," he added.
"The Sarawak basin comprises a proven petroleum system with many producing fields already present in the Central Luconia province. By acquiring MultiClient data with our Ramform vessels and GeoStreamer technology, PGS and partners will provide high-quality regional scale seismic data that will improve understanding of the petroleum systems and allow for prospect level AVO analysis and leads mapping beyond the established offshore Sarawak producing assets," says President & CEO in PGS, Rune Olav Pedersen.
Survey acquisition is expected to conclude in August 2023, with final deliverables available in Q2 2024. Interim results will be available to assist with early acreage evaluation, TGS said.