Following the recent departures of two Odfjell Drilling-managed semi-submersibles from Norway to Africa, four more rigs have been contracted to work outside of the North Sea region in an upcoming period, with three of them managed by Transocean. These latest fixtures have brought some interesting new moves, which will leave Norway with a significantly smaller fleet compared to previous years, Esgian's Nermina Kulović writes.
---

According to Esgian Rig Analytics, there are currently 18 semi-submersible rigs in Norway. This compares to 21 semi-sub units in early 2022, when the Norwegian rig count started decreasing. Out of those 18 rigs, 12 are currently working, one is preparing to move to Canada, and one to the UK, while four are warm/hot stacked. However, only two of those currently warm stacked units don't have future commitments, while the other two have recently secured new fixtures in Australia.

Following a quiet period earlier this year, we've seen a flurry of new fixtures in the past few weeks as the rig owners released their latest quarterly reports accompanied by fleet status updates.
In addition to a new P&A contract for the Transocean Endurance in Australia - announced in late March 2023 and extended with the exercise of the first of five options in early May - it was also confirmed that the Transocean Barents would leave the North Sea region for a one-well contract with TotalEnergies in Lebanon.
After working in Norway over the past couple of years, the Transocean Barents moved to the UK North Sea in early 2023 to work for the French operator under a contract concluding in July 2023, after which it will move to Lebanon.
Judging by the Lebanon announcement, the trend of harsh-environment (HE) rigs leaving the North Sea region is edging forward but, compared to some of the other fixtures, this contract is short in duration even with three one-well options, which could see the rig occupied in Lebanon until the beginning of next year.
Nonetheless, this fixture is indicative of the current situation in the North Sea market and, once again, a confirmation that the increasing demand and growing dayrates elsewhere are driving the North Sea rigs out of the region.

A case in point is the Odfjell Drilling-managed semi-sub Hercules, which is currently in Norway, where it's preparing to return to Canada.
When Odfjell took over management of the rig following its mid-2022 campaign with Equinor off Canada, it was anticipated that the rig would be well-placed to pick up work off Norway following its SPS. Instead, on top of the previously announced Canadian contract with ExxonMobil, the semi-sub has now secured another job, this time in Namibia.
The contract with Portuguese operator Galp Energia will keep the rig out of the North Sea for at least 115 days, or throughout the first half of 2024, if the existing well testing option is exercised.
In addition, there are discussions for further work in Namibia but also opportunities for taking it back to Norway, and Odfjell Drilling is keeping all options open. Longer contracts with a dayrate level that at least matches those available internationally would be needed to take the rig back to Norway, where it has not worked since early 2022 when it finished an assignment with Equinor.

But the North Sea rig exodus, as it has been dubbed over the last several months, has not stopped there as evident from Transocean's latest semi-sub deal. Speaking at the company's Q1 2023 earnings call in early May, Transocean executives said that demand for rigs that are capable of drilling in HE is no longer solely dependent on geographical regions that have historically utilized HE rigs. Rather, it is increasingly coming from other areas, including Australia, the Mediterranean, and Namibia.
Due to strong competition among operators, which is resulting in an increased willingness to pay higher mobilization and other contract preparation costs, Transocean has on several occasions highlighted Australia as the most interesting new market for its HE semi-subs and, sure enough, the rig owner has now agreed on another contract there.
As a result, its last available Cat D rig, the Transocean Equinox, will be heading down under for a five-well contract with a firm duration of 300 days and a value of $137 million, excluding mobilization and demobilization.
The contract is expected to begin in the first quarter of 2024 and it also provides for a one-well option, potentially keeping the HE unit in Australia through the first quarter of 2025.

Once realized, these departures will leave Norway with 12 active semi-subs and two warm/hot stacked units, the Borgland Dolphin and Bideford Dolphin.
These are currently available and smart-stacked in Norway's Flekkefjord & Feda, respectively, but Dolphin Drilling is optimistic about securing new jobs for them in the near future. While the latest developments in the Norwegian market may result in a supply deficit in the Scandinavian country in 2025, this would bode well for the two Dolphin-managed newbuilds, Nordic Spring and Nordic Winter, which are bidding for the Norwegian opportunities.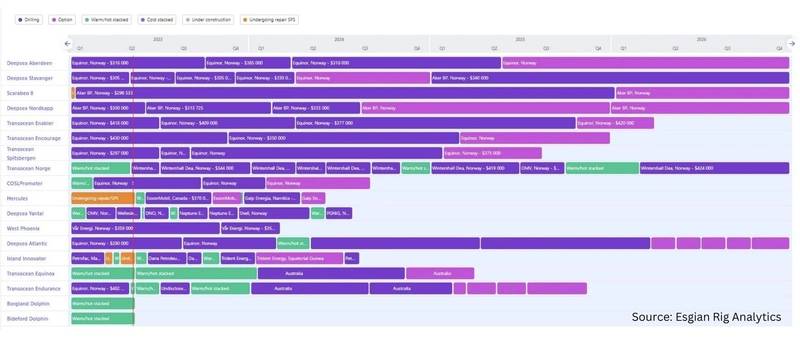 Figure 1. Norwegian Continental Shelf (NCS) semi-submersible rigs - contract overview - See larger image here: https://bit.ly/3ohvmYaEven with the Norwegian semi-sub rig count being at its lowest level in years, it is worth noting that Norway's largest operators, Equinor and Aker BP, have already secured rig capacity for their longer-term programs.
Equinor has a total of 10 rigs under contract in Norway. The state-owned giant has kept two Transocean Cat D rigs in its fleet, the Transocean Enabler and Transocean Encourage, with recent new contract awards and added further work to the backlogs of Odfjell Drilling's Deepsea Aberdeen and Deepsea Stavanger.
Equinor is also looking to find out if the market could supply two semi-submersible units for production drilling and exploration drilling offshore Norway, with start dates targeted for 2025.

On the other hand, Aker BP has Saipem's Scarabeo 8 under firm contract until the end of 2025 with two one-year options thereafter and two jackups from Noble and two semi-subs from Odfjell under framework alliance agreements for its upcoming new projects in Norway.
Other operators like Wintershall Dea and Vår Energi also have rigs under contract. Moreover, Vår Energi is evaluating options to contract two units, one for the Barents Sea and the other for the Balder area in the North Sea, with start windows in June-October 2024 and Q1-Q2 2025, respectively.

By the end of 2024, Norway is looking at a possible supply deficit and, in order for rigs to return, the contract durations would need to be longer and dayrates higher than currently available in the North Sea to be able to keep up with a substantial and growing demand elsewhere.


---
About the author:
Nermina Kulović is an offshore rig market analyst within Esgian.
The article above was originally published on Esgian's website and republished on OEDigital.com with the author's permission.