Radical Changes – Unmanned Survey Services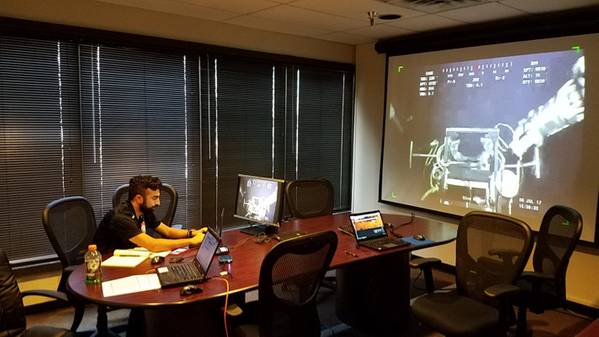 Zupt, LLC, based in Houston, Texas has recently completed their 15th unmanned survey service in which there were absolutely no survey personnel mobilized offshore – only our standard survey equipment and a "communications rack" that allows for serial, voice, and video communications to be transmitted between offshore and onshore.

Over the last 3 years, Zupt has completed jumper metrologies and placed spudding marker buoy sets via remote data collection and communication with the ROV team from their office in Houston. There are numerous survey capabilities that can be provided as an unmanned service, Zupt has chosen to focus on two services from their prior survey expertise with their Inertial Navigation System, called C-PINS. If the offshore oil and gas industry is going to truly move towards autonomous and remote solutions, both operators and contractors must think through what services can be and should be completed remotely – both with current technology and future technology.

Today current satellite communications can provide the bandwidth needed for many tasks, but in some instances the latency involved with the communication transfer can cause issues. While the possibility of 1-4 seconds of video latency is simply not feasible for task such as ROV subsea structure intervention remotely, this level of latency does not pose any additional issues associated with data collection for many services such as pipeline survey, metrology, structure positioning, etc.

Zupt provides our "standard" metrology service (same equipment, same deliverable, same data acquisition time), but "remote" removes the necessity to send personnel offshore. All data collection is completed with the same software as the surveyors would use offshore, but instead the task plan is completed through communication from onshore to the ROV team offshore. The team in Houston only requires 512 Kilobits/sec bandwidth from offshore to onshore to receive the ROV video feed, Voice communications over an IP phone line, and the serial data from the inertial metrology sensor. The cost to add this level of bandwidth service to an offshore vessel for an entire month is approximately the same cost as it is to have contracted an inertial surveyor for a single day.

Benefits of the remote service extend well beyond just a "convenience". Removing personnel from offshore results in less logistical planning involved in mobilizing personnel to different countries/offshore, reduced HSE concerns offshore, keeps subject-matter experts onshore, and increases project flexibility in the planning and execution stage. A remote metrology is provided at a lumpsum cost for a fixed number of metrologies and equipment access. A lumpsum price for several metrologies provides precision to the pre-planned budget and prevents additional equipment/personnel days for being invoiced when there is a project delay. Metrology equipment is provided well ahead of the planned survey date, ran through a simple communications test, and the metrology is completed – all over a "thin" satellite connection. The onshore data collection team is available as required – day or night; there are no penalties if the metrology date is moved to the left or right. Equipment can be demobilized at the client's convenience.

Zupt has deep understanding of remote/satellite communications and looks to the near future (6-24 months) when remote services will be completed over their own bandwidth connection via our flat panel satellite terminal/antenna solution communicating to Low Earth Orbiting satellites with virtually no communications latency at all.
For more information, please contact Aidan Thirsk at [email protected] or
https://zupt.com/remote-solutions