It's long been a vision to have underwater vehicles able to support subsea operations without reliance on a surface vessel. We're closer to this vision than ever before, but what's new that wasn't in place before to make this happen?
Earlier this year something of a milestone was reached in underwater vehicles in the oil and gas business. An autonomous underwater vehicle (AUV) wirelessly docked, charged and downloaded data, all inductively, with remote automated control and live visual control during a demonstration in a lake in Sweden. The dock was Equinor's open standard subsea docking station (SDS) and the vehicle was Saab Seaeye's Sabertooth.
It's a step toward having vehicles permanently resident subsea and more such demonstrations are coming as others put their new vehicles to the test. But, some will say we've been here before; this was tried in the 1990s. So, what's new? It's a combination of forces – market driven and technology driven.
For Gro Stakkestad, manager of subsea intervention and pipeline repair, at Equinor, it's a combination of the downturn, a drive for automation and increasing environmental awareness. Steffan Lindsø, Director of Emerging Technology, Europe, at Oceaneering, says communications offshore has been the primary missing component, as well as advances in battery and navigation technologies, while Sean Halpin, Director, Product Management and Marketing, at new entrant Houston Mechatronics, says cost reduction and access to computing power are big drivers. Moves toward all electric field infrastructure will also help.
The final piece
For Jan Siesjö, Saab Seaeye's chief engineer, bringing together docking, charging and data download was the final piece in the puzzle to bring this capability into the field. But, there's been a lot of other work in the background, largely around remote control capabilities.
"Remote control over long distances might seem simple but to make it reliable you need a lot of stuff in place. It's not just sending commands over the internet, it's having systems that can keep themselves safe, can be maintained so they don't go wrong and if something does go wrong it's not so complex you need a university grade engineer to fix it." That includes station keeping, waypoint navigation and obstacle avoidance.
On the communications side, Saab Seaeye has been working with Boeing, running a Leopard light work class remotely operated underwater vehicle (ROV) over a satellite link across the US, doing manipulator work, mating connectors, flying missions, waypoint control, etc. "We had some pretty strict limitations, just 1mb/sec, and a latency that we pushed up to three seconds and we intentionally messed with the data quality," says Siesjö. "Despite that, we were able to mate flying lead connectors and do a lot of other things. The longer term goal is to fly an ROV out of very large AUV and do intervention work in various ways."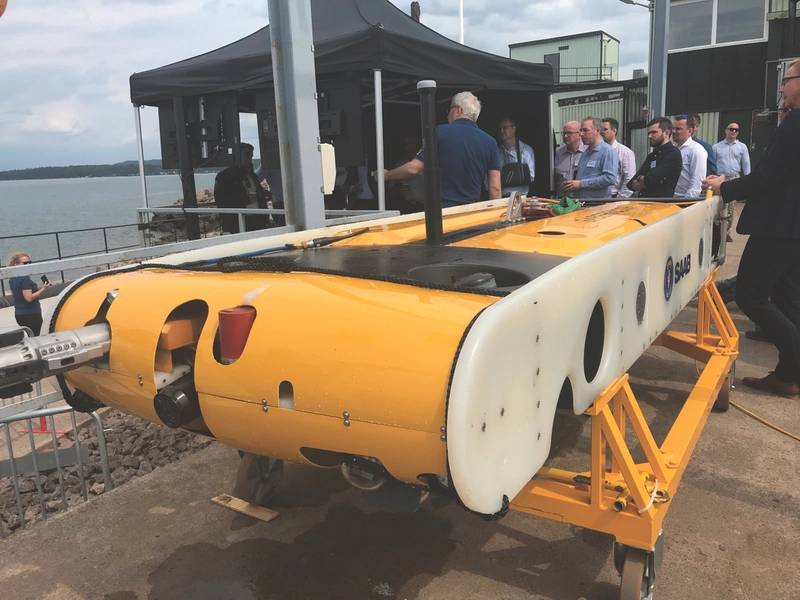 Saab Seaeye's Sabertooth which demonstrated inductive charging and data download in Sweden earlier this year. (Photo: Saab Seaye)
Working at depth is another challenge – both getting to a site then maintaining communications links. Earlier this year, Saab Seaeye trialed this scenario, doing three weeks' tests in 2,400 meters water depth in the Mediterranean – tethered and autonomous – with 100% successful communication with and positioning of the vehicle, even at full thrust up to 4 knots, says Siesjö. Work in these depths included determining how to travel to a work site efficiently – 2,400 meters is a long way down – while maintaining positioning, using a combination of inertial navigation system (INS) and ultra-short baseline (USBL) positioning.
Saab Seaeye is supporting its work with high fidelity simulators (like those used to test its parent company's fighter jets), so it can run all autonomous and human-in-the-loop control systems with its native control software and find out if they work – long before they go into the water.
In addition, it's working on how vehicles can build, in real time, 3D maps of the environment they're in by using a stereo camera system to do 3D simultaneous localization and mapping (SLAM). This will let the vehicle navigate through and measure what it sees relative to itself. Saab Seaeye has been testing this capability since 2018, building 3D clouds of the underwater world.

With simple to use advanced remote controls, docking was demonstrated, with a live video feed to shore. (Image: Saab Seaye)
Geosub to AIV
Another company that has been building this capability for some time is Subsea 7. In the 1990s, it was behind Geosub, a technology licensed by Subsea 7 from the National Oceanography Center (NOC). Its main goal was autonomous pipeline inspection, using waypoint navigation and autotracking to increase seabed survey data gathering quality and efficiency and reduced surface vessel support. While it was a success in terms of data quality, it still had to be launched and recovered from a vessel and needed surface support for positioning. It also couldn't do cathodic protection measurements, so it was limited.
Subsea 7, through its i-Tech 7 business, has moved on and now has its autonomous inspection vehicle (AIV), central to which is relocalization capability, developed under its precursor, the Prototype AIV, so that it doesn't need regular position updates from a surface vessel. "The development was triggered by a decision to move to autonomous hovering vehicles, focusing the capability at infield subsea infrastructure inspection. As the purpose was now focused at inspecting existing equipment, the equipment itself could be tracked to provide the high accurate positions needed to navigation without updates from a surface vessel." It's similar to autotracker, but in 3D and could be described as a form of SLAM.
The AIV also has its own subsea docking system, which disconnects launch and recovery operations from vessels. "The introduction of simplified mission planning, linked to the relocalize powered navigation and a process where the AIV could self-dock to the basket, effectively broke the link to vessel reliance," says Jamieson.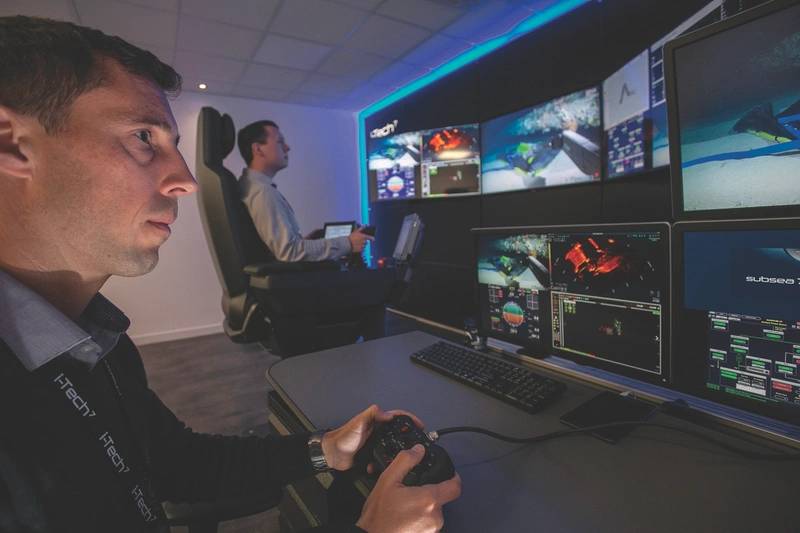 Remote operations are also being done with ROVs. This is i-Tech 7's onshore control center for ROV operations. (Photo: i-Tech 7)
Standardized docking
A big boost in this area has come from the likes of Equinor pushing a vision for "underwater intervention drones" (UID), as it's called them, and awarding contracts, including for the design of an open-standard SDS that any vehicle can use. The SDS design incorporates inductive connectors from Blue Logic and WiSub and AruCo and ChaRuCo markings, which the drone's camera sees work out its relative position. Trondheim based acoustic communications and positioning firm Water Linked is also supplying small acoustic modems for vehicle positioning onto the station. The SDS can also accommodate other sensors, such as Sonardyne's BlueComm free space optical modem for live video feeds or high bandwidth data download. There are also standard interfaces, being developed through the SWiG (Subsea Wireless Interface Group) group and Deepstar, for the mechanics.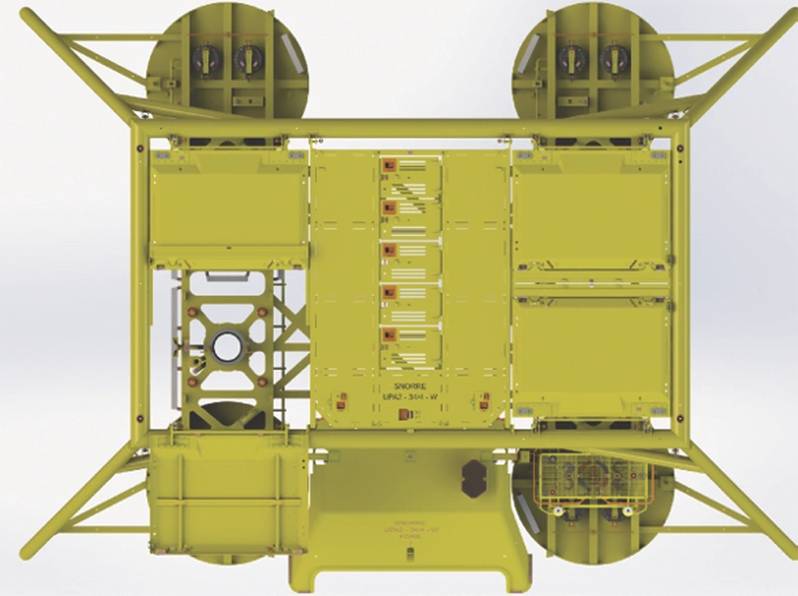 Equinor's open-standard subsea docking station design, shown slotting into a manifold, like a small helicopter pad. (Image: Blue Logic)
SDS, built by Blue Logic in Norway, have been deployed in a dock in Trondheim and also 2.2 kilometers offshore at the Trondheim Biological Station in 350 meters water depth. Another is going to the Åsgard field where an Eelume "snake robot" will operate on a power and fiber optic tether connected in to the Åsgard A floating production unit. Next steps include a wider rollout in the Snorre Expansion Project, where seven SDS could be used (integrated into manifolds or standalone with fiber glass protection covers) 15 kilometers apart and connected into power and communications in the field layout.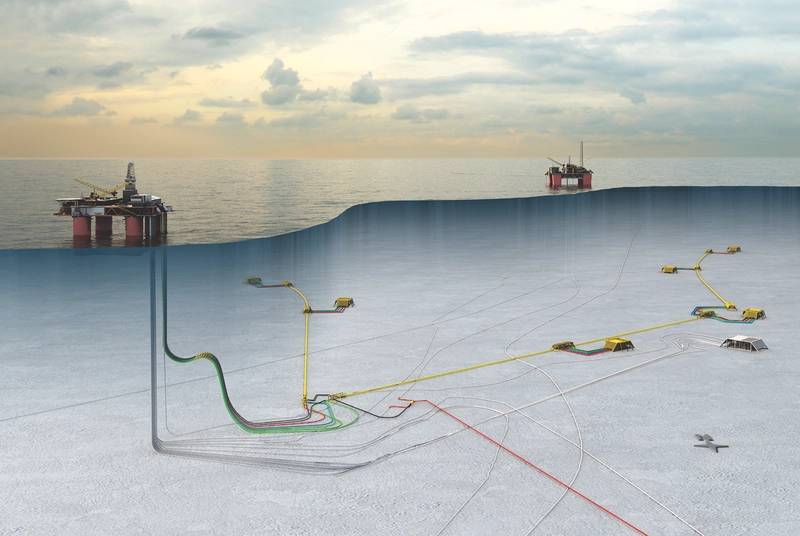 The Snorre Expansion Project field layout, which could soon be supported by underwater drones. (Image: Equinor)
Developing new models
These developments, are now influencing the way that new greenfield developments are being planned, says Jamieson. Indeed, i-Tech 7 has investigated field-wide IRM services for Equinor using a UID on the Snorre Expansion Project (SEP) and Snorre A (SNA) field in the Norwegian Sea, as well as for other fields.
The study assessed the potential for introducing subsea hybrid vehicles by identifying any technical gaps that would prevent the long-term deployment of the UID on the seabed. It also evaluated and recommended options for docking station configurations to support the vehicle by providing an overview of the configurations and characteristics required. As power and a reliable data network are integral to its success, the company examined operational and management provisions to support activity by the subsea hybrid vehicle. The ultimate aim of the project was to recommend a development plan to enable the drones to go 'live' by late 2020.
"Seabed hosted vehicles that are supported by seabed docking stations, utilized for autonomous inspections and linked to onshore control rooms, for human in the loop control on intervention tasks is again pushing the requirements in a positive way," says Jamieson. "Vehicles will be required to be resident subsea for months at a time, with no servicing or recovery for repair. This higher bar in reliability and control is also empowering traditional ROV operations, with remote control of vehicles from onshore control centers and electrification of vehicles for increased reliability and efficiencies." This all adds up to fewer vessel days and people offshore.
There's potential to make subsea systems simpler. Actuators, other than on safety critical systems, could be manual, instead of hydraulic or electric, reducing the hydraulic and electric systems that need to be installed subsea – that means less cable.
Helge Sverre Eide, business manager at Blue Logic, says that for drones to take off subsea, the subsea system and operating philosophies need to change. "For this to be economical, you need to increase the scope of work of drones," he says. "You need new tools and you need to adjust or change the subsea production system. You need to change both sides of the equation. New tools must be lightweight so a drone can fly them. Subsea maintenance needs to change to having smaller pieces to change out. A different mindset - if something shuts down, you can just change it out – is now possible. That's a new philosophy."
In Italy, Saipem has been busy with its Hydrone R, which started a six-month trial in Saipem's underwater "play park" near Trieste Harbor, northeast Italy. It was recently announced that the vehicle will be deployed by Equinor offshore Norway in 2020. Equinor, on behalf of the Njord licence, has awarded Saipem a $43.7 million, 10-year subsea service contract to use the technology starting when the Njord field resumes production.
Hydrone R is described as a hybrid ROV with AUV capabilities, e.g. it will have manipulators, for intervention work, and can work on a 300-meter-long tether, for full bandwidth real-time control, but it can also travel distances between subsea fields, untethered like an AUV, with acoustic communications out to 4 kilometers. Once at a work site, it could switch to high bandwidth optical communications for supervised operations. Hydrone could deploy either from a seabed garage or a surface deployed system on a mission basis. Rated to 3,000 meters, it could operate for 8-10 hours without a tether, and out to 10 kilometers, says Stefano Maggio, technical manager at Saipem. Deployment from a surface host could be easier because you don't need subsea infrastructure, says Maggio. "You could be sensitive to weather conditions for deployment, but you have easy maintenance ability." However, "the subsea resident system is insensitive to weather, so you deploy it and stay there for six months, a year, before recovery. But, it means you can't maintain it regularly, so the highest reliability is required."