South Africa is committed to fast-tracking the finalization of the proposal to split the pending Minerals and Petroleum Resources Development Bill to have a separate legislation and specific regulatory framework for the oil and natural gas sector as the country mulls increasing public and private sector investment in its offshore hydrocarbons search and production, especially in the Orange Basin.
Minerals and Petroleum Resources Minister Samson Gwede Mantashe told an oil and gas forum last week in Cape Town that he intends to separate the Petroleum resource regulation from the Minerals and Petroleum Resources Development Act.
Although the minister fell short of confirming timelines for carrying out his intention, he committed himself to table a Petroleum Resources Development Bill before Cabinet a move considered critical in the envisaged scaling up of offshore search and production of oil and natural gas in a country which has an estimated total petroleum and other related liquids production of 134,000 barrels/day.
Delays in the debate and approval of the Minerals and Petroleum Resources Development Bill has partly been attributed to the earlier proposal to have it withdrawn and allow the hiving out of the Petroleum Development bit to be discussed and approved as an independent legislation.
Furthermore, the government of President Cyril Ramaphosa is also seeking to lay a firm foundation for a seamless upstream investment process especially now that French major Total has made the deepsea Brulpadda discovery, with an estimated one billion barrels and which needs to be turned into a commercial venture. This should enable South Africa to reduce its crude oil import bill with Mantashe saying the discovery would most likely "spur further interest in the upstream potential of South Africa."
So far, South Africa's investment and achievement in the offshore space has been minimal and far apart despite the country expressing admiration for offshore upstream success stories in neighboring countries such as Mozambique where an estimated 75 trillion cubic feet (tcf) of recoverable gas has been discovered within Offshore Area 1.
"We note with great interest and a sense of admiration, the major gas finds in the Eastern part of the continent, especially in Mozambique and Tanzania (and) we are aware that one of the oil companies in South Africa played a pivotal role in the monetization of the earlier gas finds in Mozambique," Mantashe said.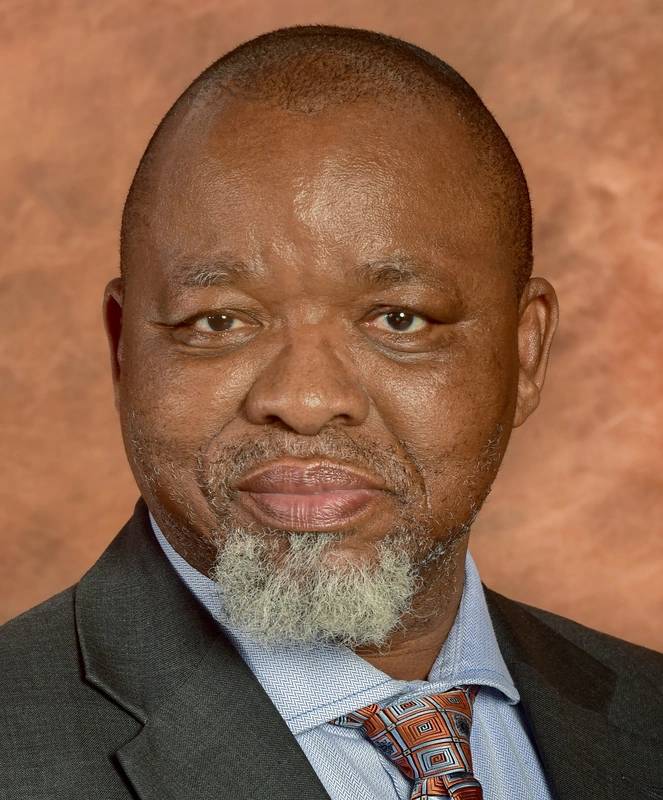 South Africa Minister of Mineral Resources and Energy Samson Gwede Mantashe (Photo: Department of Mineral Resources)
Previously, the minister had said the Bill will ensure South Africa provides "policy certainty for the upstream petroleum sector that is a relatively new sector in our economy, yet with great potential to grow our gross domestic product, contribute to the fiscus and create much-needed jobs."
Elsewhere, South Africa is expected to make progress in its proposed $121 million offshore supply base project at the port of Saldanha after it awarded HARPS Holdings entity, Saldehco, a contract to develop the facility that will provide services to offshore oil and gas companies.
Sustainability and viability of the facility will rely on increased investment in the search, production and processing of oil and natural gas, which the minister noted last week is yet to be achieved.
"We, therefore, need to explore more economical options to bring natural gas into the South African market, including accelerating our own natural gas exploration activities such as the Karoo Shale Gas and the deep-sea discoveries," said Mantashe as he predicted increased utilization of natural gas especially for electricity generation.
Previously, Italian energy giant Eni's affiliate Eni South Africa BV and Sasol Africa Limited had unveiled plans to carry out an exploration drilling program in offshore Block ER 236 to assess the commercial viability of the hydrocarbon reservoir for future development.
Initial drilling work had tentatively been scheduled between November 2019 and March 2020 with one well expected to take 60 days to complete, according to an earlier projection by Eni.
"The expected drilling depth would be approximately 3,800 meters to 4,100 meters in the northern area of interest and 5,100 meters in the southern area of interest, from the sea surface, through the seabed, to target depth," said Eni.
Successful drilling, Eni said, could lead to an appraisal well close to the same location, or another exploration well.
Although Eni and Sasol are yet to firm their timelines for the drilling of the proposed two exploration and two appraisal wells in the northern area of interest and one exploration and one appraisal in the southern area of interest, the company said "time sequence of these possible additional wells will be dependent on the results of the first exploration well and most likely will not occur immediately after the drilling of the initial well."
But even with the ongoing offshore projects by Total, Eni and previously Shell, South Africa's shallow- and deepwater investment remains small and calls for a new conducive fiscal and regulatory framework to grow.
Nevertheless, should minister Mantashe make good on his promise to fast-track the Petroleum Development Bill and have it passed into legislation, South Africa stands to expand its offshore gains starting with the monetization of the estimated 15 million barrels proven crude oil reserves in the Bredasdorp basin and off the west coast near the maritime boundary with Namibia.