With the resumption of oil and gas block tenders in Brazil, including highly valued pre-salt tenders, offshore support vessel (OSV) owners are expecting to get any vessels that are lying by without a contract to soon rejoin the market. However, the owners of the large number of Brazil flagged vessels that were built but did not get contracted or that lost their contract with Petrobras or other players, are looking to at least renegotiate their financing contracts while their assets sit idle.
OSV companies estimate that the segment needs robust actions to defend the Brazilian shipping flag until the effective resumption of hiring, which should only start to be felt in the second half of 2020, due to the time it takes for exploration operations to be launched. A long gap without oil block tenders has significantly hampered fleet growth.
There was a strong projected growth and demand fueled by expectations of more Petrobras long-term contracts being awarded, causing many shipowners to invest in building more vessels. Because of the scandal that rocked Petrobras from 2014 and also due to the slump in oil prices, OSV players suffered a major setback and today there are almost 70 vessels moored along the Brazilian coast without operating contracts, which makes it difficult to repay financing.
The Brazilian Association of Offshore Support Companies (Abeam), proposed to the board of directors of the Merchant Marine Fund (FMM) to adjust the credit conditions for existing contracts. The companies also suggested the immediate suspension of amortization of idle vessel financing, without changing the other contractual conditions (interest rate and guarantees). The Ministry of Infrastructure is studying the revision of Central Bank Resolution 3828/2009, which regulates the use of FMM resources.
Abeam Executive Vice President Lilian Schaefer said there was a promise from the ministry that, following the ongoing cabotage debate, the ministry will focus more on offshore support issues. Abeam's assessment is that OSV activity adjustments are smaller compared to cabotage and can provide growth to the activity. Abeam points out that the regulatory framework (Law 9432/1997) gave legal stability to investments made in recent years.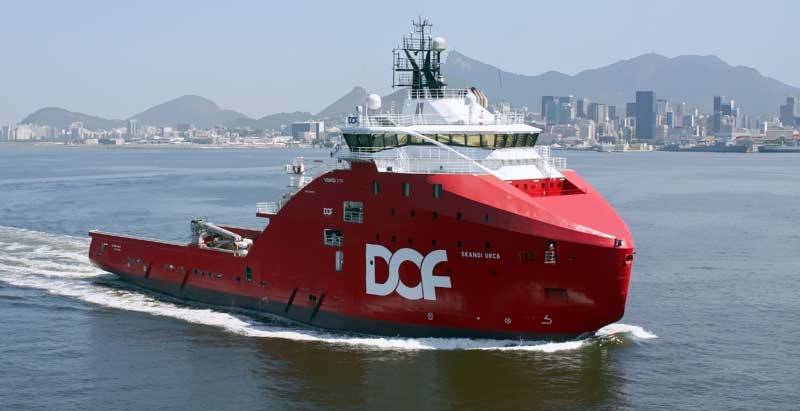 (File photo: DOF)
The offshore support fleet renewal program (Prorefam) lasted over 15 years and had 210 vessels built in its portfolio. The business model linked construction and long-term operation, with contracts for Petrobras lasting eight years, renewable for the same period. The offshore support companies built their business plans backed by expected production targets that were not met. "There was a demand induced by Petrobras and, based on it, the companies built vessels in Brazil," Schaefer said
For the association and industry analysts, these modern OSVs built in Brazilian shipyards are not only capable of operating locally but in foreign markets too, if required.
The segment evaluation is that the current moment is of a positive outlook for the future, although the resumption of many long-term contracts to be awarded by Petrobras and other players may not happen immediately. According to Abeam, companies need some leverage to cope with this ongoing downturn. "There is a prospect of recovery and we need to be prepared to overcome this end of crisis and seize the opportunities ahead," Schaefer said during an offshore industry seminar which took place last August in Rio de Janeiro.
The segment is expected to work with 13 new rigs or floating production, storage and offloading units (FPSO) by 2023, according to Petrobras' business plan. On average, two to four support vessels are used per drilling unit during the exploration phase, that alone would already help bring many of these out-of-contract OSVs back into the market. With the opening of oil block tenders for foreign major and super-major IOCs, and the potential advantages of being locally flagged, a growth in the Brazilian flagged fleet may be expected in the next few years.
In July 2019, the OSV fleet in Brazil was pegged at 366 support vessels, of which 328 were Brazilian flag and 38 were foreign flagged. According to Abeam, approximately 290 vessels are in effective operation, about 230 for Petrobras. The 70 Brazilian flag vessels awaiting hiring were built in Brazil with financing totaling $10 billion, via FMM. In 2018, Abeam member companies reported estimated revenues of $ 2.7 billion in charter fees from Petrobras and other players.
(File photo: Solstad Offshore)