Through artificial intelligence and machine learning, oil companies can monitor production stream quality in real time to optimize the value per barrel.
"The industry is now recognizing the importance of product quality," says Paul Oates, US business development director for Validere. "Quality issues cause problems across the supply chain."
Validere 360, a software as a service product, tests oil and applies artificial intelligence to the data to make recommendations.
By combining millions of data points from in-field sensors via the Internet of Things, market data and logistics data, it's possible to make real-time recommendations on how to best blend, move and market a barrel crude, he says.
The quality of crude oil is increasingly on the radar of oil companies because it directly relates to its value on the market. Quality of oil from a reservoir can change over time, and companies use sensors to monitor characteristics such as vapor pressure, water cut, sulfur and gravity of the output.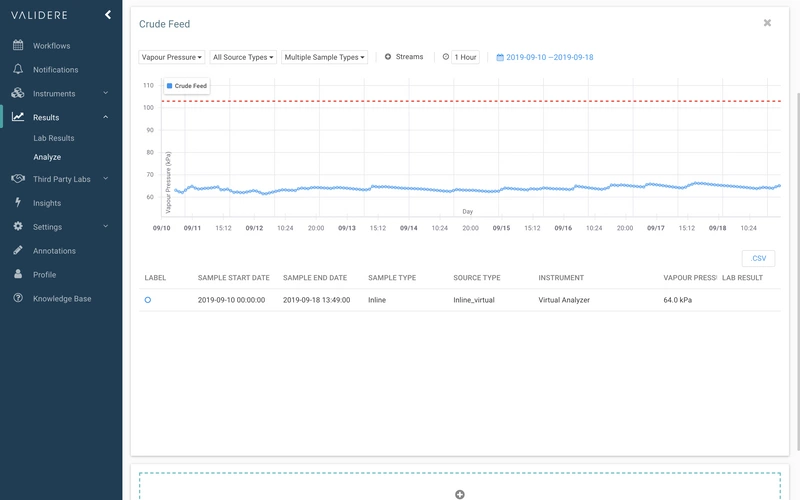 An artificial intelligence-generated virtual analyzer predicting a crude steam's vapor pressure in real-time. (Image: Validere)
But just as a reservoir's crude quality can change, sensor accuracy can drift and require calibration, Oates notes. Without accurate data about crude quality, operators may miss out on the true value of their oil, he says. Virtual analyzers, powered through machine learning and artificial intelligence, make it possible to use statistical and physical modelling to "fill in the dots" on missing quality data, he says.
"What used to take 15 or 30 days lag-time to understand what's going on, we're connecting that instantly," Oates says.
This technique has a big impact on crude value by improving forecasting of a barrel's worth, how to best blend it and where it should be marketed, Oates says. He says recommendations by the virtual analyzers are accurate to within 95%.
The technology can also deliver predictive insights about a reservoir. As the system measures the quality trend of oil coming out of the ground, custom parameters can trigger alerts, he says.
"For example, if your vapor pressure is starting to increase, you may want to intervene," he says.
Paul Oates, head of US business development at Validere. (Image: Validere)