It's hard to nail down when it all started — perhaps when the Canadian province of Newfoundland and Labrador opted for the Norwegian model of direct government ownership shares in its offshore oilfields.
Or it might have started with Equinor's steady build-up in the Flemish Pass and Joan of Arc basins — a big splash almost every year, buying assets, spudding successful wildcats, acquiring acreage or, now, by commencing procurement for a floating production, storage and offloading (FPSO) project at Bay du Nord. You might say Newfoundland's current economic surge began when a comet-tail of loyal suppliers followed Equinor to Canada last decade.
The more likely reason is that suppliers to Maritime Canada's offshore oil industry now know that something large and overlooked lurks beneath the seabed. In this oil province, it seems only large fields of coveted light oil are to be had, something affirmed by resource estimates and US $100 million in seismic shot by two levels of government.
Imperceptibly, too, Northwest Atlantic "newcomer" BP began lumping the Canadian deep and shallow water into the same business division as its high-profile deep-water Gulf of Mexico. The final sign of something big is that government and a half-dozen operators in 2019 — with another six in the wings — are stirring a mini Canadian E&P boom, as US $1.3 billion in drilling is pledged and rigs arrive for mixed-length campaigns, just as survey outfits advertise data and offshore licensing rounds targeted producing acreage that's really still fairly frontier.
When 2019 began with an oil spill and a lost flange here and there, the local industry showed its maturity, shutting in production and organizing clean-ups at the most remote offshore oilfields in the world. Gone, too, are the days, when a Norwegian rig owner felt he had to "wave the Canadian flag" to get work: business off Eastern Canada is now calmly initiated through reliable networks that yield the best Transocean and Seadrill rigs.
In fact, the Canadian offshore is about to expose a relative shortage of high-spec deepwater rigs.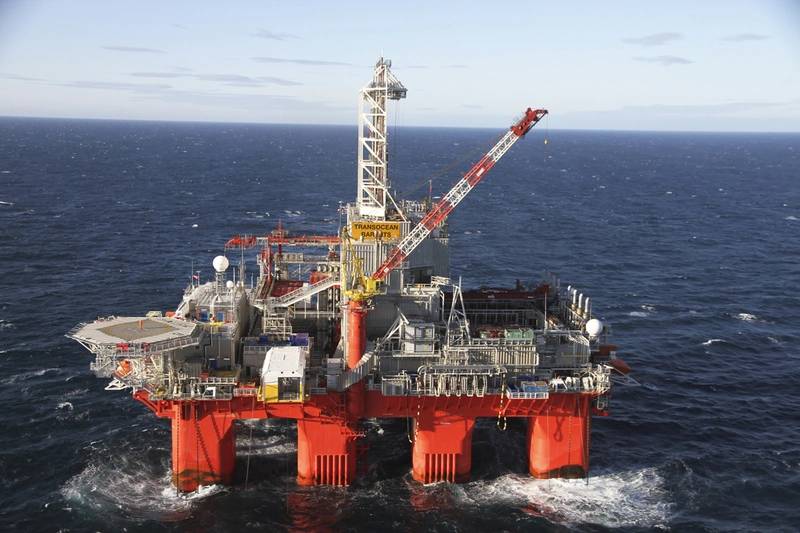 The 2009-built semi-submersible rig Transocean Barents has been awarded a three-well contract, with three one-well options, by Equinor in Canada. (Photo: Transocean)
Anticipation
The handful of operators offshore Newfoundland are in place for what Husky Energy's CEO calls "high netback production". Although Canadian reservoirs are as challenging as the North Sea's, they all seem to be extra large.
Economies of scale accrue quickly off Newfoundland. For Husky, another 52,500 barrels per day are expected by 2022, when the West White Rose project comes onstream. It's CEO says Eastern Canadian operating costs are just US $17 per barrel, so you can quickly add four water injectors to prop up production until "over US $1 billion per year" start rolling in and new discoveries are tied back to existing production at even lower drill costs.
Like everyone in Eastern Canada, Husky and Equinor are eyeing the Harp prospect in license EL 1135 of the Joan of Arc Basin, where the big old oilfields lie. So promising is the local geology, that Equinor has been parked in nearby acreage since the start of 2019 (at EL 1159, EL 1160 and EL 1161), and as we write, seismic outfits TGS and PGS are analyzing data from the basin after 3D shoots showed industry interest ahead of November 2019's bid round along prolific acreage.
"This survey will provide our clients with the first comprehensive, high resolution 3D dataset within the mature Jeanne d'Arc basin," the surveyors say. They know that the scale of area reservoirs to date and several hundred prospects have already been named by the Province.
Among newcomers in the wings is Australian resource heavyweight, BHP Billington, which since 2018 has staked-in blocks off Newfoundland and appears to want more. Like Husky, it's CEO says BHP is in Canada for "high-reward plays like those in the North Sea".
Meanwhile, operator Equinor and the province's arms-length agency, Nalcor (10%), are together developing the CAD 10.9 billion (US $8.2 billion) Bay du Nord project and have reportedly already grouped the big engineering houses for staged development. Some 90% of project procurement will stay in the province with half the pre-development and development engineering also slated to be done locally.
The project will tie-in the adjacent Baccalieu discovery and 300 million barrels in the style of Johan Castberg in the Barents Sea off Norway — an FPSO in very remote, storm-prone waters tapping area satellites. Decision gate for a concept is, Equinor says, just months away, and could come in early 2020 with first oil by 2025.
Newfoundland has already set aside CAD 100 million (US $75 million) for Equinor's use to help ensure a go-ahead in 2020. No go-ahead, no payment, although Ottawa has also kicked in an extra CAD 20 million (US $15 million) for Bay du Nord area seismic.
Hoped-for hundred
This first Flemish Pass development follows the accrual of staggeringly high reserve counts in this and the Joan of Arc basin to the south, while basins to the north and off Nova Scotia have attracted BP and others fairly new to Eastern Canada. ExxonMobil, too, as well as eight newbie companies have, the government says, pledged CAD 4 billion (US $3 billion) in exploration work and 100 exploration wells (the supermajor already boasts new discoveries at Hebron I-13 and Ben Nevis I-45).
Just this week, Equinor received a permit to start drilling up to 24 Flemish Pass wells, with total environmental clearance to 2027. ExxonMobil, too, is free to drill 18 wells to 2029 in the Flemish and Joan of Arc basins in a major boost to area prospects and the rig market.
For major oil companies withdrawing from Norway, Canada now appears worth the wait. That 2018 study (by French outfit Beicip-Franlab) puts Orphan Basin reserves alone at 11.7 billion barrels of oil and 60 trillion cubic feet of gas in just six acreage areas plus three in the East Joan of Arc basin. Adding the numbers to 2016 survey totals, and Newfoundland would seem to have 50 B bbls of oil and 200 Tcf of gas, a statement by the natural resources minister suggests.
Elephantine
Meanwhile, Nalcor — equivalent in Newfoundlander to Norway's Petoro — reports five, multi-well exploration drilling campaigns are set to begin off Newfoundland and Labrador next year. Husky, Suncor, Equinor and ExxonMobil, at least, are meanwhile sharing the drill-bit risk, while BP in the coming months targets a big prospect called Freels.
All are sold on "monsters" in the local deepwater, including one called Raleigh that's purportedly twice the size of ExxonMobil's 1.6 B bbl Hibernia (so 300 square kilometers). Recent seismic uncovered it, and its acreage can be bid on come November.
For now, oil companies in Eastern Canada are "transitioning from securing land to drilling exploration wells". Newfoundland is aiming for 100 wells over 12 years, as it targets 650,000 bbls.
For now, though, a new discovery at the White Rose A-24 exploration 10 kilometers north of the SeaRose FPSO is being evaluated for potential development.