Norway's government will earn around NOK 265 billion ($30 billion) taxing and taking up stakes in its oil and gas fields in 2019, and Norwegian production is on the rise. In contrast, Britain in 2019 will earn about GBP 1.1 billion ($1.34 billion), says the UK Office of Budget Responsibility. The nature of new offshore investment, however, augurs well for higher project counts and earnings across the North Sea.
The Norwegian continental shelf (NCS) and the UK continental shelf (UKCS) are being buoyed by higher commodity prices. Both have stable tax regimes. Both are seeing new projects, and for both asset swaps are back, as the majors rationalize field stakes.
Now, too, both private and Norwegian capital are on the move forming asset-buying alliances across the North Sea. Newly made heavyweight pairings are shoring up project counts.
While Equinor is still fueling Norway's recovery, a host of new players and newly enlarged independents are taking up stakes: Wintershall Dea and Capricorn (at Nova); Neptune (at Duva, Norway and Seagull, UK); PGNiG (King Lear and Tommeliten Alpha). Older newcomers Lundin, OMV and Idemitsu are, meanwhile, leading forays into high-reward development, with new-builds and tie-ins to older infrastructure.
As in the UK's latest licensing round, Norway's most recent acreage awards saw a record 83 production licenses offered 33 companies. Awards in (mature) areas offered operators 90 blocks — five in the North Sea, 37 in the Norwegian Sea and 48 in the Barents Sea — with an August 2019 deadline.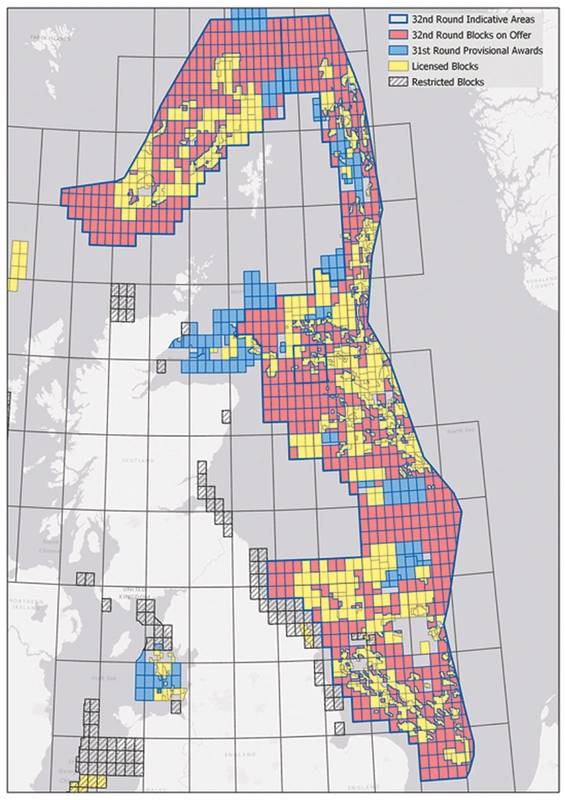 General interest: the UK's 32 Licensing Round acreage offering (Image: UK Oil & Gas Authority)


Oslo sees investments offshore Norway "rising over the next years". Only a spell of dry wells this year and lingering low day rates for rigs and offshore vessels are dampening the mood. As of this writing, the well count in 2019 has reached 25 (53 in 2018).
Projects given the royal nod so far this year only add to 20 okayed and in the works by the end of 2018. Of 80-odd fields in production by the end of 2018, 64 were in the North Sea, 17 in the Norwegian Sea and two in the Barents.
The field stakes of operator ExxonMobil — now for sale — look set to give impetus to one of Norway's larger operators. Buyup candidate Aker BP recently announced a large new discovery at the Noaka field, where up to 200 million barrels of oil equivalent (MMboe) are said to be in-place.
The real story in Norway lies in the 1 billion boe that lie in 15 named projects at various stages of development — and in about 30 discoveries over the past three years. Moreover, value in Norway, as in the UK, also revolves around new money creating opportunity out of older infrastructure.
The two Johans
Dominating the Norwegian offshore scene is the Johan Sverdrup field in the North Sea, with its planned 660,000 barrels per day (bpd) of oil. A quarter of Svedrup's size is Johan Castberg in the Barents Sea.
The NOK 42 billion ($4.7 billion) Sverdrup Phase II (approved in May 2019) is still yielding contracts, steel-cutting is ahead of schedule at contractor Aibel's fabrication yard in western Norway. Phase II means five new subsea templates for 18 production and water injection wells, although a 200-megawatt power hub linked to shore is planned at Sverdrup for an area of fields that includes Edvard Grieg, Ivar Aasen and Gina Krog. Phase 2 is also a new process platform and bridge connections to Phase 1's riser platform.
At 650 million boe, Castberg is the largest oilfield project in the Barents Sea and looks likely to be confined to an offshore floating production, storage and offloading unit (FPSO) delivering oil by shuttle tanker. It's scheduled for first oil by year-end 2022. The Castberg FPSO will weathervane as it produces from 30 wells in 10 subsea templates that'll also tap two satellites. SBM Offshore will build Castberg's production turret, and Dubai Drydocks will build the mooring system that'll anchor in 370 meters of water, while also tackling construction-related procurement.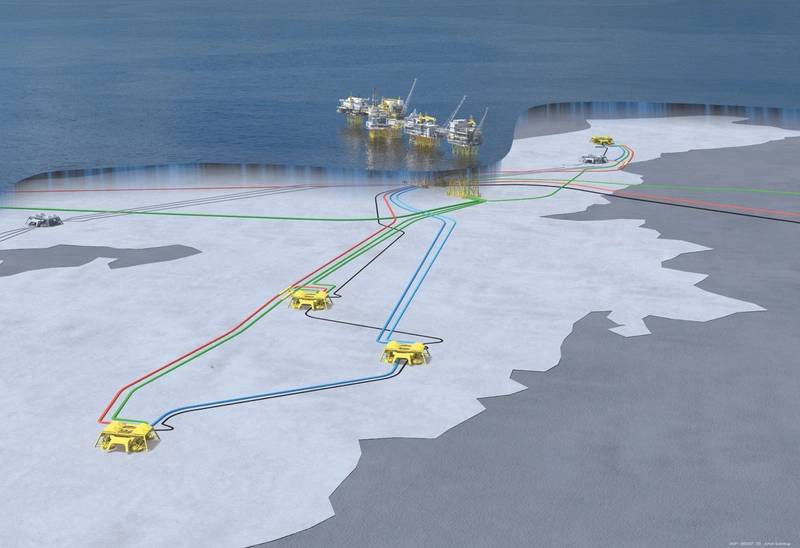 200,000 more barrels: Johan Svedrup Subsea Phase 2 (Image: Equinor)
Redevelopment
In March, 2019, Norway officially gave the nod to close the Gullfaks C platform in the North Sea (as infrastructure). It had, a month earlier, okayed the Norne FPSO's life-extension, by default extending the Norne, Urd and Skuld fields in the Norwegian Sea.
In June, a plan to lift 17 MMboe more from the Gullfaks field was given the royal nod, four years after its Phase 1 was approved. One of Norway's largest oil and gas fields, its three platforms were scheduled to be closed. A NOK 2.2 billion ($247 million) plan will keep the Gullfaks area producing to 2030 from beneath its Shetland chalk cap.
July saw ConocoPhillips submit a plan to redevelop the southern North Sea Tor II field northeast of Ekofisk, aiming at an extra 60 MMboe for NOK 6 billion ($673 million). Two subsea templates will produce into a new 14-kilometer pipeline fed to the historical Ekofisk platforms for processing.
July also brought approval for the NOK 1.4 billion ($157 million) Vigdis Boosting Station, where another of Norway's impressive subsea pumps will yield 11 MMbbls of timely increased oil recovery (IOR) from seven subsea templates that produce to the Equinor-operated Snorre field. This 22-year-old field is on-trend for Norway, where "fast track" and IOR increasingly imply "life extension" at Oslo's urging. The Snorre A and B platforms and their infield pipes will be modified for Vigdis and a new power cable connected at Snorre B.
New finds, new projects
As July rolled on, parliamentarians approved Lundin Norway's plan for the Solveig development (four months after submission) — a NOK 6.5 billion ($730 million) subsea tieback to the Grieg platform that takes aim at 60 MMboe via three producers and a water injector by 2021. In all, seven satellite wells will need to be drilled.
Already, TechnipFMC's fabrication and spool base in Orkanger and its rental tool and subsea base in Bergen are tagged for work on the Solveig tieback. Others include ASCO and Rosenberg Worley. TechnipFMC at Oslo and Kongsberg will handle the subsea project execution.
Lundin, meanwhile, has run a "trial extraction" from an old appraisal well of the Rolvsnes fractured granite bedrock formation. Production from this tight species is understood to have been a first for the NCS and could open new areas.
Rolvsnes, like Solveig, appear to extend the Grieg field in the North Sea by some 4 kilometers to the northwest. Once believed to hold about 320 MMboe, drilling into granite yielded what could be another 18 MMboe.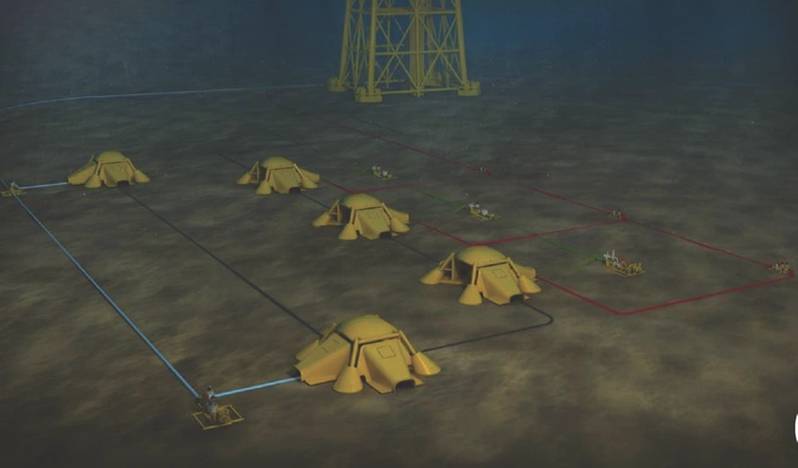 Tieback: Lundin Norway's Solveig concept (Image: Lundin Petroleum)
Operating models
In February, Neptune Energy — a company actively seeking help from the UK subsea supply chain — gained royal assent for NOK 10 billion designs on the Duva and P1 projects in the Gjoea field area. Some 54,000 boepd are the goal, in-sum.
On-trend for Norway, Duva will see an existing platform produce for a subsea template of three wells. Ditto for Gjoa P1: a template of three wells. Year-end 2020 should see first oil (or gas, check) for these parallel projects 12 kilometers from the Gjoa platform in the North Sea.
Operator Neptune leads partners Idemitsu and Pandion Energy (the bought-out Tullow Oil Norway, backed by private equity partner, Kerogen Capital) and Wellesley Petroleum to a field it took 30 years to find a drainage strategy for (P1).
A gas outlet
Spurring on gas investment are Norwegian belief in and support for the still thinly developed northern Norwegian Sea gas province and its associate infrastructure.
The new Polarled pipeline and Nyhamna plant changes will bring northern gas from the newly opened Aasta Hansted gas spar — now tantalizingly close to arctic deposits — south to export lines — especially a newly agreed branch line for Norwegian gas throughput through Denmark and on to the Baltic States via Baltic Pipe. The idea has spurred the Poles, and PGiNG has been active buying field stakes.
Baltic Pipe, however, lays bare Danish resistance on "environmental grounds" to the Russian-German Nord Stream II trunk line.
The UK
Norwegian private equity investor HiTec Vision, in joint venture with Petrogas, is buying French major Total's stakes in 10 UK North Sea fields for $635 million. The news is nearly as significant as the discovery of the UK's largest gas find in a decade at CNOOC's and Total's Glengorm, a 250 MMboe giant.
As with ExxonMobil's sale of Norwegian field stakes (and ConocoPhillips's UK asset sale in April), Total's reserves cache in the UK is considerable. The HiTec pact means Chinese operator CNOOC's Golden Eagle field, with its 13,000 bpd, has new Omani-Norwegian owners. Wood Mackenzie suggests several decommissioning opportunities might also become life-extension and modifications projects under those new owners. Total, meanwhile, is seen continuing on at Elgin-Franklin, Laggan-Tormore and Culzean.
Petrogas, Wood Mackenzie points out, "is the upstream arm of MB Holdings, a family-run Omani company specializing in drilling and oilfield services … alongside exploration and production of oil and gas." Wood Mackenzie's Middle East expert says the Petrogas focus is mature, producing assets. HitecVision, which has a stake in Norwegian Vår Energi with Eni, already owns UK offshore stakes via shares in Verus Petroleum.
Meanwhile, Shell's high-pressure, high-temperature (HPHT) Jackdaw wellhead platform project in the North Sea is still on and drawing a who's who of engineering heavyweights. Importantly, too, Equinor after the last licensing round is newly established West of Shetland and in the Moray Firth, while still looking for Mariner and Rosebank (FPSO) suppliers.
Apart from the dozen "fast-tracked" subsea tiebacks in the offing offshore Norway, there were 10 development plans submitted in 2017 and 2018 (including Sverdrup). Names like Troll Phase 3, Nova, Utgard, Dvalion, Byrding, Trestakk, Oda, Njord, Bauge, Ekofisk 2/4 VC add to a burgeoning number of Norway projects.
Oslo, too, is investing NOK 27 billion ($3 billion) in its direct field stakes while also absorbing NOK 57 billion ($6.4 billion) in partner expenses for a total of NOK 105.9 billion ($11.9 billion), plus ownership in Equinor.