The withdrawal from Norway's offshore sector of ExxonMobil appears to be underway, and the development to some looks like the start of a pullout of "international oil majors" from a sector dominated by stately player, Equinor.
True, ExxonMobil's departure is symbolic. It did receive Norway's first-ever acreage award back in the 1960's — the one that set the country on a rags-to-riches course that made it the envy of the civilized world.
History, however, suggests this isn't the end of the "foreign majors" here in Norway, as new ones built on large capital allotments emerge (Okea) and others already majors in reality, if not by reputation, again can look to buy the assets of a branch company. Aker BP, Repsol and Okea are but three examples of this rather ordinary trend.
The note circulated to ExxonMobil employees last week and reported at the weekend by Norwegian online newspapers denoted an offshore-only sale. The note reportedly said the supermajor was seeking to sell field shares amid "much interest" for its assets and a pressing need to prop up large projects afoot in Guyana, Brazil and Mozambique.
"This is Norway only and upstream only. It doesn't affect refining," the company source told OE Digital, adding, "It's for the market to decide, but there are companies out there that are capable of buying these assets."
ExxonMobil holds 20 producing license shares in Norway and some unexplored assets. Nineteen of those field stakes are operated by Equinor, one by Shell.
ExxonMobil exit
The ExxonMobil sell-off follows Reuters reports of remarks made by Okea CEO, Eric Hagane, where he reportedly predicted the "foreign majors" would all leave Norway within a decade. The result, he reportedly said, would be a field of smaller offshore players — and Equinor.
That's been predicted before in Norway, especially back when the oil price made a string of smallish finds "immaterial to the supermajors". The prognosis for oil is good, however, if one rules out the forecast permanent price instability.
Other supermajor reductions in Norway include BP Norway merging with Haugane's former company, Det Norske, to form Aker BP by the end of 2016. The new entity became a Norwegian independent based in Oslo and built on the remains of Trondheim-based Det Norske, supermajor BP's Norwegian business and Aker Exploration.
Aker BP forerunner det Norske had also swallowed up Marathon Oil Norway and others along the way. It represents the rump of DNO's former Norwegian assets and those of PGS.
But Norway does take a toll on some "foreign majors". It took a toll on Canadian Talisman, although its exit here became Repsol's entry into Norway in 2014, when Repsol bucked the trend to become an international major and Norway player by buying Talisman.
So, one of the largest integrated international oil companies in the world has just begun plying Norway in earnest and with renewed vigour. So, too have newly merged Wintershall Dea and Vår Energi (Vår is the former Eni Norge and Point Resources).
So, when Okea's Haugane says there won't be any "foreign majors" here anymore, he might mean that the company he founded and once led, Aker BP (the rump Det Norske), might buy many of the rest out. Heck, Aker BP or Okea might even buy ExxonMobil's remaining field stakes.
Equinor, however, is well-placed, as a number of ExxonMobil license partners.
In reality, the ExxonMobil pullout has been happening for some time. While most newcomers strive to become a Norwegian operator, ExxonMobil has been there done that.
It sold its last operated field in 2017. All that remains is about $4 billion in field stakes (which the source would not confirm) just waiting to be bought up by a deep-pocketed player — or several — new to Norway or well-established.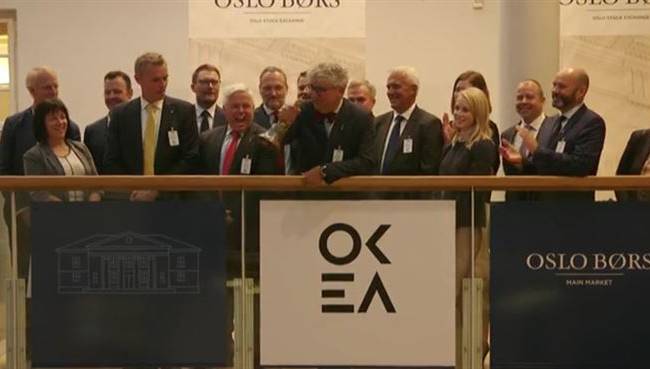 Birth of a "major": Eric Haugane and Okea listing in Oslo (Courtesy: Okea)